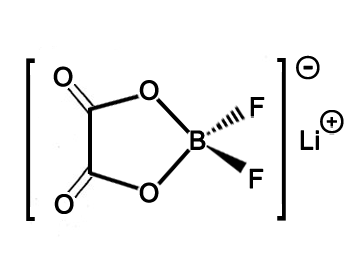 Iden­ti­fi­ca­tion
Prop­er­ties
Safe­ty Data
Spec­i­fi­ca­tions andamp ; Oth­er Information
Links
Iden­ti­fi­ca­tion
Name
LiODFB
CAS

Number

409071-16-5
Syn­onyms
LiD­FOB Lithi­um Oxa­lyld­iflu­o­ro Borate Borate(1-), [ethanedioato(2-)-κO1,κO2]difluoro-, lithi­um (1:1) [
ACD
/​Index Name] Lithi­um [ethanedioato(2-)-κ2O1,
O2
](difluoro)borate(1-) [
ACD
/
IUPAC
Name] 409071-16-5 [
RN
] Lithi­um difluoro(oxalato)borate
LITHI­UM
DIFLU­O­RO
(
OXALA­TO
)
BORATE
(1-)
MFCD21608640
MFCD27952543
Mol­e­c­u­lar Structure
SMILES
[Li+].[B-]1(
OC
(=O)C(=O)
O1
)(F)F
Std­InChI
InChI=
1S
/
C2BF2O4
.Li/c4-3(5)8-1(6)2(7)9-3;/q-1;+1
Std­InChIKey
MED­D­­CIKGDM­­DO­RY-UHF­F­­FAOYSA-N
Mol­e­c­u­lar Formula
C2BF2LiO4
Mol­e­c­u­lar Weight
143.768
MDL

Number

MFCD21608640
Prop­er­ties
Appear­ance
White or light yel­low pow­der
Melt­ing Point
265-271 °C
Safe­ty Data
Sym­bol
GHS07
Sig­nal Word
Warn­ing
Haz­ard Statements
H315-H319-H335
Pre­cau­tion­ary Statements
P261-P305

+

P351

+

P338
RIDADR
NONH
for all modes of trans­port
WGK

Germany

3
MSDS
MSDS

of LiODFB

CAS

409071-16-5
Spec­i­fi­ca­tions and Oth­er Infor­ma­tion of Our LiODFB

CAS

409071-16-5
Stan­dard
Enter­prise stan­dard
Puri­ty
99.8%min
Water
200ppm max
Insol­ubles
0.2% max
Na+K
20ppm max
Ca
5ppm max
Fe
5ppm max
Cl
5ppm max
SO4
5ppm max
Pack­age
3kg/​bottle
Stor­age
At room tem­per­a­ture or low tem­per­a­ture, dry and ven­ti­lat­ed envi­ron­ment, sealed, away from heat
Fea­tures
LiODFB has high­er ther­mal sta­bil­i­ty and much less free acid con­tent, and released

CO2

pos­si­bly pro­vides good safe­ty of cells.
The cells using LiODFB-based elec­trolyte have low­er capac­i­ty fade than the cells using LiPF6-based elec­trolyte after 100 cycles at 55 ℃, and high­er ini­tial capac­i­ty reten­tion at the ele­vat­ed temperature.
At 0.

5C

and

1C

dis­charge rates, the rate capa­bil­i­ty of the cells with the LiODFB-based elec­trolyte is almost the same as that of the cells with the LiPF6-based elec­trolyte after 20 cycles,and the gap between the two cells is tiny.
Inter­face prop­er­ties of the cells show that LiODFB is reduced and forms a thick­en­ing and pro­tec­tive

SEI

film on the neg­a­tive elec­trode. Although this can increase the imped­ance of

SEI

film, the cells still can pro­vide a prefer­able rate per­for­mance. More work is need­ed to car­ry out in the lithi­um bat­tery of com­mer­cial­iza­tion in the future.
Appli­ca­tion
For a sec­ondary lithi­um ion bat­tery or super­ca­pac­i­tor as a con­duc­tive salt or addi­tives ; or for ion­ic liq­uids, phar­ma­ceu­ti­cals and oth­er organ­ic syn­the­sis Lithi­um oxa­lyld­iflu­o­rob­o­rate (LiODFB) is first report­ed as the salt for improved elec­trolyte of Li-ion bat­tery. This salt was found to have the com­bined advan­tages of lithi­um bis(oxalato)borate (LiBOB) and LiBF4 due to its chem­i­cal struc­ture com­pris­ing the half mol­e­c­u­lar moi­eties of LiBOB and LiBF4. Com­pared with LiBOB, the salt is more sol­u­ble in lin­ear car­bon­ates and the result­ing solu­tion is less vis­cous, which results in the bat­tery bet­ter low tem­per­a­ture and high rate per­for­mance. Unlike LiBF4, the salt is high­ly capa­ble of sta­bi­liz­ing sol­id elec­trolyte inter­face (
SEI
) on the sur­face of graphite anode, which enables Li-ion cell to be oper­at­ed sta­bly at high tem­per­a­ture. For exam­ple, a graphite/LiNi1−x− yMxNyO2 (M and N are met­al atoms) Li-ion cell suf­fered only about 10% capac­i­ty loss after 200 cycles at 60 °C. On the oth­er hand, graphite can be cycled reversibly with LiODFB even in a solu­tion con­tain­ing high con­cen­tra­tion (50 wt%) of propy­lene car­bon­ate (
PC
), which makes it pos­si­ble to for­mu­late the low freez­ing tem­per­a­ture elec­trolyte by using
PC
as the co-sol­vent. Oth­er mer­its of the LiODFB-based elec­trolytes include (1) the abil­i­ty to sup­port metal­lic lithi­um cycling reversibly on the sur­face of cop­per anode cur­rent col­lec­tor, (2) the abil­i­ty to pas­si­vate alu­minum cath­ode cur­rent col­lec­tor at high poten­tials, (3) the abil­i­ty to par­tic­i­pate in for­ma­tion of the
SEI
and sup­port Li-ion bat­tery oper­at­ing sta­bly at high tem­per­a­tures, and (4) the abil­i­ty to increase bat­tery safe­ty pro­tec­tion and over­charge tol­er­ance.
Links
This prod­uct is devel­oped by our
RD
com­pa­ny Warshel Chem­i­cal Ltd(
http://​www​.warshel​.com/
), and here is the cor­re­spond­ing link
http://​www​.warshel​.com/​L​i​O​D​F​B​-​c​a​s​-​4​0​9​0​7​1​-​1​6​-5/
Quick Inquiry
Fill out our inquiry form and one of our experts will be in touch with you short­ly (Please change screen to hor­i­zon­tal for com­plete brows­ing if you are check­ing Wat­son on your mobile phone).