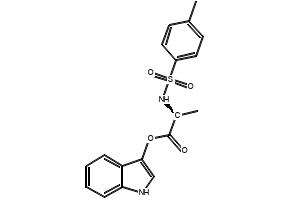 Iden­ti­fi­ca­tion
CAS

Number

75062-54-3
Name
N-Tosyl-L-ala­­nine 3-indoxyl ester
Syn­onyms
H-TOS-ALA-Y ;
N-TOSYL-L-ALA­­NINE 3-INDOXYL ESTER ;
N-TOSYL-L-ALANY­LOXY­IN­­DOLE ;
1H-indol-3-yl N-[(4-methylphenyl)sulphonyl]-L-alaninate ;
1H-indol-3-yl (2S)-2-[(4-methylphenyl)sulfonylamino]propanoate ;
N-[(4-Methylphenyl)sulfonyl]-L-alanine 1H-indol-3-yl ester ;
N-Tosyl-L-ala­­nine 3-;
3-(N-tosyl-L-alanyloxy)indole
SMILES
CC1=CC=C(C=C1)S(=O)(=O)NC(C)C(=O)OC2=CNC3=CC=CC=C32
Std­InChI
InChI=1S/C18H18N2O4S/c1-12-7-9-14(10-8-12)25(22,23)20-13(2)18(21)24-17-11-19-16-6-4-3-5-15(16)17/h3-11,13,19-20H,1-2H3/t13-/m0/s1
Std­InChIKey
CBIVSVOVP­­JAVRE-ZDUSS­CGK­SA-N
Mol­e­c­u­lar Formula
C18H18N2O4S
Mol­e­c­u­lar Weight
358.4
MDL

Number

MFCD03701236
Prop­er­ties
Appear­ance
White or gray­ish-white powder
Melt­ing Point
100 – 104°C
Safe­ty Data
WGK

Germany

3
Spec­i­fi­ca­tions and Oth­er Infor­ma­tion of Our N-Tosyl-L-ala­­nine 3-indoxyl ester
CAS

75062-54-3
Iden­ti­fi­ca­tion Methods
HNMR, HPLC
Puri­ty
98% min
Shelf Life
1 year
Stor­age
Store in a dry and cool(2-8℃) and away from light.
Known Appli­ca­tion
Used as a diag­nos­tic reagent.
Links
This prod­uct is devel­oped by our R
&
D com­pa­ny Cam­ing Phar­ma­ceu­ti­cal Ltd(
http://​www​.cam​ing​.com/
), and here is the cor­re­spond­ing link
http://​www​.cam​ing​.com/​n​-​t​o​s​y​l​-​l​-​a​l​a​n​i​n​e​-​3​-​i​n​d​o​x​y​l​-​e​s​t​e​r​-​c​a​s​-​7​5​0​6​2​-​5​4​-3/
Quick Inquiry
Fill out our inquiry form and one of our experts will be in touch with you short­ly (Please change screen to hor­i­zon­tal for com­plete brows­ing if you are check­ing Wat­son on your mobile phone).