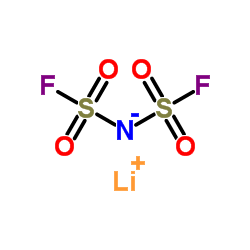 LiFSI CAS 171611-11-3
Identification
Properties
Safety Data
Specifications andamp; Other Information
Links
Identification
CAS Number
171611-11-3
Name
LiFSI
Synonyms
Lithium Bis(fluorosulfonyl)imide
Bis(fluorosulfonyl)azanide de lithium [French] [ACD/IUPAC Name]
Lithium bis(fluorosulfonyl)azanide [ACD/IUPAC Name]
Lithiumbis(fluorsulfonyl)azanid [German] [ACD/IUPAC Name]
171611-11-3 [RN]
Lithium bis(fluorosulfonyl)amide
MFCD28126786
Molecular Structure
SMILES
[Li+].[N-](S(=O)(=O)F)S(=O)(=O)F
StdInChI
InChI=1S/F2NO4S2.Li/c1-8(4,5)3-9(2,6)7;/q-1;+1
StdInChIKey
VDVLPSWVDYJFRW-UHFFFAOYSA-N
Molecular Formula
F2LiNO4S2
Molecular Weight
187.072
Properties
Appearance
White powder
Safety Data
WGK Germany
3
MSDS
Specifications and Other Information of Our LiFSI CAS 171611-11-3
Standard
Enterprise standard
Identification Methods
HNMR
Purity
99.8%min
Water
≤200ppm
SO42-
≤50ppm
F
≤100ppm
Na
≤20ppm
K
≤20ppm
Ca
≤5ppm
Fe
≤5ppm
Cl
≤100ppm
Cu
≤5ppm
Storage
At room temperature or low temperature, dry and ventilated environment, sealed, away from heat.
Application
For a lithium or lithium ion secondary battery as a conductive salt; or in liquid, pharmaceuticals and other organic synthesis.
Links
This product is developed by our RD company Warshel Chemical Ltd(http://www.warshel.com/), and here is the corresponding linkhttp://www.warshel.com/lifsi-cas-171611-11-3/
Quick Inquiry
Fill out our inquiry form and one of our experts will be in touch with you shortly (Please change screen to horizontal for complete browsing if you are checking Watson on your mobile phone).