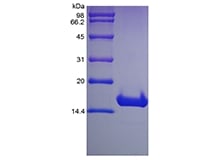 Offi­cial Full Name
Recom­bi­nant Human Cyclin-Depen­­dent Kinase Inhibitor
2A
, Iso­form 1 (rHup16-INK4a)
CAS

Num­ber (Or Wat­son Num­ber for Non-CAS Products)

601-10-1816
Syn­onyms
CDK4I
,
MTS-1
, p16INK4A
Squence

Amino Acid Sequence
MEPAAGSSME
PSAD­WLATAA
ARGRVEEVRA
LLEA­GALP­NA
PNSY­GR­RPIQ
VMM­MGSAR­VA
ELL­LL­H­GAEP
NCAD­PATL­TR
PVH­DAAREGF
LDTLVVLHRA
GARLD­VR­DAW
GRLPVD­LAEE
LGHRD­VARYL
RAAAG­GTRGS
NHARI­DAAEG
PSDIPD
Syn­onyms
CDK4I
,
MTS-1
, p16INK4A
Acces­sion
Gene
ID
Sum­ma­ry
Source
Escherichia coli.
Mol­e­c­u­lar Weight
Approx­i­mate­ly 16.5 kDa, a sin­gle non-gly­­co­sy­lat­ed polypep­tide chain con­tain­ing 156 amino acids.
Bio­log­i­cal Activity
No data avail­able.
Appear­ance
Ster­ile Fil­tered White lyophilized (freeze-dried) pow­der.
For­mu­la­tion
Lyophilized from a 0.2 um fil­tered con­cen­trat­ed solu­tion in
PBS
, pH 7.4.
Endo­tox­in
Less than 1
EU
/​ug of rHuP16-INK4a as deter­mined by
LAL
method.
Recon­sti­tu­tion
We rec­om­mend that this vial be briefly cen­trifuged pri­or to open­ing to bring the con­tents to the bot­tom. Recon­sti­tute in ster­ile dis­tilled water or aque­ous buffer con­tain­ing 0.1 %
BSA
to a con­cen­tra­tion of 0.1-1.0 mg/​mL. Stock solu­tions should be appor­tioned into work­ing aliquots and stored at ≤ -20 °C. Fur­ther dilu­tions should be made in appro­pri­ate buffered solu­tions.
Sta­bil­i­ty and Storage
Use a man­u­al defrost freez­er and avoid repeat­ed freeze-thaw cycles.- 12 months from date of receipt, -20 to -70 °C as sup­plied.- 1 month, 2 to 8 °C under ster­ile con­di­tions after recon­sti­tu­tion.- 3 months, -20 to -70 °C under ster­ile con­di­tions after recon­sti­tu­tion.
Ref­er­ences
1. Buda G, Mag­gi­ni V, Gal­im­ber­ti S, et al. 2007. Leuk Res, 31 : 569-70.2. Komiya A, Suzu­ki H, Aida S, et al. 1995. Jpn J Can­cer Res, 86 : 622-5.3. Jares P, Fer­nan­dez
PL
, Nadal A, et al. 1997. Onco­gene, 15 : 1445-53.4. Mori T, Miu­ra K, Aoki T, et al. 1994. Can­cer Res, 54 : 3396-7.
Puri­ty
> 96 % by
SDS-PAGE
and
HPLC
analy­ses.
SDS-PAGE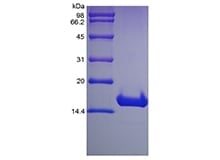 Pack Size
10ug/​100ug/​500ug
Safe­ty Data Sheet (
SDS

) Down­load Click to download
Tech­ni­cal Data Sheet (
TDS

) Down­load Click to download
Links
This prod­uct is brand­ed by ChemWhat and sold through our web­site and here is the cor­re­spond­ing link
Recom­bi­nant Human Cyclin-Depen­­dent Kinase Inhibitor

2A

, Iso­form 1 (rHup16-INK4a) on ChemWhat
Quick Inquiry
Fill out our inquiry form and one of our experts will be in touch with you shortly.