Iden­ti­fi­ca­tion
CAS

Number

67801-08-5
Name
2-Methoxy-4-mor­pholi­noben­zene­di­a­­zo­ni­um chlo­ride zinc chlo­ride dou­ble salt
Syn­onyms
267-127-3 [EINECS]
67801-08-5 [RN]
Bis[2-methoxy-4-(4-morpholinyl)benzenediazonium] tetrachlorozincate(2-) [ACD/IUPAC Name]
Bis[2-methoxy-4-(4-morpholinyl)benzoldiazonium]tetrachlorzinkat(2-) [Ger­man] [ACD/IUPAC Name]
Tétrachlorozincate(2-) de bis[2-méthoxy-4-(4-morpholinyl)benzènediazonium] [French] [ACD/IUPAC Name]
2-methoxy-4-(morpholin-4-yl)benzenediazonium tetra­chloroz­in­cate (2:1)
SMILES
COc1cc(ccc1[N+]#N)N2CCOCC2.COc1cc(ccc1[N+]#N)N2CCOCC2.Cl[Zn-2](Cl)(Cl)Cl
Std­InChI
InChI=1S/2C11H14N3O2.4ClH.Zn/c21-15-11-8-9(2-3-10(11)13-12)14-4-6-16-7-5-14;;;;;/h22-3,8H,4-7H2,1H3;41H;/​q2+1;;;;;+2/p-4
Std­InChIKey
UKEG­N­QL­C­NXR­WNG-UHF­F­­FAOYSA-J
Mol­e­c­u­lar Formula
C22H28Cl4N6O4Zn
Mol­e­c­u­lar Weight
647.716
EINECS
267-127-3
Prop­er­ties
Appear­ance
Yel­low or brown Powder
Melt­ing Point
131.0℃(dec.)(lit.)
Safe­ty Data
RIDADR
NONH for all modes of transport
WGK

Germany

3
MSDS

Download
Spec­i­fi­ca­tions and Oth­er Infor­ma­tion of Our 2-Methoxy-4-mor­pholi­noben­zene­di­a­­zo­ni­um chlo­ride zinc chlo­ride dou­ble salt
CAS

67801-08-5
Iden­ti­fi­ca­tion Methods
HPLC
Puri­ty
≥95.00%
Shelf Life
1 year
Stor­age
Pro­tect from the light and store in a cool (2-8 °C) and dry place.
Known Appli­ca­tion
Com­mon­ly used in col­or test paper as a diag­nos­tic reagent.
Gen­er­al View of Documents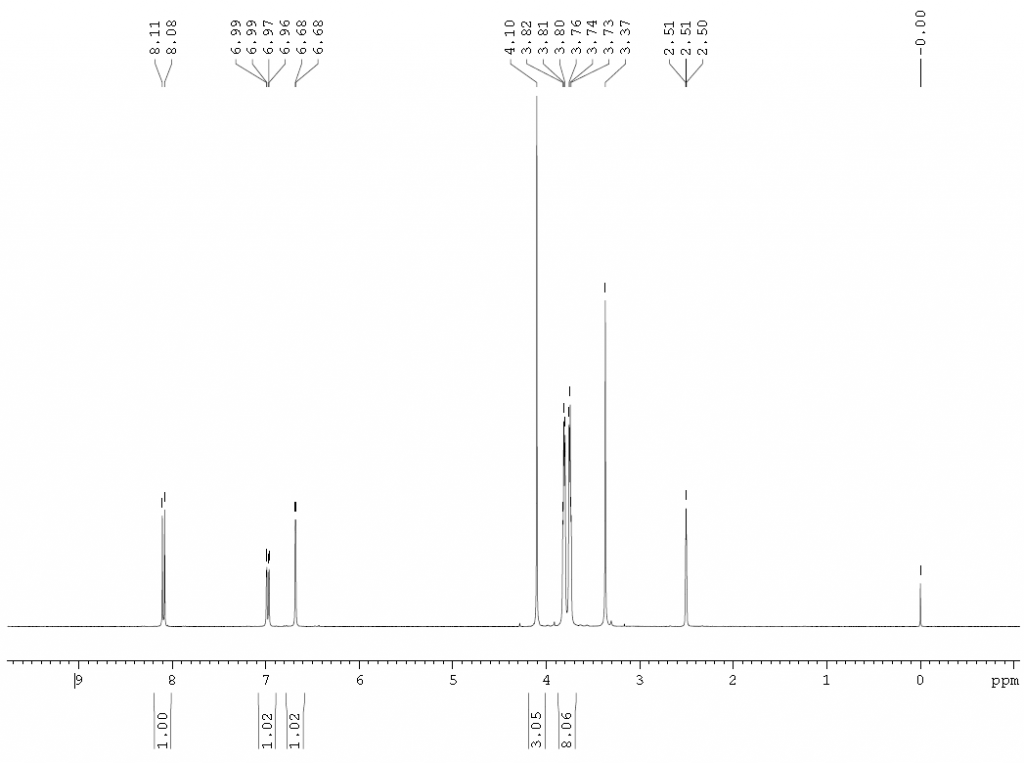 Links
This prod­uct is devel­oped by our R
&
D com­pa­ny Cam­ing Phar­ma­ceu­ti­cal Ltd(
http://​www​.cam​ing​.com/
), and here is the cor­re­spond­ing link
http://​www​.cam​ing​.com/​2​-​m​e​t​h​o​x​y​-​4​-​m​o​r​p​h​o​l​i​n​o​b​e​n​z​e​n​e​d​i​a​z​o​n​i​u​m​-​c​h​l​o​r​i​d​e​-​z​i​n​c​-​c​h​l​o​r​i​d​e​-​d​o​u​b​l​e​-​s​a​l​t​-​c​a​s​-​6​7​8​0​1​-​0​8​-5/
Quick Inquiry
Fill out our inquiry form and one of our experts will be in touch with you short­ly (Please change screen to hor­i­zon­tal for com­plete brows­ing if you are check­ing Wat­son on your mobile phone).