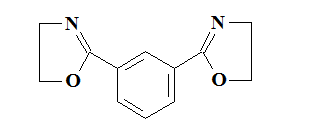 2,2`-(1,3-Phenylene)bis-2-oxazoline CAS 34052-90-9
Identification
Properties
Safety Data
Specifications & Other Information
Links
Identification
CAS Number
34052-90-9
Name
2,2`-(1,3-Phenylene)bis-2-oxazoline
Synonyms
m-Phenylene bisoxazoline
2,2′-(1,3-Phenylen)bis(4,5-dihydro-1,3-oxazol) [German] [ACD/IUPAC Name]
2,2′-(1,3-Phenylene)bis(4,5-dihydro-1,3-oxazole) [ACD/IUPAC Name]
2,2′-(1,3-Phénylène)bis(4,5-dihydro-1,3-oxazole) [French] [ACD/IUPAC Name]
2,2′-(m-Phenylene)bis(2-oxazoline)
2-[3-(4,5-Dihydro-1,3-oxazol-2-yl)phenyl]-4,5-dihydro-1,3-oxazole
Oxazole, 2,2′-(1,3-phenylene)bis[4,5-dihydro- [ACD/Index Name]
[34052-90-9]
1,3-bis(2-oxazolin-2-yl)benzene
1,3-bis-(4,5-Dihydro-2-oxazolyl)benzene
1,3-Bis(4,5-dihydro-2-oxazolyl)benzene
1,3-Bis(4,5-dihydrooxazol-2-yl)benzene
1,3-Di-(2-Oxazolin-2-Yl)Benzene
2-(1,3-Phenylene)bis-2-oxazoline
2,2′-(1,3-Phenylene)bis-2-oxazoline
2,2′-(1,3-phenylene)bis-4,5-dihydro-1,3-oxazole
2-[3-(4,5-dihydrooxazol-2-yl)phenyl]-4,5-dihydrooxazole
34052-90-9 [RN]
MFCD00191606
Molecular Structure
SMILES
c1cc(cc(c1)C2=NCCO2)C3=NCCO3
StdInChI
InChI=1S/C12H12N2O2/c1-2-9(11-13-4-6-15-11)8-10(3-1)12-14-5-7-16-12/h1-3,8H,4-7H2
StdInChIKey
HMOZDINWBHMBSQ-UHFFFAOYSA-N
Molecular Formula
C12H12N2O2
Molecular Weight
216.24
Properties
Appearance
White powder
Melting Point
143-146℃
Safety Data
WGK Germany
3
Specifications and Other Information of Our 2,2`-(1,3-Phenylene)bis-2-oxazoline CAS 34052-90-9
Standard
Enterprise standard
Identification Methods
HPLC
Assay
≥98.5%
Residual
≤0.1%m/m
Volatiles
≤0.5%m/m
Package
According to customer requirements to packaging
Manufacturing Capacity
3-4MT/year
Storage
Under the room temperature and away from light
Application
Dioxazoline is an important organic reaction intermediate. Compounds containing two carbon, nitrogen, oxygen, and carbon-nitrogen double-bonded five-membered heterocycles, because of their chemically active nature, can interact with carboxyl, anhydride, amino, epoxy, sulfhydryl, phenolic hydroxyl, iso Cyanate, etc. undergo ring-opening reactions, so dioxazoline can often be used as a chain extender or cross-linker for polymers.
Links
This product is developed by our R&D company Watsonnoke Scientific Ltd(http://www.watsonnoke.com/), and here is the corresponding linkhttp://www.watsonnoke.com/22-13-phenylenebis-2-oxazoline-cas-34052-90-9/
Quick Inquiry
Fill out our inquiry form and one of our experts will be in touch with you shortly (Please change screen to horizontal for complete browsing if you are checking Watson on your mobile phone).