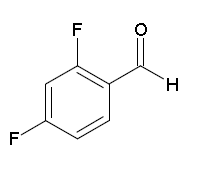 Iden­ti­fi­ca­tion
CAS

Number

1550-35-2
Name
2,4-Difluorobenzaldehyde
Syn­onyms
1550-35-2 [RN]
2,4-Difluorbenzaldehyd [Ger­man] [ACD/IUPAC Name]
2,4-Difluorobenzaldehyde [ACD/IUPAC Name]
2,4-Difluorobenzaldéhyde [French] [ACD/IUPAC Name]
216-287-2 [EINECS]
2243422 [Beil­stein]
Ben­zalde­hyde, 2,4-difluoro- [ACD/​Index Name]
VHR BF DF [WLN]
2 4-diflu­o­roben­zalde­hyde
2, 4-Diflu­o­roben­zalde­hyde
2,4 diflu­o­roben­zalde­hyde
2,4-Difluorbenzolcarbaldehyd
2,4-difluoro ben­zalde­hyde
2,4difluorobenzaldehyde
2,4-Difluorobenzaldehyde (en)
2,4-difluorobenzaldehyde(wxc00153)
2,4-difluorobenzaldehyde, 98%
2,4-difluorobenzaldehyde,98%
2,4-difluorobenzoyl
2.4-difluorobenzaldehyde
216-287-2MFCD00010326
BR-44552
OS-7782
PS-9013
WCG­PCBA­­CLB­HD­­CI-UHF­F­­FAOYSA-N
SMILES
c1cc(c(cc1F)F)C=O
Std­InChI
InChI=1S/C7H4F2O/c8-6-2-1-5(4-10)7(9)3-6/h1-4H
Std­InChIKey
WCG­PCBA­­CLB­HD­­CI-UHF­F­­FAOYSA-N
Mol­e­c­u­lar Formula
C7H4F2O
Mol­e­c­u­lar Weight
142.103
EINECS
216-287-2
Beil­stein Reg­istry Number
2243422
MDL

Number

MFCD00010326
Prop­er­ties
Appear­ance
Col­or­less to pale yel­low trans­par­ent liquid
Safe­ty Data
WGK

Germany

3
Spec­i­fi­ca­tions and Oth­er Infor­ma­tion of Our 2,4-Difluorobenzaldehyde
CAS

1550-35-2
Iden­ti­fi­ca­tion Methods
HNMR, GC
Puri­ty
98% min
Shelf Life
2 years
Stor­age
Keep away from heat, sparks, and flame. Keep away from sources of igni­tion. Store in a tight­ly closed con­tain­er. Store in a cool, dry, well-ven­ti­lat­ed area away from incom­pat­i­ble sub­stances. Do not expose to air. Store under an inert atmosphere
Known Appli­ca­tion
It is often used as an inter­me­di­ate for med­i­cines, pes­ti­cides, and liq­uid crys­tal materials.
Gen­er­al View of Documents
Links
This prod­uct is devel­oped by our R&D com­pa­ny Cam­ing Phar­ma­ceu­ti­cal Ltd (https://​www​.cam​ing​.com/).
Quick Inquiry
Fill out our inquiry form and one of our experts will be in touch with you shortly.