Iden­ti­fi­ca­tion
CAS

Number

55774-32-8
Name
7E, 9Z-Dode­ca­di­enyl Acetate
Syn­onyms
(7E,9Z)-7,9-Dodecadien-1-yl acetate [ACD/IUPAC Name]
(7E,9Z)-7,9-Dodecadien-1-yl-acetat [Ger­man] [ACD/IUPAC Name]
(7E,9Z)-7,9-dodecadienyl acetate
(7E,9Z)-Dodeca-7,9-dienyl acetate
(E,Z)-7,9-DDDA
259-812-0 [EINECS]
53880-51-6 [RN]
54364-62-4 [RN]
55774-32-8 [RN]
7,9-Dodecadien-1-ol, acetate, (7E,9Z)- [ACD/​Index Name]
7,9-DODECA­DI­ENYL ACETATE, (7E,9Z)-
Acé­tate de (7E,9Z)-7,9-dodécadién-1-yle [French] [ACD/IUPAC Name]
MFCD00009870
TRANS-7, CIS-9-DODE­CA­DI­ENYL ACETATE
(7E,9Z)-Dodeca-7,9-dien-1-yl acetate
(7Z,9E)-dodeca­di­enyl acetate
[(7E,9Z)-dodeca-7,9-dienyl] acetate
[(7E,9Z)-dodeca-7,9-dienyl] ethanoate
acetic acid [(7E,9Z)-dodeca-7,9-dienyl] ester
c14h24o2
STOCK­­1N-11844
SMILES
CC/C=C\C=C\CCC­C­C­COC(=O)C
Std­InChI
InChI=1S/C14H24O2/c1-3-4-5-6-7-8-9-10-11-12-13-16-14(2)15/h4-7H,3,8-13H2,1-2H3/b5-4-,7-6+
Std­InChIKey
LLRZUAWETKPZJO-SCFJQAPRSA-N
MDL

Number

MFCD00009870
EINECS

Number

259-812-0
Mol­e­c­u­lar Formula
C14H24O2
Mol­e­c­u­lar Weight
224.339
Prop­er­ties
Appear­ance
Col­or­less or light yel­low oil
Flash Point
61 °C
Boil­ing Point
309.6±21.0 °C(Predicted)
Safe­ty Data
WGK

Germany

3
Spec­i­fi­ca­tions and Oth­er Infor­ma­tion of Our
7E

, 9Z-Dode­ca­di­enyl Acetate

CAS

55774-32-8
Iden­ti­fi­ca­tion Methods
HNMR, CNMR, GC
Puri­ty
90% min
Stor­age
Under room tem­per­a­ture away from light.
Known Appli­ca­tion
Often used as a pheromone, used in Euro­pean grapevine moth (Lobe­sia botrana).
Gen­er­al View of Documents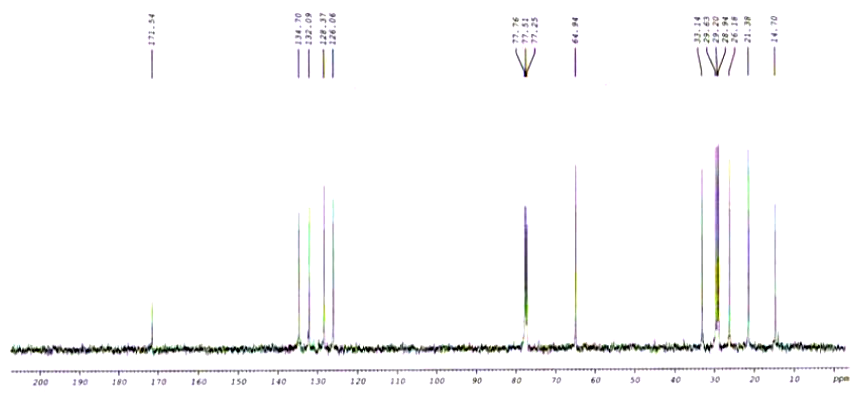 Links
This prod­uct is devel­oped by our R
&
D com­pa­ny Wat­son Bio Ltd(
https://​www​.wat​son​-bio​.com/
), and here is the cor­re­spond­ing link
https://​www​.wat​son​-bio​.com/​7​e​,​-​9​z​-​d​o​d​e​c​a​d​i​e​n​y​l​-​a​c​e​t​a​t​e​-​c​a​s​-​5​5​7​7​4​-​3​2​-8/
Quick Inquiry
Fill out our inquiry form and one of our experts will be in touch with you short­ly (Please change screen to hor­i­zon­tal for com­plete brows­ing if you are check­ing Wat­son on your mobile phone).