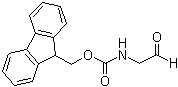 Iden­ti­fi­ca­tion
CAS

Number

156939-62-7
Name
9H-fluoren-9-yl)methyl 2-oxoethyl­­car­ba­­mate
Syn­onyms
(2-Oxoéthyl)carbamate de 9H-flu­o­rén-9-ylméthyle [French] [ACD/IUPAC Name]
(9H-Fluoren-9-yl)methyl 2-oxoethyl­­car­ba­­mate
156939-62-7 [RN]
9H-Flu­o­ren-9-ylmethyl (2-oxoethyl)carbamate [ACD/IUPAC Name]
9H-Fluoren-9-ylmethyl-(2-oxoethyl)carbamat [Ger­man] [ACD/IUPAC Name]
Car­bam­ic acid, N-(2-oxoethyl)-, 9H-flu­o­ren-9-ylmethyl ester [ACD/​Index Name]
(9H-Fluoren-9-yl)methyl (2-oxoethyl)carbamate
(9H-FLU­O­REN-9-YL)METHYL N-(2-OXOETHYL)CAR­BA­MATE
(9H-Fluoren-9-yl)methyl 2-oxoethyl­­car­ba­­mate
(9H-Fluoren-9-yl)methyl2-oxoethylcarbamate
(9H-FLU­O­REN-9-YL)METHYL-2-OXOETHYL­CAR­BA­MATE
[156939-62-7]
9H-flu­o­ren-9-ylmethyl N-(2-oxoethyl)carbamate
DS-13459
Fmoc-gly­ci­­nal
Fmoc-Gly-Wang resin
http:////www.amadischem.com/proen/522635/
MFCD11519176 [MDL num­ber]
N-Fmocg­­ly­ci­­nal
SMILES
C1=CC=C2C(=C1)C(C3=CC=CC=C32)COC(=O)NCC=O
Std­InChI
InChI=1S/C17H15NO3/c19-10-9-18-17(20)21-11-16-14-7-3-1-5-12(14)13-6-2-4-8-15(13)16/h1-8,10,16H,9,11H2,(H,18,20)
Std­InChIKey
DBT­MQO­­DRS­DE­­GRZ-UHF­F­­FAOYSA-N
Mol­e­c­u­lar Formula
C17H15NO3
Mol­e­c­u­lar Weight
281.306
MDL

Number

MFCD11519176
Prop­er­ties
Appear­ance
White or off-white powder
Safe­ty Data
RIDADR
NONH for all modes of transport
WGK

Germany

3
MSDS

Download
Spec­i­fi­ca­tions and Oth­er Infor­ma­tion of Our 9H-fluoren-9-yl)methyl 2-oxoethyl­­car­ba­­mate
CAS

156939-62-7
Iden­ti­fi­ca­tion Methods
HNMR, HPLC
Puri­ty
98% min
Water
≤1.0%
Shelf Life
1 year
Stor­age
Store below 8°C for long time, in con­tain­er tight­ly sealed ; Pro­tect from light and moisture.
Known Appli­ca­tion
Often used as an amino acid.
Links
This prod­uct is devel­oped by our R&D com­pa­ny Apnoke Sci­en­tif­ic Ltd (http://​www​.apnoke​.com/).
Quick Inquiry
Fill out our inquiry form and one of our experts will be in touch with you shortly.