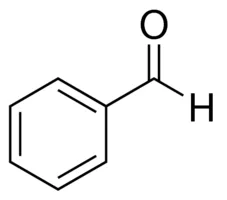 Benzaldehyde CAS 100-52-7
Identification
Properties
Safety Data
Specifications andamp; Other Information
Links
Identification
CAS Number
100-52-7
Name
Benzaldehyde
Synonyms
100-52-7 [RN]
202-860-4 [EINECS]
471223 [Beilstein] [WLN]
Benzaldehyd [German] [ACD/IUPAC Name]
Benzaldehyde [ACD/Index Name] [ACD/IUPAC Name]
Benzaldéhyde [French] [ACD/IUPAC Name]
Benzaldehyde [UN1990] [Class 9]
VHR [WLN]
[100-52-7]
1334-78-7 [RN]
14132-51-5 [RN]
17901-93-8 [RN]
3592-47-0 [RN]
55-21-0 [RN]
Ald3.1-H_000160
Ald3.1-H_000479
Ald3.1-H_000798
Ald3-H_000012
Benzenecarbinal
benzenecarbonal
Benzenemethylal
Benzoic acid aldehyde
Benzoic aldehyde
BEZ
Bitter almond
C032175
CHEMBL15972
EINECS 202-860-4
MFCD00801585 [MDL number]
Phenylformaldehyde
Phenylmethanal
ST5213372
UNII:TA269SD04T
UNII-TA269SD04T
苯甲醛 [Chinese]
Molecular Structure
SMILES
c1ccc(cc1)C=O
StdInChI
InChI=1S/C7H6O/c8-6-7-4-2-1-3-5-7/h1-6H
StdInChIKey
HUMNYLRZRPPJDN-UHFFFAOYSA-N
Molecular Formula
C7H6O
Molecular Weight
106.12
EINECS
202-860-4
Beilstein Registry Number
471223
MDL Number
MFCD00003299
Properties
Appearance
Colorless transparent or light yellow liquid
Density
1.0460-1.0469
Safety Data
Symbol

GHS07
Signal Word
Warning
Hazard Statements
Personal Protective Equipment
Eyeshields, Faceshields, full-face respirator (US), Gloves, multi-purpose combination respirator cartridge (US), type ABEK (EN14387) respirator filter
RIDADR
UN 1990 9 / PGIII
WGK Germany
1
RTECS
CU4375000
Specifications and Other Information of Our Benzaldehyde CAS 100-52-7
Standard
Enterprise standard
Identification Methods
GC
Purity
≥99.0%
Chloride content (cl)
≤0.3%
Acid value
≤3.0mg/g
Impuritie content
≤0.5%
Package
Polyethylene plastic drum, net weight 200kg per barrel.
Storage
Under the room temperature and away from light
Application
1, benzaldehyde is the manufacture of intermediates for dyes.
2, benzaldehyde itself for spices and seasonings, but also for the processing of other spices and seasonings.
3, benzaldehyde used in the manufacture of pesticides.
4, benzaldehyde for the manufacture of benzylamine and other products, in the polyacid dyeing as auxiliaries in the electroplating bath as additives, and polyol reaction as a gelling agent.
Quick Inquiry
Fill out our inquiry form and one of our experts will be in touch with you shortly (Please change screen to horizontal for complete browsing if you are checking Watson on your mobile phone).