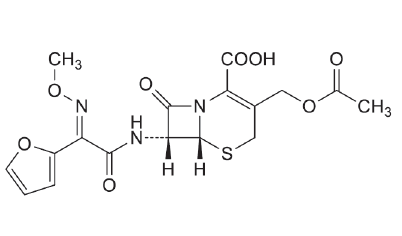 Iden­ti­fi­ca­tion
CAS

Number

97232-98-9
Name
cefurox­ime sodi­um Impu­ri­ty G
Syn­onyms
(6R,7R)-3-(Acetoxymethyl)-7-{[(2E)-2-(2-furyl)-2-(methoxyimino)acetyl]amino}-8-oxo-5-thia-1-azabicyclo[4.2.0]oct-2-en-2-carbonsäure [Ger­man] [ACD/IUPAC Name]
(6R,7R)-3-(Acetoxymethyl)-7-{[(2E)-2-(2-furyl)-2-(methoxyimino)acetyl]amino}-8-oxo-5-thia-1-azabicyclo[4.2.0]oct-2-ene-2-carboxylic acid [ACD/IUPAC Name]
5-Thia-1-azabicyclo[4.2.0]oct-2-ene-2-carboxylic acid, 3-[(acetyloxy)methyl]-7-[[(2E)-2-(2-furanyl)-2-(methoxyimino)-1-oxoethyl]amino]-8-oxo-, (6R,7R)- [ACD/​Index Name]
97232-98-9 [RN]
Acide (6R,7R)-3-(acétoxyméthyl)-7-{[(2E)-2-(2-furyl)-2-(méthoxyimino)acétyl]amino}-8-oxo-5-thia-1-azabicyclo[4.2.0]oct-2-ène-2-carboxylique [French] [ACD/IUPAC Name]
(6R,7R)-3-(Acetyloxymethyl)-7-[[(2E)-2-(furan-2-yl)-2-methoxyiminoacetyl]amino]-8-oxo-5-thia-1-azabicyclo[4.2.0]oct-2-ene-2-carboxylic acid
39685-31-9 [RN]
Cefu­race­time (E-iso­mer)
SMILES
CC(=O)OCC1=C(N2[[email protected]@H]([[email protected]@H](C2=O)NC(=O)/C(=N/OC)/​c3ccco3)SC1)C(=O)O
Std­InChI
InChI=1S/C17H17N3O8S/c1-8(21)28-6-9-7-29-16-12(15(23)20(16)13(9)17(24)25)18-14(22)11(19-26-2)10-4-3-5-27-10/h3-5,12,16H,6-7H2,1-2H3,(H,18,22)(H,24,25)/b19-11+/t12-,16-/m1/s1
Std­InChIKey
YBHZVPY­SEUQI­II-MKH­­SIZEZSA-N
Mol­e­c­u­lar Formula
C17H17N3O8S
Mol­e­c­u­lar Weight
423.397
Prop­er­ties
Appear­ance
Off-white pow­der
Safe­ty Data
RIDADR
NONH for all modes of transport
WGK

Germany

3
Spec­i­fi­ca­tions and Oth­er Infor­ma­tion of Our cefurox­ime sodi­um Impu­ri­ty G
CAS

97232-98-9
Iden­ti­fi­ca­tion Methods
HNMR, MS, HPLC
Puri­ty
95% min
Shelf Life
3 years
Stor­age
Store at -20 °C for long time, sealed and away from light.
Known Appli­ca­tion
Used as the Impu­ri­ty of Cefurox­ime sodium.
Gen­er­al View of Documents
Links
This prod­uct is devel­oped by our R&D com­pa­ny Cam­ing Phar­ma­ceu­ti­cal Ltd (https://​www​.cam​ing​.com/).
Quick Inquiry
Fill out our inquiry form and one of our experts will be in touch with you shortly.