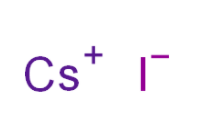 Iden­ti­fi­ca­tion
CAS

Number

7789-17-5
Name
Cesium iodide
Syn­onyms
232-145-2 [EINECS]
7789-17-5 [RN]
Cae­sium iodide [ACD/IUPAC Name]
cae­sium monoio­dide
Cae­siu­mio­did [Ger­man] [ACD/IUPAC Name]
Cesium Iodide
Cesium monoio­dide
Iodure de cési­um [French] [ACD/IUPAC Name]
[7789-17-5]
12285-55-1 [RN]
12527-22-9 [RN]
186348-85-6 [RN]
CAE­SIUM IODIDE|CAE­SIUM(1+) IODIDE
CAE­SIUM(1+) ION IODIDE
Cesium iodide, 99.9% Trace met­als grade
cesiu­mio­dide
CsI [For­mu­la]
EINECS 232-145-2
MFCD00010962
WLN : CS I
碘化銫 [Chi­nese]
SMILES
[I-].[Cs+]
Std­InChI
InChI=1S/​Cs.HI/​h ;1H/q+1;/p-1
Std­InChIKey
XQPRBTX­UXXVTKB-UHF­F­­FAOYSA-M
Mol­e­c­u­lar Formula
CsI
Mol­e­c­u­lar Weight
259.81
EINECS
232-145-2
MDL

Number

MFCD00010962
Prop­er­ties
Appear­ance
White cubic crys­tal or powder
Safe­ty Data
WGK

Germany

3
Spec­i­fi­ca­tions and Oth­er Infor­ma­tion of Our Cesium iodide
CAS

7789-17-5
Iden­ti­fi­ca­tion Methods
HNMR, HPLC
Puri­ty
99% min
Iterms
Spec­i­fi­ca­tion I
Spec­i­fi­ca­tion

II

CsI
≥99.99%
≥99.99%
Impu­ri­ties
Li
≤0.00005%
≤0.00005%
Na
≤0.0001%
≤0.00001%
K
≤0.0002%
≤0.0001%
Rb
≤0.002%
≤0.0005%
Ca
≤0.00005%
≤0.00002%
Mg
≤0.0001%
≤0.00005%
Sr
≤0.000%
≤0.0001%
Ba
≤0.001%
≤0.0005%
Fe
≤0.00005%
≤0.00002%
Al
≤0.00001%
≤0.00001%
Cr
≤0.0005%
≤0.00001%
Mn
≤0.0001%
≤0.00005%

SO

4
≤0.0005%
≤0.0005%
P2O5
≤0.00005%
≤0.00005%
SiO2
≤0.00002%
≤0.00001%
Shelf Life
2 years
Stor­age
Under room tem­per­a­ture away from light
Known Appli­ca­tion
Used in X-ray image inten­si­fi­er tubes, cesium iodide, sodi­um, cesium iodide, scin­til­la­tion crys­tal mate­ri­als, spe­cial elec­tric light source addi­tives, spe­cial opti­cal glass med­i­cines and ana­lyt­i­cal reagents, etc.
Links
This prod­uct is devel­oped by our R&D com­pa­ny Warshel Chem­i­cal Ltd (https://​www​.warshel​.com/).
Quick Inquiry
Fill out our inquiry form and one of our experts will be in touch with you shortly.