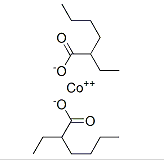 Cobalt Octoate CAS 136-52-7
Identification
Properties
Safety Data
Specifications & Other Information
Links
Identification
CAS Number
136-52-7
Name
Cobalt Octoate
Synonyms
136-52-7 [RN]
205-250-6 [EINECS]
Bis(2-éthylhexanoate) de cobalt(2+) [French] [ACD/IUPAC Name]
Cobalt 2-ethylhexanoate
Cobalt(2+) bis(2-ethylhexanoate) [ACD/IUPAC Name]
Cobalt(2+)bis(2-ethylhexanoat) [German] [ACD/IUPAC Name]
Cobalt(II) 2-ethylhexanoate
Cobaltous 2-ethylhexanoate
Hexanoic acid, 2-ethyl-, cobalt(2+) salt (2:1) [ACD/Index Name]
[(2-ETHYLHEXANOYL)OXY]COBALTIO 2-ETHYLHEXANOATE
2-ethylhexanoic acid cobalt salt
2-Ethylhexanoic acid cobalt(2+) salt
2-Ethylhexanoic acid, cobalt salt
C 101 (catalyst) [Trade name]
cobalt 2-ethylcaproate;cobalt 2-ethylhexanoate
Cobalt 2-ethylhexoate
Cobalt bis(2-ethylhexanoate)
Cobalt bis(2-ethylhexanoic acid)
cobalt octoate
cobalt(2+);2-ethylhexanoate
Cobaltbis
cobaltbis(2-ethylhexanoate)
Cobaltous octoate
hexanoic acid, 2-ethyl-, cobalt(2+) salt
MFCD00072632
SMILES
CCCCC(CC)C(=O)[O-].CCCCC(CC)C(=O)[O-].[Co+2]
StdInChI
InChI=1S/2C8H16O2.Co/c2*1-3-5-6-7(4-2)8(9)10;/h2*7H,3-6H2,1-2H3,(H,9,10);/q;;+2/p-2
StdInChIKey
QAEKNCDIHIGLFI-UHFFFAOYSA-L
Molecular Formula
C16H30CoO4
Molecular Weight
345.340
EINECS
205-250-6
Properties
Appearance
Blue-violet transparent liquid
Safety Data
WGK Germany
3
Specifications and Other Information of Our Cobalt Octoate CAS 136-52-7
Standard
Enterprise standard
Mental content
10.5±0.2%
Package
According to customer requirements to packaging
Storage
Under the room temperature and away from light
Application
Cobalt octoate is a catalyst with strong oxygen transport capacity to promote the drying of the film. In the same kind of catalyst, its catalytic dry performance is the strongest. Compared with the same content of cobalt naphthenate, the viscosity is decreased, the fluidity is good, and the color is good. Light, suitable for high-grade, white or light-colored paints and light-colored unsaturated polyester resins.
Links
This product is developed by our R&D company Warshel Chemical Ltd(http://www.warshel.com/), and here is the corresponding linkhttp://www.warshel.com/cobalt-octoate-cas-136-52-7/
Quick Inquiry
Fill out our inquiry form and one of our experts will be in touch with you shortly.