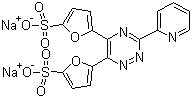 Identification
CAS Number
79551-14-7
Name
Ferene disodium salt
Synonyms
2-Furansulfonic acid, 5,5′-[3-(2-pyridinyl)-1,2,4-triazine-5,6-diyl]bis-, sodium salt (1:2)
3-(2-pyridyl)-5,6-bis(5-sulfo-2-furyl)-1,2,4-triazine disodium salt
5,5′-(3-(2-Pyridinyl)-1,2,4-triazine-5,6-diyl)bis-2-furansulfonic acid disodium salt
5,5′-[3-(Pyridin-2-yl)-1,2,4-triazine-5,6-diyl]difurane-2-sulfonate de disodium
Dinatrium-5,5′-[3-(pyridin-2-yl)-1,2,4-triazin-5,6-diyl]difuran-2-sulfonat
Disodium 5,5′-[3-(2-pyridinyl)-1,2,4-triazine-5,6-diyl]di(2-furansulfonate)
Disodium 5,5′-[3-(pyridin-2-yl)-1,2,4-triazine-5,6-diyl]difuran-2-sulfonate
2-Furansulfonic acid, 5,5′-(3-(2-pyridinyl)-1,2,4-triazine-5,6-diyl)bis-, disodium salt
3-(2-Pyridyl)-5,6-bis(2-(furylsulfonic acid))-1,2,4-triazine
3-(2-Pyridyl)-5,6-di(2-furyl)-1,2,4-triazine-5′,5"-disulfonic acid disodium salt; 5,5′-[3-(2-Pyridyl)-1,2,4-triazine-5,6-diyl]difuran-2-sulfonic acid disodium salt
3-(2-Pyridyl)-5,6-di(2-furyl)-1,2,4-triazine-5′,5′′-disulfonic acid disodium salt
3-(2-PYRIDYL)-5,6-DIFURYL-1,2,4-TRIAZINEDISULFONIC ACID SODIUM SALT
5,5′-(3-(2-Pyridyl)-1,2,4-triazine-5,6 diyl)-bis-2
5,5′-(3-(2-Pyridyl)-1,2,4-triazine-5,6 diyl)-bis-2-furansulfonic acid
5,5′-[3-(2-Pyridyl)-1,2,4-triazine-5,6-diyl]difuran-2-sulfonic acid disodium salt
Ferene
Ferene disodium salt
Ferene S
Ferene-S
-furansulfonic acid
Sodium 5,5′-(3-(pyridin-2-yl)-1,2,4-triazine-5,6-diyl)bis(furan-2-sulfonate)
TL8005381
Molecular Structure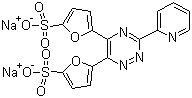 SMILES
[Na+].[Na+].O=S([O-])(=O)c4oc(c1nnc(nc1c2oc(cc2)S([O-])(=O)=O)c3ncccc3)cc4
StdInChI
InChI=1S/C16H10N4O8S2.2Na/c21-29(22,23)12-6-4-10(27-12)14-15(11-5-7-13(28-11)30(24,25)26)19-20-16(18-14)9-3-1-2-8-17-9;;/h1-8H,(H,21,22,23)(H,24,25,26);;/q;2*+1/p-2
StdInChIKey
IVLSEFOVPQFJBB-UHFFFAOYSA-L
Molecular Formula
C16H8N4Na2O8S2
Molecular Weight
494.37
Beilstein Registry Number
5710932
MDL Number
MFCD00040642
Properties
Appearance
Yellow solid
Safety Data
Symbol
GHS07
Signal Word
Warning
Hazard Statements
Precautionary Statements
Personal Protective Equipment
dust mask type(N95) US, Eye Shields, Gloves
Hazard Codes (Europe)
Risk Statements (Europe)
Safety Statements (Europe)
26-36
WGK Germany
3
Download MSDS
MSDS of Ferene disodium salt CAS 79551-14-7(PDF)
Specifications and Other Information of Our Ferene disodium salt CAS 79551-14-7
Test Method
Colorimetry
Moisture
9.0-13.0 %
Emax 593nm Fe2+/Ferene(color limiting)
>34000
Emax 593nm Fe2+/Ferene(iron limiting)
>34000
Emax 304nm(in distilled water)
>25500
Iron Content
< 5 ppm
Indexes of Our Spectrophotometer
| | |
| --- | --- |
| Optical system | Single-beam diffraction grating |
| Wavelength | 200-800mm |
| Receiving element | Head-on GD-33 phototube |
| Light source | 12V30W tungsten-halogen lamp, QD4 Hydrogen arc lamp |
| Wavelength accuracy | ± 2nm |
| Wavelength repeatability | 0.5 nm |
| Spectral bandwidth | 6nm |
| Transmittance range | 0~100% |
| Absorbance range | 0-1.999 (A) |
| Concentration direct reading of range | 0~1999 |
| Transmittance accuracy | ± 0.5%T |
| Transmittance repeatability | 0.3%T |
| Stray light | 0.5% (220nm) |
| Transmittance and absorbance conversion error | ±0.004A(At 0.5 A) |
| Power supply | 220V±22 V 50HZ ±1 HZ |
General View of Documents
Known Application
Colorimetric reagent for iron, which is more sensitive than other reagents (e.g. Ferrozine), molar absorptivity 35500 liters/mol cm
Productivity
5kg/month
Storage
Sealed packaging at room temperature.
Protected from light, and placed in a cool, dry place.
Avoid moisture absorption.
Links
This product is developed by our RD company Watson Bio Ltd(https://www.watson-bio.com/), and here is the corresponding linkhttps://www.watson-bio.com/ferene-disodium-salt-cas-79551-14-7/
Quick Inquiry
Fill out our inquiry form and one of our experts will be in touch with you shortly (Please change screen to horizontal for complete browsing if you are checking Watson on your mobile phone).