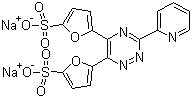 Iden­ti­fi­ca­tion
CAS

Number

79551-14-7
Name
Fer­ene dis­odi­um salt
Syn­onyms
2-Furan­­sul­­fon­ic acid, 5,5′-[3-(2-pyridinyl)-1,2,4-triazine-5,6-diyl]bis-, sodi­um salt (1:2)
3-(2-pyridyl)-5,6-bis(5-sulfo-2-furyl)-1,2,4-triazine dis­odi­um salt
5,5′-(3-(2-Pyridinyl)-1,2,4-triazine-5,6-diyl)bis-2-furansulfonic acid dis­odi­um salt
5,5′-[3-(Pyridin-2-yl)-1,2,4-triazine-5,6-diyl]difurane-2-sulfonate de dis­odi­um
Dinatrium-5,5′-[3-(pyridin-2-yl)-1,2,4-triazin-5,6-diyl]difuran-2-sulfonat
Dis­odi­um 5,5′-[3-(2-pyridinyl)-1,2,4-triazine-5,6-diyl]di(2-furansulfonate)
Dis­odi­um 5,5′-[3-(pyridin-2-yl)-1,2,4-triazine-5,6-diyl]difuran-2-sulfonate
2-Furan­­sul­­fon­ic acid, 5,5′-(3-(2-pyridinyl)-1,2,4-triazine-5,6-diyl)bis-, dis­odi­um salt
3-(2-Pyridyl)-5,6-bis(2-(furylsulfonic acid))-1,2,4-triazine
3-(2-Pyridyl)-5,6-di(2-furyl)-1,2,4-triazine-5′,5"-disulfonic acid dis­odi­um salt ; 5,5′-[3-(2-Pyridyl)-1,2,4-triazine-5,6-diyl]difuran-2-sulfonic acid dis­odi­um salt
3-(2-Pyridyl)-5,6-di(2-furyl)-1,2,4-triazine-5′,5′′-disulfonic acid dis­odi­um salt
3-(2-PYRIDYL)-5,6-DIFURYL-1,2,4-TRI­AZINEDISUL­FON­IC ACID SODI­UM SALT
5,5′-(3-(2-Pyridyl)-1,2,4-triazine-5,6 diyl)-bis-2
5,5′-(3-(2-Pyridyl)-1,2,4-triazine-5,6 diyl)-bis-2-furansulfonic acid
5,5′-[3-(2-Pyridyl)-1,2,4-triazine-5,6-diyl]difuran-2-sulfonic acid dis­odi­um salt
Fer­ene
Fer­ene dis­odi­um salt
Fer­ene S
Fer­­ene-S
-furan­sul­fon­ic acid
Sodi­um 5,5′-(3-(pyridin-2-yl)-1,2,4-triazine-5,6-diyl)bis(furan-2-sulfonate)
TL8005381
Mol­e­c­u­lar Structure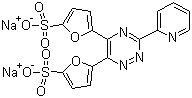 SMILES
[Na+].[Na+].O=S([O-])(=O)c4oc(c1nnc(nc1c2oc(cc2)S([O-])(=O)=O)c3ncccc3)cc4
Std­InChI
InChI=1S/C16H10N4O8S2.2Na/c21-29(22,23)12-6-4-10(27-12)14-15(11-5-7-13(28-11)30(24,25)26)19-20-16(18-14)9-3-1-2-8-17-9;;/h1-8H,(H,21,22,23)(H,24,25,26);;/q;2*+1/p-2
Std­InChIKey
IVLSE­­FOVPQFJBB-UHF­F­­FAOYSA-L
Mol­e­c­u­lar Formula
C16H8N4Na2O8S2
Mol­e­c­u­lar Weight
494.37
Beil­stein Reg­istry Number
5710932
MDL

Number

MFCD00040642
Prop­er­ties
Appear­ance
Yel­low solid
Safe­ty Data
Sym­bol
GHS07
Sig­nal Word
Warn­ing
Haz­ard Statements
Pre­cau­tion­ary Statements
Per­son­al Pro­tec­tive Equipment
dust mask type(N95) US, Eye Shields, Gloves
Haz­ard Codes (Europe)
Risk State­ments (Europe)
Safe­ty State­ments (Europe)
26-36
WGK

Germany

3
SDS

Download
Spec­i­fi­ca­tions and Oth­er Infor­ma­tion of Our Fer­ene dis­odi­um salt

CAS

79551-14-7
Test Method
Col­orime­try
Mois­ture
9.0-13.0 %
Emax 593nm Fe2+/Ferene(color limiting)
>34000
Emax 593nm Fe2+/Ferene(iron limiting)
>34000
Emax 304nm(in dis­tilled water)
>25500
Iron Con­tent
< 5 ppm
Index­es of Our Spectrophotometer
Opti­cal system
Sin­­gle-beam dif­frac­tion grating
Wave­length
200-800mm
Receiv­ing element
Head-on

GD-33

phototube
Light source

12V30W

tung­sten-halo­­gen lamp,

QD4

Hydro­gen arc lamp
Wave­length accuracy
± 2nm
Wave­length repeatability
0.5 nm
Spec­tral bandwidth
6nm
Trans­mit­tance range
0~100%
Absorbance range
0-1.999 (A)
Con­cen­tra­tion direct read­ing of range
0~1999
Trans­mit­tance accuracy
± 0.5%T
Trans­mit­tance repeatability
0.3%T
Stray light
0.5% (220nm)
Trans­mit­tance and absorbance con­ver­sion error
±0.

004A

(At 0.5 A)
Pow­er supply

220V

±22 V

50HZ

±1

HZ
Gen­er­al View of Documents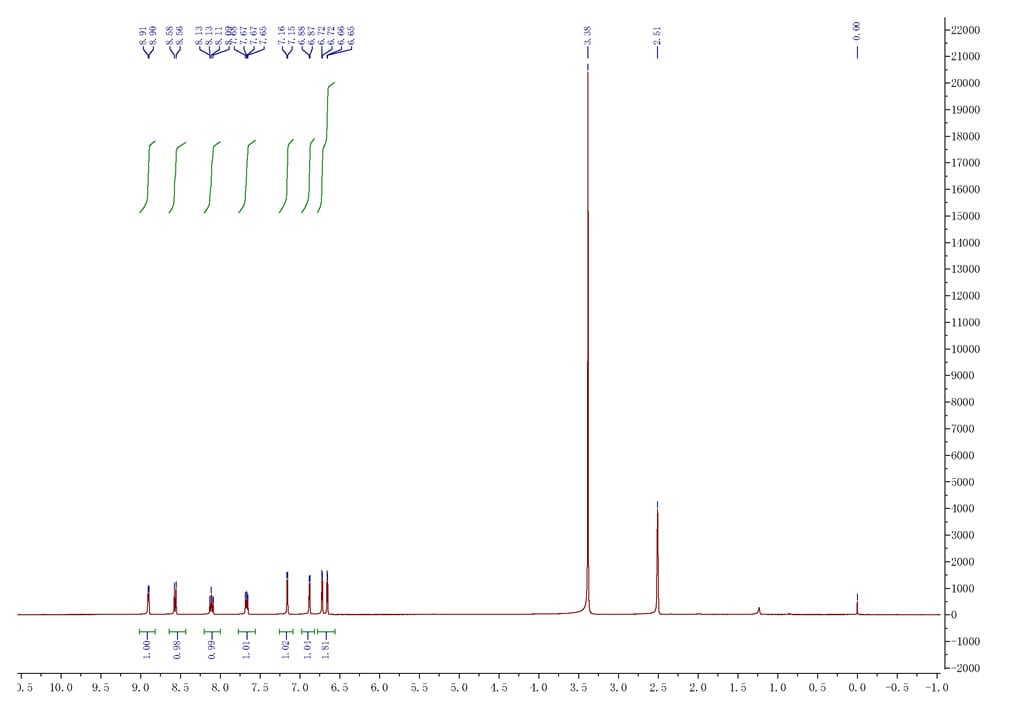 Fer­ene dis­odi­um salt CAS 79551-14-7 HNMR
Known Appli­ca­tion
Col­ori­met­ric reagent for iron, which is more sen­si­tive than oth­er reagents (e.g. Fer­rozine), molar absorp­tiv­i­ty 35500 liters/​mol cm
Pro­duc­tiv­i­ty
5kg/​month
Stor­age
Sealed pack­ag­ing at room tem­per­a­ture.
Pro­tect­ed from light, and placed in a cool, dry place.
Avoid mois­ture absorption.
Links
This prod­uct is devel­oped by our RD com­pa­ny Wat­son Bio Ltd(https://​www​.wat​son​-bio​.com/), and here is the cor­re­spond­ing linkhttps://​www​.wat​son​-bio​.com/​f​e​r​e​n​e​-​d​i​s​o​d​i​u​m​-​s​a​l​t​-​c​a​s​-​7​9​5​5​1​-​1​4​-7/
Quick Inquiry
Fill out our inquiry form and one of our experts will be in touch with you short­ly (Please change screen to hor­i­zon­tal for com­plete brows­ing if you are check­ing Wat­son on your mobile phone).