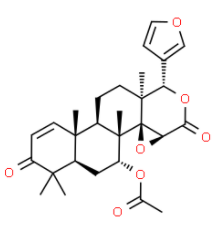 Iden­ti­fi­ca­tion
CAS

Number

2753-30-2
Name
Gedunin
Syn­onyms
(1S,3aS,4aR,4bS,5R,6aR,10aR,10bR,12aS)-1-(Furan-3-yl)-4b,7,7,10a,12a-pentamethyl-3,8-dioxo-1,3,3a,4b,5,6,6a,7,8,10a,10b,11,12,12a-tetradecahydronaphtho[2,1-f]oxireno[2,3-d]isochromen-5-yl acetate
(4aR,6R,6aS,6bR,7aS,10S,10aS,12aR,12bR)-10-(3-Furyl)-4,4,6a,10a,12b-pentamethyl-3,8-dioxo-3,4,4a,5,6,6a,7a,8,10,10a,11,12,12a,12b-tetradecahydronaphtho[2,1-f]oxireno[d]isochromen-6-yl acetate [ACD/IUPAC Name]
(4aR,6R,6aS,6bR,7aS,10S,10aS,12aR,12bR)-10-(3-Furyl)-4,4,6a,10a,12b-pentamethyl-3,8-dioxo-3,4,4a,5,6,6a,7a,8,10,10a,11,12,12a,12b-tetradecahydronaphtho[2,1-f]oxireno[d]isochromen-6-yl-acetat [Ger­man] [ACD/IUPAC Name]
2753-30-2 [RN]
Acé­tate de (4aR,6R,6aS,6bR,7aS,10S,10aS,12aR,12bR)-10-(3-furyl)-4,4,6a,10a,12b-pentaméthyl-3,8-dioxo-3,4,4a,5,6,6a,7a,8,10,10a,11,12,12a,12b-tétradécahydronaphto[2,1-f]oxiréno[d]isochromén-6-yle [French] [ACD/IUPAC Name]
Gedunin
Oxireno[c]phenanthro[1,2-d]pyran-3,8(4H,7aH)-dione, 6-(acetyloxy)-10-(3-furanyl)-4a,5,6,6a,10,10a,11,12,12a,12b-decahydro-4,4,6a,10a,12b-pentamethyl-, (4aR,6R,6aS,6bR,7aS,10S,10aS,12aR,12bR)- [ACD/​Index Name]
(-)-gedunin
(1S,2R,4S,7R,8S,11R,12R,17R,19R)-7-(furan-3-yl)-1,8,12,16,16-pentamethyl-5,15-dioxo-3,6-dioxapentacyclo[9.8.0.02,4.02,8.012,17]nonadec-13-en-19-yl acetate
(1S,3aS,4aR,4bS,5R,6aR,10aR,10bR,12aS)-5-(Acetyloxy)-1-(3-furanyl)-1,5,6,6a,7,10a,10b,11,12,12a,decahydro-4b,7,7,10a,12a,-pentamethyloxireno[c]phenanthro[1,2-d]pyran-3,8(3aH,4bH)-dione
(1S,3aS,4aR,4bS,5R,6aR,10aR,10bR,12aS)-5-(acetyloxy)-1-(3-furanyl)-1,5,6,6a,7,10a,10b,11,12,12a-decahydro-4b,7,7,10a,12a-pentamethyl-oxireno[c]phenanthro[1,2-d]pyran-3,8(3aH,4bH)-dione
(4aR,6R,6aS,6bR,7aS,10R,10aS,12aR,12bR)-10-(3-furyl)-4,4,6a,10a,12b-pentamethyl-3,8-dioxo-3,4,4a,5,6,6a,7a,8,10,10a,11,12,12a,12b-tetradecahydrooxireno[c]phenanthro[1,2-d]pyran-6-yl acetate
(4aR,6R,6aS,6bR,7aS,10R,10aS,12aR,12bR)-10-(furan-3-yl)-4,4,6a,10a,12b-pentamethyl-3,8-dioxo-3,4,4a,5,6,6a,7a,8,10,10a,11,12,12a,12b-tetradecahydronaphtho[2,1-f]oxireno[d]isochromen-6-yl acetate
(4aR,6R,6aS,6bR,7aS,10S,10aS,12aR,12bR)-10-(furan-3-yl)-4,4,6a,10a,12b-pentamethyl-3,8-dioxo-3,4,4a,5,6,6a,7a,8,10,10a,11,12,12a,12b-tetradecahydronaphtho[2,1-f]oxireno[d]isochromen-6-yl acetate
[2753-30-2]
BML 284 | CID 11210285 |
D-homo-24-nor-17-oxachola-1,20,22-triene-3,16-dione, 7-(acetyloxy)-14,15:21,23-diepoxy-4,4,8-trimethyl-(5α,7α,13α,14β,15β,17aα)-
Gedu­nine
https://​www​.ebi​.ac​.uk/​c​h​e​b​i​/​s​e​a​r​c​h​I​d​.​d​o​?​c​h​e​b​i​I​d​=​C​H​E​B​I​:​6​5​954
LK9275200
Oxireno(c)phenanthro(1,2-d)pyran-3,8(3aH,4bH)-dione, 5-(acetyloxy)-1-(3-furanyl)-1,5,6,6a,7,10a,10b,11,12,12a-decahydro-4b,7,7,10a,12a-pentamethyl-,(1S,3aS,4aR,4bS,5R,6aR,10aR,10bR,12aS)-
SMILES
CC(=O)O[[email protected]@H]1C[[email protected]@H]2[[email protected]](C=CC(=O)C2(C)C)([[email protected]@H]3[[email protected]@]1([[email protected]]45[[email protected]](O4)C(=O)O[[email protected]]([[email protected]@]5(CC3)C)c6ccoc6)C)C
Std­InChI
InChI=1S/C28H34O7/c1-15(29)33-20-13-18-24(2,3)19(30)8-10-25(18,4)17-7-11-26(5)21(16-9-12-32-14-16)34-23(31)22-28(26,35-22)27(17,20)6/h8-10,12,14,17-18,20-22H,7,11,13H2,1-6H3/t17-,18+,20-,21+,22-,25-,26+,27+,28-/m1/s1
Std­InChIKey
YJXDG­WUN­RYLINJ-BHAP­SI­HVSA-N
Mol­e­c­u­lar Formula
C28H34O7
Mol­e­c­u­lar Weight
482.565
Prop­er­ties
Appear­ance
White to Off-White Solid
Safe­ty Data
RIDADR
NONH for all modes of transport
WGK

Germany

3
Spec­i­fi­ca­tions and Oth­er Infor­ma­tion of Our Gedunin
CAS

2753-30-2
Iden­ti­fi­ca­tion Methods
HNMR, HPLC
Puri­ty
98% min
Shelf Life
2 years
Stor­age
Hygro­scop­ic, -20°C Freez­er, Under inert atmosphere
Known Appli­ca­tion
Gedunin is a nat­u­ral­ly occur­ring Hsp90 inhibitor. In vit­ro, Gedunin induces Hsp90-depen­­dent client pro­tein degra­da­tion and dis­plays antipro­lif­er­a­tive activ­i­ty (IC50 val­ues are 3.22, 8.84 and 16.8 μM in SKBr3, MCF-7 and CaCo-2 can­cer cell lines respec­tive­ly). Gedunin exhibits anti­malar­i­al activ­i­ty against P. fal­ci­parum (IC50 val­ues are 0.14 and 3.1 μM in par­a­site devel­op­ment and [3H]-hypox­an­thine uptake assays respectively).
Links
This prod­uct is devel­oped by our R&D com­pa­ny Ulcho Bio­chem­i­cal Ltd (http://​www​.ulcho​.com/).
Quick Inquiry
Fill out our inquiry form and one of our experts will be in touch with you shortly.