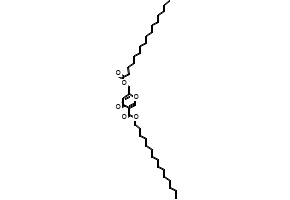 Iden­ti­fi­ca­tion
CAS

Number

79725-98-7
Name
Kojic acid dipalmitate
Syn­onyms
4-Oxo-6-[(palmitoyloxy)methyl]-4H-pyran-3-yl palmi­tate [ACD/IUPAC Name]
4-Oxo-6-[(palmitoyloxy)methyl]-4H-pyran-3-ylpalmitat [Ger­man] [ACD/IUPAC Name]
6-[(hexadecanoyloxy)methyl]-4-oxo-4H-pyran-3-yl hexa­de­canoate
79725-98-7 [RN]
Hexa­de­canoic acid, 4-oxo-6-[[(1-oxohexadecyl)oxy]methyl]-4H-pyran-3-yl ester [ACD/​Index Name]
Kojic acid dipalmi­tate
Palmi­tate de 4-oxo-6-[(palmitoyloxy)méthyl]-4H-pyran-3-yle [French] [ACD/IUPAC Name]
(4-Oxo-5-(palmitoyloxy)-4H-pyran-2-yl)methyl palmi­tate
(5-hexadecanoyloxy-4-oxopyran-2-yl)methyl hexa­de­canoate
[5-(HEXA­DE­CANOY­LOXY)-4-OXO-4H-PYRAN-2-YL]METHYL HEXA­DE­CANOATE
[5-(HEXA­DE­CANOY­LOXY)-4-OXOPY­RAN-2-YL]METHYL HEXA­DE­CANOATE
[79725-98-7]
4-oxo-6-[[(1-oxohexadecyl)oxy]methyl]-4H-pyran-3-yl ester
Hexa­de­canoic acid [ACD/​Index Name]
http:////www.amadischem.com/proen/515850/
K-7050
kojic acid dipalmi­tate, ???
Kojic dipalmi­tate
MFCD03840587 [MDL num­ber]
MFCD23140972 [MDL number]
SMILES
CCC­C­C­C­C­C­C­C­C­C­C­C­CC(=O)OCc1cc(=O)c(co1)OC(=O)CCC­C­C­C­C­C­C­C­C­C­C­CC
Std­InChI
InChI=1S/C38H66O6/c1-3-5-7-9-11-13-15-17-19-21-23-25-27-29-37(40)43-32-34-31-35(39)36(33-42-34)44-38(41)30-28-26-24-22-20-18-16-14-12-10-8-6-4-2/h31,33H,3-30,32H2,1-2H3
Std­InChIKey
SGEAD­T­­GIZKX­PIP-UHF­F­­FAOYSA-N
Mol­e­c­u­lar Formula
C38H66O6
Mol­e­c­u­lar Weight
618.927
MDL

Number

MFCD23140972
Prop­er­ties
Appear­ance
White crys­tal powder
Melt­ing Point
92-96(±0.5)°C
Safe­ty Data
Sig­nal Word
Warn­ing
RIDADR
NONH for all modes of transport
WGK

Germany

3
Spec­i­fi­ca­tions and Oth­er Infor­ma­tion of Our Kojic acid dipalmi­tate
CAS

79725-98-7
Iden­ti­fi­ca­tion Methods
HNMR, HPLC
Puri­ty
98% min
Heavy Met­als
≤10ppm
Sul­fat­ed ash
≤0.5%
Loss on Drying
≤0.5%
Arsenic
≤2ppm
Sol­u­bil­i­ty
Eas­i­ly dis­solve in Tetrahy­dro­fu­ran and hot Ethanol
Col­or Reac­tion of Fer­ric Chloride
Neg­a­tive
Shelf Life
2 years
Stor­age
Stored in tight­ly sealed con­tain­ers in cool and dry place.
Known Appli­ca­tion
Com­mon­ly used in cos­met­ic whiten­ing additives.
Links
This prod­uct is devel­oped by our R&D com­pa­ny Apnoke Sci­en­tif­ic Ltd (http://​www​.apnoke​.com/).
Quick Inquiry
Fill out our inquiry form and one of our experts will be in touch with you shortly.