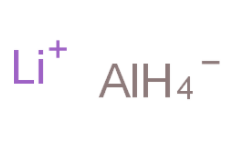 Iden­ti­fi­ca­tion
CAS

Number

16853-85-3
Name
Lithi­um Alu­minum hydride
Syn­onyms
Lithi­um Alu­mini­um Hydride [Wiki]
16853-85-3 [RN]
240-877-9 [EINECS]
Aluminate(1-), tetrahy­­dro-, lithi­um (1:1) [ACD/​Index Name]
BD0100000
LAH
LiAlH4 [For­mu­la]
Lithi­um alanate
Lithi­um alu­minum hydride
Lithi­um alu­minum hydride solu­tion
Lithi­um tetrahydridoaluminate(1-) [ACD/IUPAC Name]
lithi­um tetrahy­droa­lu­mi­nate
Lithiumtetrahydridoaluminat(1-) [Ger­man] [ACD/IUPAC Name]
MFCD00011075 [MDL num­ber]
Tétrahydridoaluminate(1-) de lithi­um [French] [ACD/IUPAC Name]
1M LITHI­UM ALU­MINUM HYDRIDE in THF
Alu­minum lithi­um hydride
https://​www​.ebi​.ac​.uk/​c​h​e​b​i​/​s​e​a​r​c​h​I​d​.​d​o​?​c​h​e​b​i​I​d​=​C​H​E​B​I​:​3​0​142
LAH, Lithi­um alanate, Alu­mini­um lithi­um hydride
Lithi­um alu­mini­um hydride (pow­der)
Lithi­um alu­mini­um hydride (tablets)
lithi­um aluminium(iv) hydride
lithi­um alu­mi­no­hy­dride
Lithi­um alu­minum hydride pow­der
Lithi­um alu­minum hydride, 4% in THF
Lithi­um alu­minum hydride­miss­ing
lithi­um aluminum(-1) tetrahy­dride anion
LITHI­UM TETRAHY­DRI­DOA­LU­MI­NATE
Lithi­u­ma­lu­minumhy­dride
UNII-77U­JC875H4
氢化铝锂 [Chi­nese]
SMILES
[Li+].[AlH4-]
Std­InChI
InChI=1S/Al.Li.4H/q-1;+1;;;;
Std­InChIKey
OCZD­­CIYGECB­N­KL-UHF­F­­FAOYSA-N
Mol­e­c­u­lar Formula
H4AlLi
Mol­e­c­u­lar Weight
37.95
EINECS
240-877-9
MDL

Number

MFCD00011075
Prop­er­ties
Appear­ance
White pow­der
Safe­ty Data
WGK

Germany

3
Spec­i­fi­ca­tions and Oth­er Infor­ma­tion of Our Lithi­um Alu­minum hydride
CAS

16853-85-3
Iden­ti­fi­ca­tion Methods
HNMR, HPLC
Puri­ty
99% min
Shelf Life
2 years
Stor­age
Under room tem­per­a­ture away from light
Known Appli­ca­tion
Used as car­bonyl reagent, reduc­ing agent ; man­u­fac­tur­ing oth­er hydrides, silane, borane, etc.; used as reduc­ing agent in med­i­cine, per­fume, pes­ti­cide, dye and oth­er fine organ­ic synthesis.
Links
This prod­uct is devel­oped by our R&D com­pa­ny Warshel Chem­i­cal Ltd (https://​www​.warshel​.com/).
Quick Inquiry
Fill out our inquiry form and one of our experts will be in touch with you shortly.