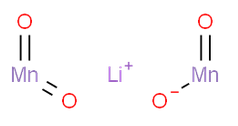 LITHIUM MANGANESE OXIDE (LMO) CAS 12057-17-9
Identification
Properties
Safety Data
Specifications & Other Information
Links
Identification
CAS Number
12057-17-9
Name
LITHIUM MANGANESE OXIDE (LMO)
Synonyms
Lithium oxido(oxo)manganese – dioxomanganese (1:1:1) [ACD/IUPAC Name]
Lithiumoxido(oxo)mangan -dioxomangan (1:1:1) [German] [ACD/IUPAC Name]
Oxo(oxydo)manganèse de lithium – dioxomanganèse (1:1:1) [French] [ACD/IUPAC Name]
12057-17-9 [RN]
lithium manganate
LITHIUM MANGANESE OXIDE
LITHIUMMANGANESEOXIDE
MFCD01114233
SMILES
[Li+].[O-][Mn]=O.O=[Mn]=O
StdInChI
InChI=1S/Li.2Mn.4O/q+1;;;;;;-1
StdInChIKey
VLXXBCXTUVRROQ-UHFFFAOYSA-N
Molecular Formula
LiMn2O4
Molecular Formula
180.815
MFCD01114233
Properties
Appearance
Blue black powder

Safety Data
RIDADR
NONH for all modes of transport
WGK Germany
3
Specifications and Other Information of Our LITHIUM MANGANESE OXIDE (LMO) CAS 12057-17-9
Standard
Enterprise standard
Detailed Specification
Item
Unit
Grade 1
Grade 2
Grade 3
Particle Size
Dmin
μm
1
–
D10
7.5~9.5
5.0~10.0
2.0~6.0
D50
17.5~21.5
14~20
14~22
D90
30~40
28~45
Dmax
<76
–
Tap density
g/cm3
1.9~2.5
<2.0
1.8~2.5
BET
m2/g
0.3~0.8
<1.0
0.5~1.2
Water
%
≤0.08
pH
–
8.0~11.0
Mn
%
58~60.5
58~60.0
Li
3.8~4.5
3.8~4.2
Fe
<0.05
Ni
<0.01
Na
<0.05
<0.5
Ca
<0.05
<0.02
Medium Particle Size D50/um
8~10
Discharge Capacity/(mAh/g, vs.Li)
95~105
Discharge Capacity/(mAh/g, vs.Li)
95~105
Cycle Life
<90%
Rate performance (power type 18650 battery 30C discharge)
<90%
Performance
1. High vibration density and compaction density, excellent electrode processing performance
2. With high rate of charge and discharge performance, perfect single crystal octahedral crystal particles provide unimpeded three-dimensional channel for lithium ion migration
3. Effectively solved the worldwide problem that hinders the high temperature cycle and storage performance of lithium manganate in power lithium ion batteries.
4. High structural stability and thermal stability. The high binding energy of modified elements and oxygen enhances the stability of the crystal structure of the material. The smaller specific surface area further reduces the exothermic side reaction between lithium manganate and the electrolyte.
Package
According to customer requirements to packaging
Manufacturing Capacity
MT scale
Storage
Under the room temperature and away from light
Application
LMO is used as a cathode material;It is mainly used in high-end large-power lithium-ion batteries to meet the requirements of advanced energy storage devices such as electric vehicles (EV, HEV, PHEV), electric motorcycles, electric bicycles, power tools, and defense and aerospace.
General View of Documents
Links
This product is developed by our R&D company Warshel Chemical Ltd(http://www.warshel.com/), and here is the corresponding linkhttp://www.warshel.com/lithium-manganese-oxide-lmo-cas-12057-17-9/
Quick Inquiry
Fill out our inquiry form and one of our experts will be in touch with you shortly.