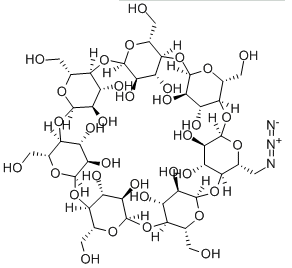 Mono-6-Azido-6-deoxy-beta-Cyclodextrin CAS 98169-85-8
Identification
CAS Number
98169-85-8
Name
Mono-6-Azido-6-deoxy-beta-Cyclodextrin
Synonyms
(1S,3R,5R,6S,8R,10R,11S,13R,15R,16S,18R,20R,21S,23R,25R,26S,28R,30R,31S,33R,35R,36R,37R,38R,39R,40R,41R,42R,43R,44R,45R,46R,47R,48R,49R)-5-(Azidomethyl)-10,15,20,25,30,35-hexakis(hydroxymethyl)-2,4,7, ;9,12,14,17,19,22,24,27,29,32,34-tetradecaoxaoctacyclo[31.2.2.23,6.28,11.213,16.218,21.223,26.228,31]nonatetracontan-36,37,38,39,40,41,42,43,44,45,46,47,48,49-tetradecol (non-preferred name ) [German] [ACD/IUPAC Name]
(1S,3R,5R,6S,8R,10R,11S,13R,15R,16S,18R,20R,21S,23R,25R,26S,28R,30R,31S,33R,35R,36R,37R,38R,39R,40R,41R,42R,43R,44R,45R,46R,47R,48R,49R)-5-(Azidomethyl)-10,15,20,25,30,35-hexakis(hydroxymethyl)-2,4,7, ;9,12,14,17,19,22,24,27,29,32,34-tetradecaoxaoctacyclo[31.2.2.23,6.28,11.213,16.218,21.223,26.228,31]nonatetracontane-36,37,38,39,40,41,42,43,44,45,46,47,48,49-tetradecol (non-preferred nam e) [ACD/IUPAC Name]
(1S,3R,5R,6S,8R,10R,11S,13R,15R,16S,18R,20R,21S,23R,25R,26S,28R,30R,31S,33R,35R,36R,37R,38R,39R,40R,41R,42R,43R,44R,45R,46R,47R,48R,49R)-5-(Azidométhyl)-10,15,20,25,30,35-hexakis(hydroxyméthyl)-2,4,7, ;9,12,14,17,19,22,24,27,29,32,34-tétradécaoxaoctacyclo[31.2.2.23,6.28,11.213,16.218,21.223,26.228,31]nonatétracontane-36,37,38,39,40,41,42,43,44,45,46,47,48,49-tétradécol (non-preferred nam e) [French] [ACD/IUPAC Name]
6-Azido-6-deoxy-b-cyclodextrin
98169-85-8 [RN]
b-Cyclodextrin, 6A-azido-6A-deoxy-
MFCD05864973
Mono-(6-Azido-6-deoxy)-β-cyclodextrin
SMILES
C([[email protected]@H]1[[email protected]@H]2[[email protected]@H]([[email protected]]([[email protected]](O1)O[[email protected]@H]3[[email protected]](O[[email protected]@H]([[email protected]@H]([[email protected]]3O)O)O[[email protected]@H]4[[email protected]](O[[email protected]@H]([[email protected]@H]([[email protected]]4O)O)O[[email protected]@H]5[[email protected]](O[[email protected]@H]([[email protected]@H]([[email protected]]5O)O)O[[email protected]@H]6[[email protected]](O[[email protected]@H]([[email protected]@H]([[email protected]]6O)O)O[[email protected]@H]7[[email protected]](O[[email protected]@H]([[email protected]@H]([[email protected]]7O)O)O[[email protected]@H]8[[email protected]](O[[email protected]](O2)[[email protected]@H]([[email protected]]8O)O)CO)CO)CO)CO)CO)CO)O)O)N=[N+]=[N-]
StdInChI
InChI=1S/C42H69N3O34/c43-45-44-1-8-29-15(52)22(59)36(66-8)74-30-9(2-46)68-38(24(61)17(30)54)76-32-11(4-48)70-40(26(63)19(32)56)78-34-13(6-50)72-42(28(65)21(34)58)79-35-14(7-51)71-41(27(64)20(35)57)77-33-12(5-49)69-39(25(62)18(33)55)75-31-10(3-47)67-37(73-29)23(60)16(31)53/h8-42,46-65H,1-7H2/t8-,9-,10-,11-,12-,13-,14-,15-,16-,17-,18-,19-,20-,21-,22-,23-,24-,25-,26-,27-,28-,29-,30-,31-,32-,33-,34-,35-,36-,37-,38-,39-,40-,41-,42-/m1/s1
StdInChIKey
CNXCXSMYMLPAMS-FOUAGVGXSA-N
Molecular Formula
C42H71NO34
Molecular Weight
1160
Properties
Appearance
White powder
Melting Point
206°C(dec.)(lit.)
Safety Data
WGK Germany
3
Specifications and Other Information of Our Mono-6-Azido-6-deoxy-beta-Cyclodextrin CAS 98169-85-8
Identification Methods
HNMR, HPLC
Purity
98% min
Shelf Life
2 years
Storage
Under room temperature away from light
Known Application
Azide beta-cyclodextrin contains azide-based high-energy active functional groups and is a valuable cyclodextrin derivative intermediate. It can be used for amine introduction and 1,3-dipolar cycloaddition reactions with alkynes It is widely used in the field of drug development, and can also be used as a precursor of a selector in a chiral stationary phase.
General View of Documents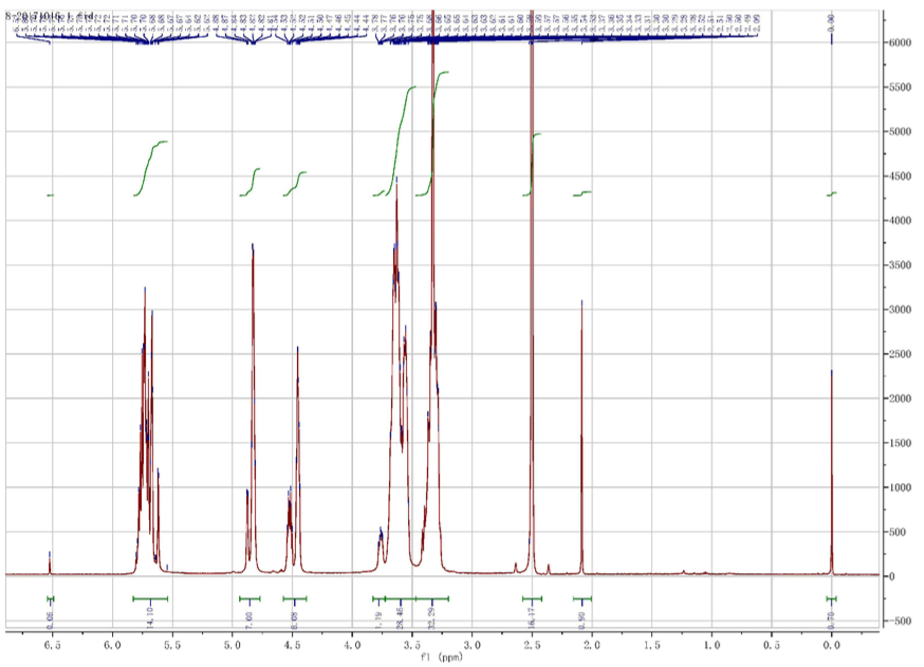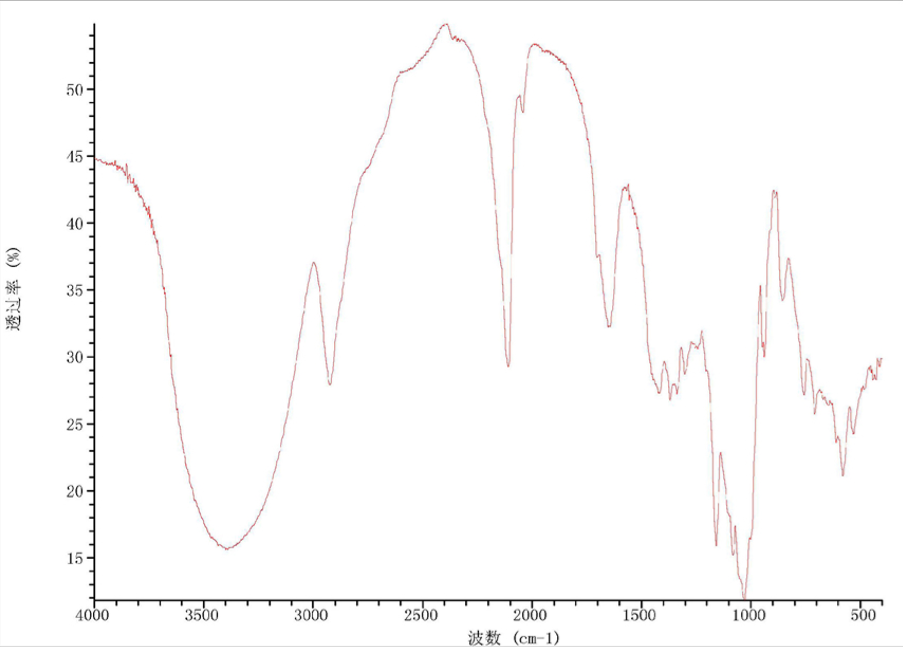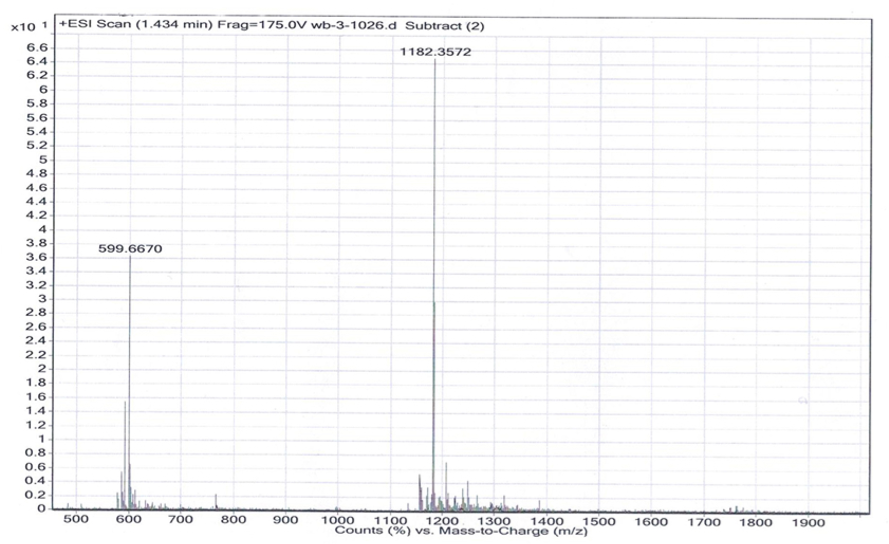 Links
This product is developed by our R&D company Caming Pharmaceutical Ltd(
http://www.caming.com/
), and here is the corresponding link
http://www.caming.com/mono-6-azido-6-deoxy-beta-cyclodextrin-cas-98169-85-8/
Quick Inquiry
Fill out our inquiry form and one of our experts will be in touch with you shortly (Please change screen to horizontal for complete browsing if you are checking Watson on your mobile phone).