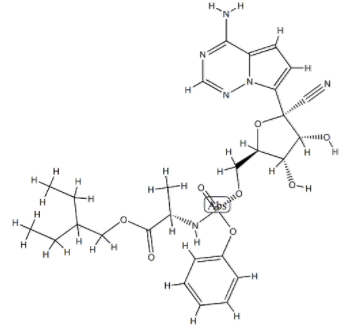 Iden­ti­fi­ca­tion
CAS

Number

1809249-37-3
Name
Remde­sivir
Syn­onyms
remde­sivir [INN]
(2S)-2-{[(S)-{[(2R,3S,4R,5R)-5-(4-Aminopyrrolo[2,1-f][1,2,4]triazin-7-yl)-5-cyano-3,4-dihydroxytétrahydro-2-furanyl]méthoxy}(phénoxy)phosphoryl]amino}propanoate de 2-éthyl­butyle (non-pre­­ferred name) [French] [ACD/IUPAC Name]
2-Eth­yl­butyl (2S)-2-{[(S)-{[(2R,3S,4R,5R)-5-(4-aminopyrrolo[2,1-f][1,2,4]triazin-7-yl)-5-cyano-3,4-dihydroxytetrahydro-2-furanyl]methoxy}(phenoxy)phosphoryl]amino}propanoate (non-pre­­ferred name) [ACD/IUPAC Name]
2-Eth­yl­butyl-(2S)-2-{[(S)-{[(2R,3S,4R,5R)-5-(4-aminopyrrolo[2,1-f][1,2,4]triazin-7-yl)-5-cyan-3,4-dihydroxytetrahydro-2-furanyl]methoxy}(phenoxy)phosphoryl]amino}propanoat (non-pre­­ferred name) [Ger­man] [ACD/IUPAC Name]
GS-5734 [Wiki]
remde­sivir [Span­ish] [INN]
remdé­sivir [French] [INN]
remde­sivirum [Latin] [INN]
UNII :3QKI37EEHE
ремдесивир [Russ­ian] [INN]
ريمديسيفير [Ara­bic] [INN]
瑞德西韦 [Chi­nese] [INN]
1809249-37-3 [RN]
Mol­e­c­u­lar Structure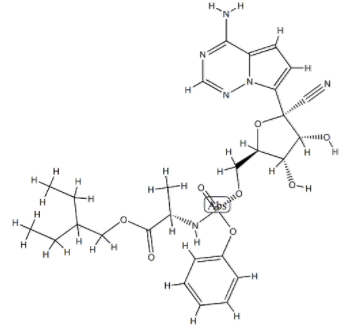 SMILES
CCC(CC)COC(=O)[[email protected]](C)N[[email protected]](=O)(OC[[email protected]@H]1[[email protected]]([[email protected]]([[email protected]](O1)(C#N)c2ccc3n2ncnc3N)O)O)Oc4ccccc4
Std­InChI
InChI=1S/C27H35N6O8P/c1-4-18(5-2)13-38-26(36)17(3)32-42(37,41-19-9-7-6-8-10-19)39-14-21-23(34)24(35)27(15-28,40-21)22-12-11-20-25(29)30-16-31-33(20)22/h6-12,16-18,21,23-24,34-35H,4-5,13-14H2,1-3H3,(H,32,37)(H2,29,30,31)/t17-,21+,23+,24+,27-,42-/m0/s1
Std­InChIKey
RWWYLEG­W­B­N­MMLJ-YSOAR­WB­D­SA-N
Mol­e­c­u­lar Formula
C27H35N6O8P
Mol­e­c­u­lar Weight
602.576
Prop­er­ties
Appear­ance
Pow­der
Den­si­ty
1.47±0.1 g/​cm3
Acid­i­ty coef­fi­cient (pKa)
12.00±0.70(Predicted)
Safe­ty Data
WGK

Germany

3
Spec­i­fi­ca­tions and Oth­er Infor­ma­tion of Our Remde­sivir
CAS

1809249-37-3
Iden­ti­fi­ca­tion Methods
HNMR, HPLC
Puri­ty
98% min
Shelf Life
1 year
Stor­age
Under room tem­per­a­ture away from light.
Known Appli­ca­tion
Remde­sivir is a nucle­o­side ana­logue and is an RNA-depen­­dent RNA poly­merase (RdRp) inhibitor. It can syn­the­size antivi­rals by inhibit­ing viral nucle­ic acids. Data from in vit­ro exper­i­ments and ani­mal mod­els indi­cate that Radix­ivir inhibits RNA-derived RNA poly­merase (RdRp), which includes atyp­i­cal pneu­mo­nia (SARS coro­n­avirus), Mid­dle East res­pi­ra­to­ry syn­drome (MERS coro­n­avirus) , Ebol Chem­i­cal­book Coro­n­avirus and many oth­er coro­n­avirus­es. In vit­ro cell exper­i­ments showed that the half effec­tive con­cen­tra­tion (IC50) of Radix­ivir to the new coro­n­avirus was 0.77 μmol·L-1. A clin­i­cal Chem­i­cal­book bed study for Ebo­la virus infec­tion is cur­rent­ly in phase II. MERS-infec­t­ed mice per­formed much bet­ter with this com­bi­na­tion ther­a­py, with reduced virus repli­ca­tion and improved lung func­tion. Recent stud­ies have shown that Radix­ivir has a cer­tain activ­i­ty in inhibit­ing the new crown virus.
Links
This prod­uct is devel­oped by our R
&
D com­pa­ny Cam­ing Phar­ma­ceu­ti­cal Ltd(
http://​www​.cam​ing​.com/
), and here is the cor­re­spond­ing link
http://​www​.cam​ing​.com/​r​e​m​d​e​s​i​v​i​r​-​c​a​s​-​1​8​0​9​2​4​9​-​3​7​-3/
Quick Inquiry
Fill out our inquiry form and one of our experts will be in touch with you short­ly (Please change screen to hor­i­zon­tal for com­plete brows­ing if you are check­ing Wat­son on your mobile phone).