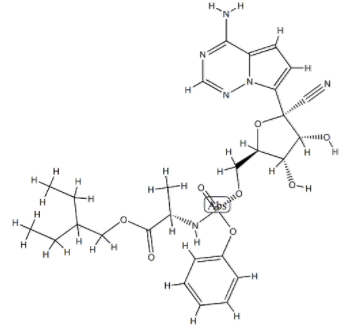 Identification
CAS Number
1809249-37-3
Name
Remdesivir
Synonyms
remdesivir [INN]
(2S)-2-{[(S)-{[(2R,3S,4R,5R)-5-(4-Aminopyrrolo[2,1-f][1,2,4]triazin-7-yl)-5-cyano-3,4-dihydroxytétrahydro-2-furanyl]méthoxy}(phénoxy)phosphoryl]amino}propanoate de 2-éthylbutyle (non-preferred name) [French] [ACD/IUPAC Name]
2-Ethylbutyl (2S)-2-{[(S)-{[(2R,3S,4R,5R)-5-(4-aminopyrrolo[2,1-f][1,2,4]triazin-7-yl)-5-cyano-3,4-dihydroxytetrahydro-2-furanyl]methoxy}(phenoxy)phosphoryl]amino}propanoate (non-preferred name) [ACD/IUPAC Name]
2-Ethylbutyl-(2S)-2-{[(S)-{[(2R,3S,4R,5R)-5-(4-aminopyrrolo[2,1-f][1,2,4]triazin-7-yl)-5-cyan-3,4-dihydroxytetrahydro-2-furanyl]methoxy}(phenoxy)phosphoryl]amino}propanoat (non-preferred name) [German] [ACD/IUPAC Name]
GS-5734 [Wiki]
remdesivir [Spanish] [INN]
remdésivir [French] [INN]
remdesivirum [Latin] [INN]
UNII:3QKI37EEHE
ремдесивир [Russian] [INN]
ريمديسيفير [Arabic] [INN]
瑞德西韦 [Chinese] [INN]
1809249-37-3 [RN]
Molecular Structure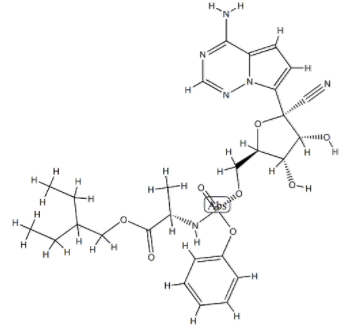 SMILES
CCC(CC)COC(=O)[[email protected]](C)N[[email protected]](=O)(OC[[email protected]@H]1[[email protected]]([[email protected]]([[email protected]](O1)(C#N)c2ccc3n2ncnc3N)O)O)Oc4ccccc4
StdInChI
InChI=1S/C27H35N6O8P/c1-4-18(5-2)13-38-26(36)17(3)32-42(37,41-19-9-7-6-8-10-19)39-14-21-23(34)24(35)27(15-28,40-21)22-12-11-20-25(29)30-16-31-33(20)22/h6-12,16-18,21,23-24,34-35H,4-5,13-14H2,1-3H3,(H,32,37)(H2,29,30,31)/t17-,21+,23+,24+,27-,42-/m0/s1
StdInChIKey
RWWYLEGWBNMMLJ-YSOARWBDSA-N
Molecular Formula
C27H35N6O8P
Molecular Weight
602.576
Properties
Appearance
Powder
Density
1.47±0.1 g/cm3
Acidity coefficient (pKa)
12.00±0.70(Predicted)
Safety Data
WGK Germany
3
Specifications and Other Information of Our Remdesivir CAS 1809249-37-3
Identification Methods
HNMR, HPLC
Purity
98% min
Shelf Life
1 year
Storage
Under room temperature away from light.
Known Application
Remdesivir is a nucleoside analogue and is an RNA-dependent RNA polymerase (RdRp) inhibitor. It can synthesize antivirals by inhibiting viral nucleic acids. Data from in vitro experiments and animal models indicate that Radixivir inhibits RNA-derived RNA polymerase (RdRp), which includes atypical pneumonia (SARS coronavirus), Middle East respiratory syndrome (MERS coronavirus) , Ebol Chemicalbook Coronavirus and many other coronaviruses. In vitro cell experiments showed that the half effective concentration (IC50) of Radixivir to the new coronavirus was 0.77 μmol·L-1. A clinical Chemicalbook bed study for Ebola virus infection is currently in phase II. MERS-infected mice performed much better with this combination therapy, with reduced virus replication and improved lung function. Recent studies have shown that Radixivir has a certain activity in inhibiting the new crown virus.
Links
This product is developed by our R&D company Caming Pharmaceutical Ltd(
http://www.caming.com/
), and here is the corresponding link
http://www.caming.com/remdesivir-cas-1809249-37-3/
Quick Inquiry
Fill out our inquiry form and one of our experts will be in touch with you shortly (Please change screen to horizontal for complete browsing if you are checking Watson on your mobile phone).