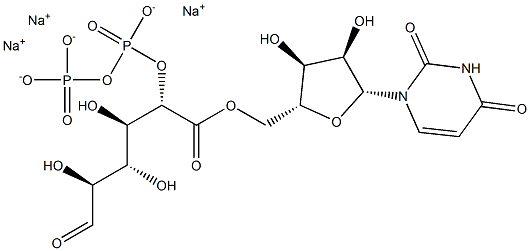 Iden­ti­fi­ca­tion
CAS

Number

148407-07-2
Name
UDP-GalA.3Na
Syn­onyms
Uridine5′-diphospho-galuronicacidtrisodium ;
UDP-a-D-galac­­tur­onide­trisodiem­salt ;
(2S,3R,4S,5R,6R)-6-[[[(2R,3S,4R,5R)-5-(2,4-dioxopyrimidinChemicalbook-1-yl)-3,4-dihydroxyoxolan-2-yl]methoxy-hydroxyphosphoryl]oxy-hydroxyphosphoryl]oxy-3,4,5-trihydroxyoxane-2-carboxylicacid ;
UDP-GalA.3Na
Mol­e­c­u­lar Formula
C15H19N2O18P2Na3
Mol­e­c­u­lar Weight
646.230792
Prop­er­ties
Appear­ance
White sol­id
Safe­ty Data
RIDADR
NONH for all modes of transport
WGK

Germany

3
Spec­i­fi­ca­tions and Oth­er Infor­ma­tion of Our UDP-GalA.3Na
CAS

148407-07-2
Iden­ti­fi­ca­tion Methods
HNMR, HPLC
Puri­ty
95% min
Stor­age
Store at -20℃for long time and avoid light.
Known Appli­ca­tion
Com­mon­ly used in nucleotide products.
Gen­er­al View of Documents

Links
This prod­uct is devel­oped by our R&D com­pa­ny Ulcho Bio­chem­i­cal Ltd (http://​www​.ulcho​.com/).
Quick Inquiry
Fill out our inquiry form and one of our experts will be in touch with you shortly.