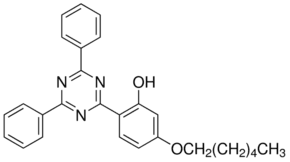 UV-1577 CAS 147315-50-2
Identification
Properties
Safety Data
Specifications & Other Information
Links
Identification
CAS Number
147315-50-2
Name
UV-1577
Synonyms
147315-50-2 [RN]
2-(4,6-Diphenyl-1,3,5-triazin-2-yl)-5-(hexyloxy)phenol [ACD/IUPAC Name]
2-(4,6-Diphenyl-1,3,5-triazin-2-yl)-5-(hexyloxy)phenol [German] [ACD/IUPAC Name]
2-(4,6-Diphényl-1,3,5-triazin-2-yl)-5-(hexyloxy)phénol [French] [ACD/IUPAC Name]
2-(4,6-Diphenyl-1,3,5-triazin-2-yl)-5-[(hexyl)oxy]phenol
302PHN0JBS
Phenol, 2-(4,6-diphenyl-1,3,5-triazin-2-yl)-5-(hexyloxy)- [ACD/Index Name]
T6N CN ENJ BR BQ DO6& DR& FR [WLN]
[147315-50-2]
2-(4,6-diphenyl(1,3,5-triazin-2-yl))-5-hexyloxyphenol
2-(4,6-diphenyl-1,3,5-triazin-2-yl)-5-((hexyl)oxy)phenol
2-(4,6-Diphenyl-1,3,5-triazin-2-yl)-5-(hexyl)oxyphenol
2-(4,6-Diphenyl-1,3,5-triazin-2-yl)-5-[(hexyl)oxy]-phenol
2-(4,6-Diphenyl-s-triazin-2-yl)-5-hexyloxyphenol
MFCD02683454 [MDL number]
Tinuvin 1577
UNII:302PHN0JBS
UNII-302PHN0JBS
UV-1577
SMILES
CCCCCCOc1ccc(c(c1)O)c2nc(nc(n2)c3ccccc3)c4ccccc4
StdInChI
InChI=1S/C27H27N3O2/c1-2-3-4-11-18-32-22-16-17-23(24(31)19-22)27-29-25(20-12-7-5-8-13-20)28-26(30-27)21-14-9-6-10-15-21/h5-10,12-17,19,31H,2-4,11,18H2,1H3
StdInChIKey
LEVFXWNQQSSNAC-UHFFFAOYSA-N
Molecular Formula
C27H27N3O2
Molecular Weight
425.522
EINECS
411-380-6
Beilstein Registry Number
9294274
MDL Number
MFCD02683454
Properties
Appearance
Pale Yellow Powder
Melting Point
149℃
Safety Data
Hazard Statements
RIDADR
NONH for all modes of transport
WGK Germany
1
Specifications and Other Information of Our UV-1577 CAS 147315-50-2
Standard
Enterprise standard
Purity
≥99%
Ash
≤0.1%
Package
It is packed in 25kg Fiber Drum, 20kg/ 25kg Carton or customer requirements.
Storage
Under the room temperature and away from light
Application
Triazine-based ultraviolet absorber has a very low volatility. It has good compatibility with polymers and other additives. This product is especially for applications that require high concentration and low volatility of the processing and application of polymers under good conditions. Can be used for acrylate, hard polyvinyl chloride, polyester, polycarbonate,styrene polymers and other high-performance polymers.
Links
This product is developed by our R&D company Warshel Chemical Ltd(http://www.warshel.com/), and here is the corresponding linkhttp://www.warshel.com/uv-1577-cas-147315-50-2/
Quick Inquiry
Fill out our inquiry form and one of our experts will be in touch with you shortly.