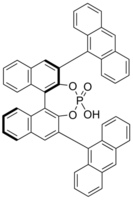 Iden­ti­fi­ca­tion
CAS

Number

361342-51-0
Name
(11bR)-2,6-Di-9-anthracenyl-4-hydroxy-dinaphtho[2,1-d:1μ,2μ-f][1,3,2]dioxaphosphepin-4-oxide
Syn­onyms
(11bR)-2,6-Di-9-anthracenyl-4-hydroxydinaphtho[2,1-d:1′,2′-f][1,3,2]dioxaphosphepin 4-oxide
(11bS)-2,6-Di-9-anthracenyl-4-hydroxydinaphtho[2,1-d:1′,2'f][1,3,2]dioxaphosphepin-4-oxide
(R)-3,3-BIS(9-ANTHRA­CENYL)-1,1-BINAPH&
(S)-3,3′-Bis(9-anthryl)-1,1′-binaphthalene-2,2′-diyl hydro­gen phos­phate
2,6-Di(9-anthryl)dinaphtho[2,1-d:1′,2′-f][1,3,2]dioxaphosphepin-4-ol 4-oxide [ACD/IUPAC Name]
2,6-Di(9-anthryl)dinaphtho[2,1-d:1′,2′-f][1,3,2]dioxaphosphepin-4-ol-4-oxid [Ger­man] [ACD/IUPAC Name]
361342-51-0 [RN]
361342-52-1 [RN]
4-Oxyde de 2,6-di(9-anthryl)dinaphto[2,1-d:1′,2′-f][1,3,2]dioxaphosphépin-4-ol [French] [ACD/IUPAC Name]
Dinaphtho[2,1-d:1′,2′-f][1,3,2]dioxaphosphepin, 2,6-di-9-anthracenyl-4-hydroxy-, 4-oxide [ACD/​Index Name]
MFCD11045406 [MDL num­ber]
(11br)-2,6-Di(anthracen-9-yl)-4-hydroxydinaphtho[2,1-d:1′,2′-f][1,3,2]dioxaphosphepine 4-oxide
(11Br)-2,6-Di(anthracen-9-yl)-4-hydroxydinaphtho-[2,1-d:1′,2′-f][1,3,2]dioxaphosphepine 4-oxide
(11Br)-2,6-di-9-anthracenyl-4-hydroxy-dinaphtho[2,1-d:1??,2??-f][1,3,2]dioxaphosphepin-4-oxide
(R)-3,3′-Bis(9-anthracenyl)-1,1′-binaphthyl-2,2′-diyl hydro­gen­phos­phate
(R)-3,3′-Bis(anthracenyl-9-yl)-1,1′-binapthyl-2,2′-diyl hydro­gen­phos­phate
(S)-3,3′-Bis(9-anthracenyl)-1,1′-binaphthyl-2,2′-diyl hydro­gen­phos­phate
(S)-3,3′-Bis(9-anthryl)-1,1′-binaphthalene-2,2′-diyl hydro­gen phos­phate
(S)-3,3′-Bis(anthracenyl-9-yl)-1,1′-binapthyl-2,2′-diyl hydro­gen­phos­phate
[361342-51-0]
[361343-66-0]
1-(3,5-Dimethyl-1H-pyrazol-1-yl)acetone [ACD/IUPAC Name]
10,16-bis(anthracen-9-yl)-13-hydroxy-12,14-dioxa-13??-phosphapentacyclo[13.8.0.0²,¹¹.0³,?.0¹?,²³]tricosa-1(15),2(11),3,5,7,9,16,18,20,22-decaen-13-one
2,6-di(anthracen-9-yl)-4-hydroxydinaphtho[2,1-d:1′,2′-f][1,3,2]dioxaphosphepine 4-oxide
361343-66-0 [RN]
S-3,3′-Bis(9-anthracenyl)-1,1′-binaphthyl-2,2′-diyl hydro­gen­phos­phate
S-3,3′-Bis(9-anthracenyl)-1,1′-binaphthyl-2,2′-diylhydrogenphosphate
SMILES
c1ccc2c(c1)cc3ccccc3c2c4cc5ccccc5c-6c4OP(=O)(Oc7c6c8ccccc8cc7c9c1ccccc1cc1c9cccc1)O
Std­InChI
InChI=1S/C48H29O4P/c49-53(50)51-47-41(43-35-19-7-1-13-29(35)25-30-14-2-8-20-36(30)43)27-33-17-5-11-23-39(33)45(47)46-40-24-12-6-18-34(40)28-42(48(46)52-53)44-37-21-9-3-15-31(37)26-32-16-4-10-22-38(32)44/h1-28H,(H,49,50)
Std­InChIKey
QYJHYRSRV­­COHMY-UHF­F­­FAOYSA-N
Mol­e­c­u­lar Formula
C48H29O4P
Mol­e­c­u­lar Weight
700.72
Prop­er­ties
Appear­ance
White sol­id
Safe­ty Data
Sym­bol
GHS07
Sig­nal Word
Warn­ing
Haz­ard statements
H315

–

H319

–

H335
Pre­cau­tion­ary Statements
P302

+

P352

–

P305

+

P351

+

P338
Per­son­al Pro­tec­tive Equipment
dust mask type N95 (US),Eyeshields,Gloves
RIDADR
NONH for all modes of transport
WGK

Germany

3
Spec­i­fi­ca­tions and Oth­er Infor­ma­tion of Our (11bR)-2,6-Di-9-anthracenyl-4-hydroxy-dinaphtho[2,1-d:1¦Ì,2¦Ì-f][1,3,2]dioxaphosphepin-4-oxide
CAS

361342-51-0
Iden­ti­fi­ca­tion Methods
HNMR, HPLC
Puri­ty
97% min
EE

purity

99%min
Shelf Life
2 years
Stor­age
Store in cool,dry and away from light.
Known Appli­ca­tion
Often used as asym­met­ric ligand.
Gen­er­al View of Documents
Links
This prod­uct is devel­oped by our R&D com­pa­ny Warshel Chem­i­cal Ltd (https://​www​.warshel​.com/).
Quick Inquiry
Fill out our inquiry form and one of our experts will be in touch with you shortly.