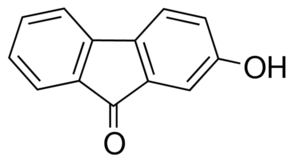 2-Hydroxy-9-fluorenone CAS 6949-73-1
Identification
CAS Number
6949-73-1
Name
2-Hydroxy-9-fluorenone
Synonyms
230-119-5 [EINECS]
2-Hydroxy-9-fluorenone
2-Hydroxy-9H-fluoren-9-on [German] [ACD/IUPAC Name]
2-Hydroxy-9H-fluoren-9-one [ACD/IUPAC Name]
2-Hydroxy-9H-fluorén-9-one [French] [ACD/IUPAC Name]
6949-73-1 [RN]
9H-Fluoren-9-one, 2-hydroxy- [ACD/Index Name]
(1-(2-(Dimethylamino)ethyl)-1H-pyrazol-4-yl)boronic acid
[6949-73-1]
2-[(3-chloroanilino)methylidene]propanedinitrile
2-hydroxy-9-fluorenone, 97%
2-HYDROXY-9-FLUORENONE|2-HYDROXY-9H-FLUOREN-9-ONE
2-hydroxyfluoren-9-one
'6949-73-1
9H-Fluoren-9-one,2-hydroxy-
fluoren-9-one, 2-hydroxy-
http:////www.amadischem.com/proen/607340/
SMILES
c1ccc2c(c1)-c3ccc(cc3C2=O)O
StdInChI
InChI=1S/C13H8O2/c14-8-5-6-10-9-3-1-2-4-11(9)13(15)12(10)7-8/h1-7,14H
StdInChIKey
GXUBPHMYNSICJC-UHFFFAOYSA-N
Molecular Formula
C13H8O2
Molecular Weight
196.201
EINECS
230-119-5
MDL Number
MFCD00001155
Properties
Appearance
Yellow to orange powder
Melting Point
204-206 °C(lit.)
Safety Data
Personal Protective Equipment
dust mask type N95 (US), Eyeshields, Gloves
RIDADR

NONH for all modes of transport
Specifications and Other Information of Our 2-Hydroxy-9-fluorenone CAS 6949-73-1
Identification Methods
HNMR, HPLC
Purity
98% min
Shelf Life
2 years
Storage
Under room temperature away from light
Known Application
Fluorenone and its derivatives have become the main monomer or modifier of a new type of engineering plastics. Some foreign companies have developed such products and put them on the market. At present, 2,7-dihydroxy-9-fluorenone, as an important pharmaceutical intermediate and material functional monomer, can be used in the pharmaceutical industry to synthesize anti-tumor, sympathetic nerve inhibitors, etc.; in agriculture, it can be used to synthesize herbicides and Insecticides, etc.; in the plastics industry, it can be used to synthesize bisphenol products as stabilizers and plasticizers in the polymerization process and to prepare functional polymer materials; in the field of liquid crystal materials, it can be used to synthesize materials that are prone to mesogenic phenomena New organic compounds.
Links
This product is developed by our R&D company Warshel Chemical Ltd(
http://www.warshel.com/
), and here is the corresponding link
http://www.warshel.com/2-hydroxy-9-fluorenone-cas-6949-73-1/
Quick Inquiry
Fill out our inquiry form and one of our experts will be in touch with you shortly (Please change screen to horizontal for complete browsing if you are checking Watson on your mobile phone).