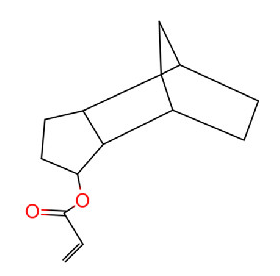 Iden­ti­fi­ca­tion
CAS

Number

79637-74-4
Name
2-Propenoic Acid Octahydro-4,7-Methano-1H-Indenyl Ester
Syn­onyms
2-Propenoic acid, octahydro-4,7-methano-1H-inden-1-yl ester [ACD/​Index Name]
Acry­late de tricyclo[5.2.1.02,6]déc-3-yle [French] [ACD/IUPAC Name]
Tricyclo[5.2.1.02,6]dec-3-yl acry­late [ACD/IUPAC Name]
Tricyclo[5.2.1.02,6]dec-3-yl-acrylat [Ger­man] [ACD/IUPAC Name]
106803-41-2 [RN]
197980-59-9 [RN]
2-Propenoic acid, octahydro-4,7-methano-1H-indenyl ester
79637-74-4 [RN]
ACRYLIC ACID OCTAHY­DRO-4,7-METHANO-1H-INDENYL ESTER
SMILES
C=CC(=O)OC1CCC2C1C3CCC2C3
Std­InChI
InChI=1S/C13H18O2/c1-2-12(14)15-11-6-5-10-8-3-4-9(7-8)13(10)11/h2,8-11,13H,1,3-7H2
Std­InChIKey
LSAQODY­­ZOZWHRI-UHF­F­­FAOYSA-N
Mol­e­c­u­lar Formula
C13H18O2
Mol­e­c­u­lar Weight
206.281
Prop­er­ties
Appear­ance
Col­or­less trans­par­ent liquid
Boil­ing Point
279.3±9.0 °C at 760 mmHg
Boil­ing Point
112.0±16.1 °C
Safe­ty Data
WGK

Germany

3
Spec­i­fi­ca­tions and Oth­er Infor­ma­tion of Our 2-Propenoic Acid Octahydro-4,7-Methano-1H-Indenyl Ester
CAS

79637-74-4
Iden­ti­fi­ca­tion Methods
HNMR, HPLC
Puri­ty
≥98%
Shelf Life
2 years
Stor­age
Under room tem­per­a­ture away from light
Known Appli­ca­tion
It is main­ly used to make poly­mer gels with tem­per­a­­ture-sen­si­­tive prop­er­ties, and is wide­ly used in drug con­trolled release mate­ri­als, dena­tured latex, enzyme sol­id mate­ri­als, spe­cial coat­ings, dehy­drat­ing agents, adhe­sives, etc.
Links
This prod­uct is devel­oped by our R&D com­pa­ny Warshel Chem­i­cal Ltd (https://​www​.warshel​.com/).
Quick Inquiry
Fill out our inquiry form and one of our experts will be in touch with you shortly.