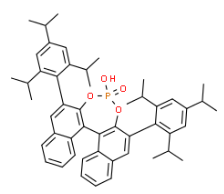 Iden­ti­fi­ca­tion
CAS

Number

874948-63-7
Name
S-TRIP
Syn­onyms
TRIP
(11bR)-4-Hydroxy-2,6-bis[2,4,6-tris(1-methylethyl)phenyl]dinaphtho[2,1-d:1′,2′-f]-1,3,2-dioxaphosphepin 4-oxide
(11bS)-4-Hydroxy-2,6-bis[2,4,6-tris(1-methylethyl)phenyl]dinaphtho[2,1-d:1′,2′-f]-1,3,2-dioxaphosphepin 4-oxide
(R)-3,3′-Bis(2,4,6-triisopropylphenyl)-1,1′-bi-2-naphthol cyclic monophos­phate
(R)-3,3′-Bis(2,4,6-trisopropylphenyl)-1,1′-binapthyl-2,2′-diyl hydro­gen­phos­phate
(R)-TRIP
(S)-3,3′-Bis(2,4,6-triisopropylphenyl)-1,1′-bi-2-naphthol cyclic monophos­phate
(S)-3,3′-Bis(2,4,6-trisopropylphenyl)-1,1′-binapthyl-2,2′-diyl hydro­gen­phos­phate
(S)-TRIP
2,6-Bis(2,4,6-triisopropylphenyl)dinaphtho[2,1-d:1′,2′-f][1,3,2]dioxaphosphepin-4-ol 4-oxide [ACD/IUPAC Name]
2,6-Bis(2,4,6-triisopropylphenyl)dinaphtho[2,1-d:1′,2′-f][1,3,2]dioxaphosphepin-4-ol-4-oxid [Ger­man] [ACD/IUPAC Name]
4-Oxyde de 2,6-bis(2,4,6-triisopropylphényl)dinaphto[2,1-d:1′,2′-f][1,3,2]dioxaphosphépin-4-ol [French] [ACD/IUPAC Name]
791616-63-2 [RN]
874948-63-7 [RN]
Dinaphtho[2,1-d:1′,2′-f][1,3,2]dioxaphosphepin, 4-hydroxy-2,6-bis[2,4,6-tris(1-methylethyl)phenyl]-, 4-oxide [ACD/​Index Name]
MFCD10567009
(11bS)-4-Hydroxy-2,6-bis(2,4,6-triisopropylphenyl)dinaphtho[2,1-d:1′,2′-f][1,3,2]dioxaphosphepine 4-oxide
(R)-3,3′-Bis(2,4,6-triisopropylphenyl)-1,1′-bi-2-naphthol cyclic monophos­phate, (R)-TRIP, (11bR)-4-Hydroxy-2,6-bis[2,4,6-tris(1-methylethyl)phenyl]dinaphtho[2,1-d:1′,2′-f]-1,3,2-dioxaphosphepin 4-oxide monophos­phate
(R)-3,3′-Bis(2,4,6-triisopropylphenyl)-1,1′-bi-2-naphthol cyclic monophos­phate, (R)-TRIP, (11bR)-4-Hydroxy-2,6-bis[2,4,6-tris(1-methylethyl)phenyl]dinaphtho[2,1-d:1′,2′-f]-1,3,2-dioxaphosphepin 4-oxide ; monophos­phate
(R)-3,3′-Bis(2,4,6-triisopropylphenyl)-1,1′-binaphthyl-2,2′-diyl hydro­gen­phos­phate
(R)-3,3-Bis(2,4,6-triisopropylphenyl)-1,1-binaphthyl-2,2-diyl hydro­gen­phos­phate
(S)-3,3-Bis(2,4,6-triisopropylphenyl)-1,1-binaphthyl-2,2-diyl hydro­gen­phos­phate
(S)-3,3′-Bis(2,4,6-triIsopropylphenyl)-1,1′-binapthyl-2,2′-diyl hydro­gen­phos­phate
3,3′-bis(2,4,6-triisopropylphenyl)-1,1′-binaphthyl-2,2′-diyl hydro­gen phos­phate
R-3,3′-Bis(2,4,6-triisopropylphenyl)-1,1′-binaphthyl-2,2′-diylhydrogenphosphate
S-3,3′-Bis(2,4,6-triisopropylphenyl)-1,1′-binaphthyl-2,2′-diylhydrogenphosphate
SMILES
CC(C)C1=CC(=C(C(=C1)C(C)C)C2=CC3=CC=CC=C3C4=C2OP(=O)(OC5=C4C6=CC=CC=C6C=C5C7=C(C=C(C=C7C(C)C)C(C)C)C(C)C)O)C(C)C
Std­InChI
InChI=1S/C50H57O4P/c1-27(2)35-23-39(29(5)6)45(40(24-35)30(7)8)43-21-33-17-13-15-19-37(33)47-48-38-20-16-14-18-34(38)22-44(50(48)54-55(51,52)53-49(43)47)46-41(31(9)10)25-36(28(3)4)26-42(46)32(11)12/h13-32H,1-12H3,(H,51,52)
Std­InChIKey
AGQAQYPGJD­BIQR-UHF­F­­FAOYSA-N
Mol­e­c­u­lar Formula
C50H57O4P
Mol­e­c­u­lar Weight
752.959
MDL

Number

MFCD10567009
Prop­er­ties
Appear­ance
White sol­id
Safe­ty Data
Per­son­al Pro­tec­tive Equipment
Eye­shields, Gloves, type N95 (US), type P1 (EN143) res­pi­ra­tor filter
RIDADR
NONH for all modes of transport
WGK

Germany

3
Spec­i­fi­ca­tions and Oth­er Infor­ma­tion of Our (S)-TRIP
CAS

874948-63-7
Iden­ti­fi­ca­tion Methods
HNMR, HPLC
Puri­ty
98%min
EE
98%min
Shelf Life
1 year
Stor­age
Under refrig­er­at­ed for long time and filled with nitrogen.
Known Appli­ca­tion
Used as the phar­ma­ceu­ti­cal intermediates.
Gen­er­al View of Documents
Links
This prod­uct is devel­oped by our R
&
D com­pa­ny Cam­ing Phar­ma­ceu­ti­cal Ltd(
http://​www​.cam​ing​.com/
), and here is the cor­re­spond­ing link
http://​www​.cam​ing​.com/​s​-​t​r​i​p​-​c​a​s​-​8​7​4​9​4​8​-​6​3​-7/
Quick Inquiry
Fill out our inquiry form and one of our experts will be in touch with you short­ly (Please change screen to hor­i­zon­tal for com­plete brows­ing if you are check­ing Wat­son on your mobile phone).