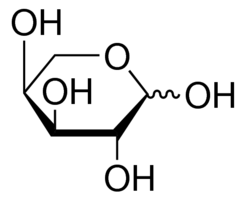 Iden­ti­fi­ca­tion
CAS

Number

5328-37-0
Name
L-Ara­bi­nose
Syn­onyms
L-(+)-Arabinose
(+)-Ara­bi­nose
(2R,3S,4S)-2,3,4,5-Tétrahydroxypentanal [French]
1723085 [Beil­stein]
1723086
205-699-8 [EINECS]
226-214-6 [EINECS]
3255
5328-37-0 [RN]
Ara­bi­nose [Wiki]
B40ROO395Z
L-ara­bi­no-pen­tose
L-Ara­bi­nose [ACD/​Index Name] [ACD/IUPAC Name]
L-Ara­bi­nose [Ger­man] [ACD/​Index Name] [ACD/IUPAC Name]
L-Ara­bi­nose [French] [ACD/​Index Name] [ACD/IUPAC Name]
MFCD00135866 [MDL num­ber]
(-)-Ara­bi­nose
(2R,3S,4S)-2,3,4,5-tetrahydroxypentanal
(2R,3S,4S)-2,3,4,5-tetrahydroxyvaleraldehyde
(2S,3R,4R)-2,3,4,5-tetrahydroxypentanal
(2S,3R,4R)-2,3,4,5-tetrahydroxyvaleraldehyde
(3R,4S,5S)-Tetrahydropyran-2,3,4,5-tetrol
[5328-37-0]
alde­hy­do-L-ara­bi­nose
1723085 ; 5244985
243-619-3 [EINECS]
478506-58-0 [RN]
5244985 [Beil­stein]
alde­hy­do-D-ara­bi­no-pen­tose
alde­hy­do-D-ara­bi­nose
alde­hy­do-L-ara­bi­no-pen­tose
alde­hy­do-L-ara­bi­nose
Ara­bi­nose, D-
Ara­bi­nose, D- (8CI)
ARA­BI­NOSE, DL-
Ara­bi­nose, L-
Arabinose,d
Ben­zoic acid, 4-(aminomethyl)- (9CI)
BR-47581
CHEBI:46983
CHEBI:6182
D-(-)Arabinose
D-(-)-Arabinose
D-Ara­bi­nose (9CI)
dl-ara­bi­nose, 98+%
D-Xylose, labeled with­­­car­bon-13 (9CI)
EINECS 233-708-5
l-(???)-arabinose
L(+) ara­bi­nose
L-(+) ARA­BI­NOSE[1-3H]
L(+)Arabinose
l-(+)-arabinose, ??? 98.0%
l???+???arabinose
LAI
L-Ara
L-Ara­bi­nose (9CI)
MFCD00067709 [MDL num­ber]
UNII :B40ROO395Z
UNII-509X20752R
UNII-B40ROO395Z
SMILES
C([[email protected]@H]([[email protected]@H]([[email protected]](C=O)O)O)O)O
Std­InChI
InChI=1S/C5H10O5/c6-1-3(8)5(10)4(9)2-7/h1,3-5,7-10H,2H2/t3-,4-,5+/m0/s1
Std­InChIKey
PYMY­PHUHKUWM­LA–VAYJUR­FE­SA-N
Mol­e­c­u­lar Formula
C5H10O5
Mol­e­c­u­lar Weight
150.130
EINECS
Beil­stein Reg­istry Number
1723085
MDL

Number
Prop­er­ties
Appear­ance
White or white nee­­dle-shaped crystal
Safe­ty Data
Per­son­al Pro­tec­tive Equipment
Eye­shields, Gloves, type N95 (US), type P1 (EN143) res­pi­ra­tor filter
RIDADR
NONH for all modes of transport
WGK

Germany

3
Spec­i­fi­ca­tions and Oth­er Infor­ma­tion of Our L-Ara­bi­nose
CAS

5328-37-0
Iden­ti­fi­ca­tion Methods
HNMR, HPLC
L-Ara­bi­nose content(In dry basis)
≥99%
Residue On Ignition
≤0.1%
Spe­cif­ic Opti­cal Rotation
+102°~105°
Iden­ti­fy
Cor­re­sponds
Clar­i­ty of solution
Cor­re­sponds
Acid­i­ty
Cor­re­sponds
Loss on drying
≤1%
Stor­age
Under room tem­per­a­ture away from light
Known Appli­ca­tion
L-ara­bi­nose is a nat­u­ral­ly occur­ring iso­mer and is a com­po­nent of plant poly­sac­cha­rides. Most bac­te­ria con­tain an inducible ara­bi­nose oper­on that encodes a series of enzymes and trans­porters, allow­ing L-ara­bi­nose to be used as the sole source of car­bon in micro­bial cul­tures. L-ara­bi­nose is a com­mon­ly used food addi­tive and can also be used in med­i­cine and as a medium.
Links
This prod­uct is devel­oped by our R
&
D com­pa­ny Ulcho Bio­chem­i­cal Ltd(
http://​www​.ulcho​.com/
), and here is the cor­re­spond­ing link
http://​www​.ulcho​.com/​l​-​a​r​a​b​i​n​o​s​e​-​c​a​s​-​5​3​2​8​-​3​7​-0/
Quick Inquiry
Fill out our inquiry form and one of our experts will be in touch with you short­ly (Please change screen to hor­i­zon­tal for com­plete brows­ing if you are check­ing Wat­son on your mobile phone).