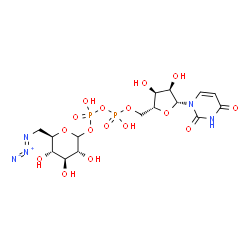 Iden­ti­fi­ca­tion
CAS

Number

537039-67-1
Name
UDP-6-azido-6-deoxy-D-Glc.2Na
Syn­onyms
(3R,4S,5S,6R)-6-(Azidomethyl)-3,4,5-trihydroxytetrahydro-2H-pyran-2-yl [(2R,3S,4R,5R)-5-(2,4-dioxo-3,4-dihydro-1(2H)-pyrimidinyl)-3,4-dihydroxytetrahydro-2-furanyl]methyl dihy­dro­gen diphos­phate (non-p referred name) [ACD/IUPAC Name]
(3R,4S,5S,6R)-6-(Azidomethyl)-3,4,5-trihydroxytetrahydro-2H-pyran-2-yl-[(2R,3S,4R,5R)-5-(2,4-dioxo-3,4-dihydro-1(2H)-pyrimidinyl)-3,4-dihydroxytetrahydro-2-furanyl]methyldihydrogendiphosphat (non-pref erred name) [Ger­man] [ACD/IUPAC Name]
Dihy­drogén­odiphos­phate de (3R,4S,5S,6R)-6-(azidométhyl)-3,4,5-trihydroxytétrahydro-2H-pyran-2-yle et de [(2R,3S,4R,5R)-5-(2,4-dioxo-3,4-dihydro-1(2H)-pyrimidinyl)-3,4-dihydroxytétrahydro-2-furanyl]mét hyle (non-pre­­ferred name) [French] [ACD/IUPAC Name]
537039-67-1 [RN]
MFCD18643148
UDP-6-Azi­­do-6-deoxy-D-glu­­cose
SMILES
c1cn(c(=O)[nH]c1=O)[[email protected]]2[[email protected]@H]([[email protected]@H]([[email protected]](O2)COP(=O)(O)OP(=O)(O)OC3[[email protected]@H]([[email protected]]([[email protected]@H]([[email protected]](O3)CN=[N+]=[N-])O)O)O)O)O
Std­InChI
InChI=1S/C15H23N5O16P2/c16-19-17-3-5-8(22)10(24)12(26)14(34-5)35-38(30,31)36-37(28,29)32-4-6-9(23)11(25)13(33-6)20-2-1-7(21)18-15(20)27/h1-2,5-6,8-14,22-26H,3-4H2,(H,28,29)(H,30,31)(H,18,21,27)/t5-,6-,8-,9-,10+,11-,12-,13-,14?/m1/s1
Std­InChIKey
YLSU­UMDT­­TU­VT­GP-RDKQLNKOSA-N
Mol­e­c­u­lar Formula
C15H23N5O16P2
Mol­e­c­u­lar Weight
591.315
MDL

Number

MFCD18643148
Prop­er­ties
Appear­ance
White sol­id
Safe­ty Data
RIDADR
NONH for all modes of transport
WGK

Germany

3
Spec­i­fi­ca­tions and Oth­er Infor­ma­tion of Our UDP-6-azido-6-deoxy-D-Glc.2Na
CAS

537039-67-1
Iden­ti­fi­ca­tion Methods
HNMS, HPLC
Puri­ty
95%min
Shelf Life
2 years
Stor­age
Store at -20℃ for long time, sealed and away from light.
Known Appli­ca­tion
Used as Carbohydrate.
Gen­er­al View of Documents
Links
This prod­uct is devel­oped by our R&D com­pa­ny Ulcho Bio­chem­i­cal Ltd (http://​www​.ulcho​.com/).
Quick Inquiry
Fill out our inquiry form and one of our experts will be in touch with you shortly.