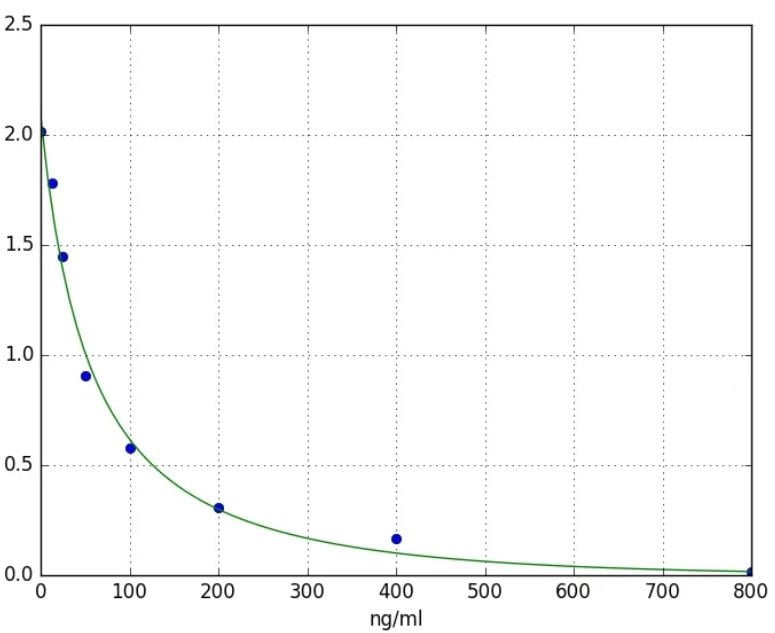 Descrip­tion
Anti­gen
CAS
59-30-3
Name
Anti-Vit­a­min B9 antibody
Syn­onyms
Mon­o­clon­al Folic Acid anti­body, Anti-Folic Acid anti­body, Folate anti­body, Vit­a­min M anti­body, Vit­a­min B9 anti­body, Vit­a­min Bc anti­body, Folacin anti­body, Pteroyl-L-glu­­tam­ic acid anti­body, Pteroyl-L-glu­­ta­­mate antibody
Host
Mouse ; Goat ; Rabbit
Anti­body Prod­uct Type
Pri­ma­ry
Con­ju­gate
Uncon­ju­gat­ed ; Biotin ; APC ; Alka­line Phos­phatase (AP); FITC ; HRP ; PE
Speci­fi­ty
Rec­og­nizes free folic acid, oth­er­wise known as Vit­a­min B9, a water-sol­u­ble vit­a­min found nat­u­ral­ly in food. Folic acid is essen­tial for pro­duc­tion and main­te­nance of new cells par­tic­u­lar­ly dur­ing preg­nan­cy and infan­cy. Folate (the anion form of folic acid) func­tions in the syn­the­sis of DNA bases, and folate defi­cien­cy lim­its cell divi­sion lead­ing to mega­loblas­tic ane­mia. Folic acid is par­tic­u­lar­ly impor­tant just before and just after con­cep­tion, to help pro­tect against neur­al tube defects such as spina bifida.
Stor­age
Store at 4°C for fre­quent use. Stored at -20°C in a man­u­al defrost freez­er for a year with­out detectable loss of activ­i­ty. Avoid repeat­ed freeze-thaw cycles.
Appli­ca­tion
ELISA ; Immuno­his­to­chem­istry (IHC); West­ern Blot­ting (WB); Immuno­flu­o­res­cence (fixed cells) (IF/ICC); Immuno­pre­cip­i­ta­tion (IP); Cell-ELISA (cELISA); Immunoas­say (IA); Immuno­cy­to­chem­istry (ICC)
Prop­er­ties
Form
Liquid/​Lyophilized
Han­dling
The anti­body solu­tion should be gen­tly mixed before use.
Clon­al­i­ty
Monoclonal/​Polyclonal
Iso­type
IgG
Gen­er­al View of Documents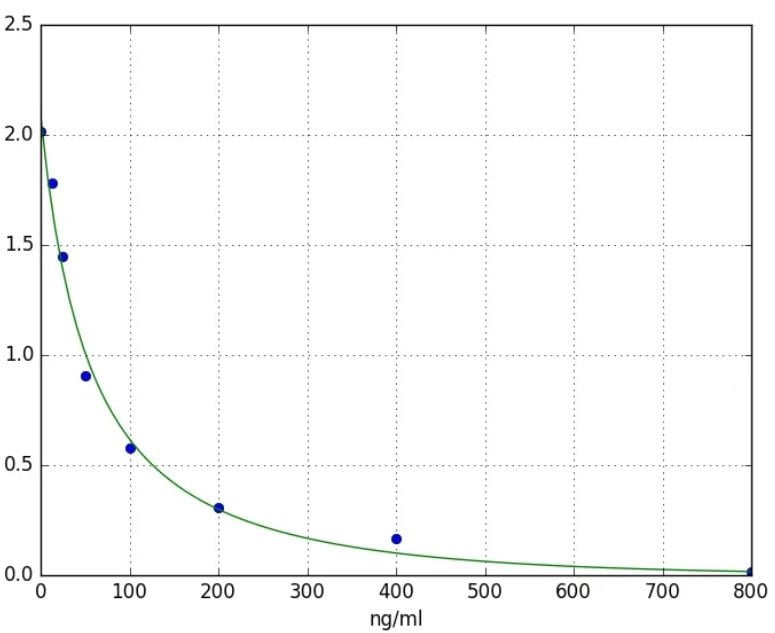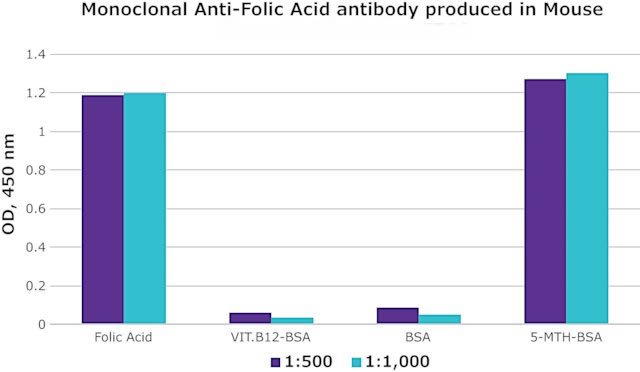 Safe­ty Data
RIDADR
NONH for all modes of transport
WGK

Germany

3
Links
This prod­uct is devel­oped by our R
&
D com­pa­ny Wat­son Bio Ltd(
https://​www​.wat​son​-bio​.com/
), and here is the cor­re­spond­ing link
https://​www​.wat​son​-bio​.com/​a​n​t​i​-​v​i​t​a​m​i​n​-​b​9​-​v​i​t​a​m​i​n​-​b​9​-​v​b​9​-​f​o​l​i​c​-​a​c​i​d​-​c​a​s​-​5​9​-​3​0​-​3​-​a​n​t​i​b​o​dy/
Quick Inquiry
Fill out our inquiry form and one of our experts will be in touch with you short­ly (Please change screen to hor­i­zon­tal for com­plete brows­ing if you are check­ing Wat­son on your mobile phone).