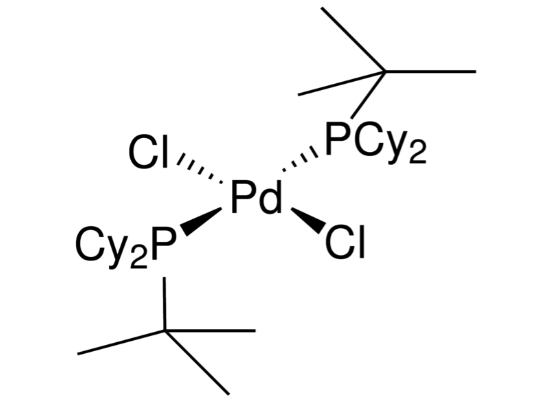 Iden­ti­fi­ca­tion
CAS

Number

104889-13-6
Name
Bis(tert-butyldicylcohexylphosphine)dichloropalladium(II)
Syn­onyms
Dichlorobis[(tert-butyl)dicyclohexylphosphine]palladium(II);
bis(tert-butyldicyclohexyl-l5-phosphaneyl)palladium(IV)chlo­ride ;
CX82
Std­InChIKey
OMJWQFN­HIXGKJO-UHF­F­­FAOYSA-L
Mol­e­c­u­lar Formula
C32H62P2Cl2Pd
Mol­e­c­u­lar Weight
686.11
Prop­er­ties
Appear­ance
Yel­low to orange crys­talline powder
Safe­ty Data
RIDADR
NONH for all modes of transport
WGK

Germany

3
Spec­i­fi­ca­tions and Oth­er Infor­ma­tion of Our Bis(tert-butyldicylcohexylphosphine)dichloropalladium(
II

)

CAS

104889-13-6
Iden­ti­fi­ca­tion Methods
HNMR, HPLC
Puri­ty
98% min
Shelf Life
2 years
Stor­age
Do not store above 25°C (77°F). Store in a tight­ly closed orig­i­nal con­tain­er, pro­tect­ed from direct sun­light in a dry, cool and well-ven­ti­lat­ed area.
Known Appli­ca­tion
High-effi­­cien­­cy Suzu­ki cou­pling reac­tion cat­a­lyst, for the cou­pling of aryl boron­ic acid and aryl chlo­ride, the yield of more than 90% can be achieved with a feed­ing amount of 0.01~0.1%
For the cou­pling of aryl boron­ic acid and aryl bro­mide, the yield of 0.005% to 0.01% of the feed­ing amount can achieve a yield of more than 95%
It also has good cat­alyt­ic con­ver­sion effect for C-N coupling
The cou­pling reac­tion of two-phase or even mul­ti-phase sys­tems such as water/​ethanol, water/​toluene, water/​tetrahydrofuran can be realized
Spe­cial activ­i­ty for dif­­fi­cult-to-react cou­pling reac­tions with large steric hin­drance or insuf­fi­cient func­tion­al group activity
Links
This prod­uct is devel­oped by our R&D com­pa­ny Warshel Chem­i­cal Ltd (https://​www​.warshel​.com/).
Quick Inquiry
Fill out our inquiry form and one of our experts will be in touch with you shortly.