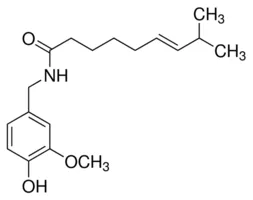 Capsaicin CAS 404-86-4
Identification
Properties
Safety Data
Specifications andamp; Other Information
Links
Identification
CAS Number
404-86-4
Name
Capsaicin
Synonyms
(6E)-N-(4-Hydroxy-3-methoxybenzyl)-8-methyl-6-nonenamid [German] [ACD/IUPAC Name]
(6E)-N-(4-Hydroxy-3-methoxybenzyl)-8-methyl-6-nonenamide [ACD/IUPAC Name]
(6E)-N-(4-Hydroxy-3-méthoxybenzyl)-8-méthyl-6-nonénamide [French] [ACD/IUPAC Name]
(6E)-N-(4-Hydroxy-3-methoxybenzyl)-8-methylnon-6-enamid [German]
(6E)-N-(4-Hydroxy-3-methoxybenzyl)-8-methylnon-6-enamide
(E)-8-Methyl-N-vanillyl-6-nonenamide
(E)-Capsaicin
(E)-N-((4-Hydroxy-3-methoxyphenyl)methyl)-8-methyl-6-nonenamide
404-86-4 [RN]
6-Nonenamide, N-((4-hydroxy-3-methoxyphenyl)methyl)-8-methyl-, (E)-
6-Nonenamide, N-[(4-hydroxy-3-methoxyphenyl)methyl]-8-methyl-, (6E)- [ACD/Index Name]
8-Methyl-N-vanillyl-6-nonenamide, (E)-
8-Methyl-N-vanillyl-trans-6-nonenamide
Axsain [Trade name]
capsaicin [INN] [JAN] [USAN] [USP] [Wiki]
capsaicina [Spanish]
Capsaicine [French] [Wiki]
capsaïcine [French] [INN]
capsaicinum [Latin] [INN]
Qutenza [Trade name]
trans-Capsaicin
UNII:S07O44R1ZM
Zacin [Trade name]
Zostrix [Trade name]
Капсаицин [Russian] [INN]
كابسايسين [Arabic] [INN]
辣椒碱 [Chinese] [INN]
(E)-8-Methyl-N-vanillyl-6-nonenamide(8cl)
(6E)-N-[(4-Hydroxy-3-methoxyphenyl)methyl]-8-methyl-6-nonenamide
(6E)-N-[(4-hydroxy-3-methoxyphenyl)methyl]-8-methylnon-6-enamide
(6E)-N-{[4-hydroxy-3-(methyloxy)phenyl]methyl}-8-methylnon-6-enamide
(E)-4-hydroxy-3-methoxybenzyl 8-methylnon-6-enoate
(E)-8-Methyl-non-6-enoic acid 4-hydroxy-3-methoxy-benzylamide
(E)-Capsaicin;8-Methyl-N-vanillyl-trans-6-nonenamide
(E)-N-((4-Hydroxy-3-methoxyphenyl)-methyl)-8-methyl-6-nonenamide
(E)-N-(4-hydroxy-3-methoxybenzyl)-8-methylnon-6-enamide
(E)-N-(4-hydroxy-3-methoxy-benzyl)-8-methyl-non-6-enamide
(E)-N-[(4-Hydroxy-3-methoxyphenyl)methyl]-8-methyl-6-nonenamide
(E)-N-[(4-Hydroxy-3-methoxyphenyl)-methyl]-8-methyl-6-nonenamide
(E)-N-[(4-hydroxy-3-methoxyphenyl)methyl]-8-methylnon-6-enamide
(E)-N-[(4-Hydroxy-3-methoxy-phenyl)methyl]-8-methyl-non-6-enamide
[(E)-N-(4-Hydroxy-3-methoxyphenyl)methyl]-8-methyl-6-nonenamide
[L404-86-4]
1217899-52-9 [RN]
206-969-8 [EINECS]
2816484 [Beilstein]
39665-12-8 [RN]
4-13-00-02588 (Beilstein Handbook Reference) [Beilstein]
6-Nonenamide, 8-methyl-N-vanillyl-, (E)-
6-Nonenamide, N-((4-hydroxy-3-methoxyphenyl)methyl)-8-methyl-, (6E)-
6-Nonenamide, N-[(4-hydroxy-3-methoxyphenyl)methyl]-8-methyl-, (E)-
7553-53-9 [RN]
8 Methyl N Vanillyl 6 Nonenamide
8-(4-hydroxy-3-methoxybenzyl)carbamoyl-8-methyl-5-octane
8-Methyl-non-6-enoic acid 4-hydroxy-3-methoxy-benzylamide
8-Methyl-N-Vanillyl-6-nonenamide
a-Bgtx | a-BuTX |
Adlea
ALGRX 4975
BPBio1_001053
BSPBio_000957
BSPBio_001548
BSPBio_002917
C-1700
Capsaicine
Capsidol
Capsin
Capsin P 50
Capzasin
Capzasin-HP
D002211
Dolenon
E-Capsaicin
Gelcen
IDI1_000354
IDI1_034018
Isodecenoic acid vanillylamide
Katrum
MEGxp0_001448
Methyl-N-vanillyl-6-noneneamide
Mioton
MR3H3
N-((4-Hydroxy-3-methoxyphenyl)methyl)-8-methyl-6-nonenamide
N-((4-Hydroxy-3-methoxyphenyl)methyl)-8-methyl-6-nonenamide, (E)-
N-(4-hydroxy-3-methoxybenzyl)-8-methylnon-6-enamide
N-(4-hydroxy-3-methoxy-benzyl)-8-methyl-non-6-enamide
N-(4-Hydroxy-3-methoxybenzyl)-8-methylnon-trans-6-enamide
N-(4-Oxy-3-methoxybenzyl)-8-methyl-6-nonenamide
N-[(4-hydroxy-3-methoxyphenyl)methyl]-6E-8-methyl-nonenamide
N-[(4-hydroxy-3-methoxyphenyl)methyl]-8-methylnon-6-enamide
N-[(4-hydroxy-3-methoxy-phenyl)methyl]-8-methyl-non-6-enamide
N-[(4-hydroxy-3-methoxy-phenyl)methyl]nonanamide
NCGC00090853-02
NCGC00090853-03
NCGC00090853-06
NCGC00090853-07
NCGC00090853-08
NGX-1998
Nonenamide, 8-methyl-N-vanillyl-, (E)-
Pharmakon1600-01501128
Prestwick2_000879
Prestwick3_000879
QA-6053
RA 8530000
RA8530000
Ratden PE 40
S07O44R1ZM
SMP2_000337
SPECTRUM1501128
Spectrum5_000538
ST057183
Styptysat
TL8002946
Togarashi Orenji
trans-8-Methyl-N-vanillyl-6-nonenamide
Transacin
trans-N-((4-Hydroxy-3-methoxyphenyl)methyl)-8-methyl-6-nonenamide
UNII-S07O44R1ZM
UPCMLD-DP092:002
Zostrix HP
辣椒素 [Chinese]
Molecular Structure
SMILES
CC(C)/C=C/CCCCC(=O)NCc1ccc(c(c1)OC)O
StdInChI
InChI=1S/C18H27NO3/c1-14(2)8-6-4-5-7-9-18(21)19-13-15-10-11-16(20)17(12-15)22-3/h6,8,10-12,14,20H,4-5,7,9,13H2,1-3H3,(H,19,21)/b8-6+
StdInChIKey
YKPUWZUDDOIDPM-SOFGYWHQSA-N
Molecular Formula
C18H27NO3
Molecular Weight
305.42
EINECS
206-969-8
Beilstein Registry Number
2816484
MDL Number
MFCD00017259
Properties
Appearance
Off White Crystalline Powder
Melting Point
57~66℃
Safety Data
Symbol
Signal Word
Danger
Hazard Statements
Precautionary Statements
Missing Phrase – N15.00950417-P261-P280-P284-P305 + P351 + P338 + P310
Personal Protective Equipment
Eyeshields, Faceshields, Gloves, type P2 (EN 143) respirator cartridges
RIDADR
UN 1544PSN1 6.1 / PGIII
WGK Germany
3
RTECS
RA8530000
Specifications and Other Information of Our Capsaicin CAS 404-86-4
Standard
USP 37
Identification Methods
HPLC
Capsaicinoids
95%~110%
Capsaicin
≥55%
NDC&Other capsaicinoids
≤15%
Capsaicin+ Dihydro capsaicin
≥75%
Loss on Drying
≤1%
Residue on Ignition
≤1%
Residual Solvents
1,2-Dicholoroethane: ≤5ppm
Methanol:≤3000ppm
Heavy Metals
≤10ppm
Arsenic Lead
≤2ppm
SHU
≥14400000
Package
According to customer requirements to packaging
Manufacturing Capacity
200kg/year
Storage
Store below 20℃ and away from light.
Application
Mainly used in medical, beauty, biological control, food additives, military and other fields.
Links
This product is developed by our RD company Caming Pharmaceutical Ltd(http://www.ulcho.com/), and here is the corresponding linkhttp://www.ulcho.com/capsaicin-cas-404-86-4/
Quick Inquiry
Fill out our inquiry form and one of our experts will be in touch with you shortly (Please change screen to horizontal for complete browsing if you are checking Watson on your mobile phone).