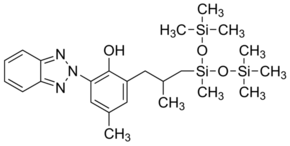 Iden­ti­fi­ca­tion
CAS

Number

155633-54-8
Name
Drometri­zole Trisiloxane(Mexoryl XL)
Syn­onyms
11343300 [Beil­stein]
155633-54-8 [RN]
2-(2H-Benzotriazol-2-yl)-4-methyl-6-{2-methyl-3-{1,3,3,3-tetramethyl-1-[(trimethylsilyl)oxy]disiloxanyl}propyl}phenol
2-(2H-Benzotriazol-2-yl)-6-[3-(1,1,1,3,5,5,5-heptamethyl-3-trisiloxanyl)-2-methylpropyl]-4-methylphenol [ACD/IUPAC Name]
2-(2H-Benzotriazol-2-yl)-6-[3-(1,1,1,3,5,5,5-heptamethyl-3-trisiloxanyl)-2-methylpropyl]-4-methylphenol [Ger­man] [ACD/IUPAC Name]
2-(2H-Benzotriazol-2-yl)-6-[3-(1,1,1,3,5,5,5-heptaméthyl-3-trisiloxanyl)-2-méthylpropyl]-4-méthylphénol [French] [ACD/IUPAC Name]
Drometri­zole trisilox­ane [Wiki]
HC22845I1X
Mex­o­ryl XL [Trade name]
MFCD22373626 [MDL num­ber]
Phe­nol, 2-(2H-1,2,3-benzotriazol-2-yl)-4-methyl-6-[2-methyl-3-[1,3,3,3-tetramethyl-1-[(trimethylsilyl)oxy]disiloxanyl]propyl]- [ACD/​Index Name]
Sila­tri­zole
T56 BNNNJ BR BQ E1 C1Y1&1-SI-1&O-SI-1&1&1&&O-SI-1&1&1 [WLN]
UNII :HC22845I1X
2-(2H-benzo[d][1,2,3]triazol-2-yl)-6-(3-(1,1,1,3,5,5,5-heptamethyltrisiloxan-3-yl)-2-methylpropyl)-4-methylphenol
2-(2H-benzotriazol-2-yl)-4-methyl-6-[2-methyl-3-[1,3,3,3-tetramethyl-1-[(trimethylsilyl)-oxy]disiloxanyl]propyl]phenol
2-(Benzotriazol-2-yl)-4-methyl-6-[2-methyl-3-[methyl-bis(trimethylsilyloxy)silyl]propyl]phenol
SMILES
n1c3ccccc3nn1c2cc(cc(c2O)CC(C)C[Si](O[Si](C)(C)C)(O[Si](C)(C)C)C)C
Std­InChI
InChI=1S/C24H39N3O3Si3/c1-18-14-20(15-19(2)17-33(9,29-31(3,4)5)30-32(6,7)8)24(28)23(16-18)27-25-21-12-10-11-13-22(21)26-27/h10-14,16,19,28H,15,17H2,1-9H3
Std­InChIKey
HUVYT­MD­MDZRHBN-UHF­F­­FAOYSA-N
Mol­e­c­u­lar Formula
C24H39N3O3Si3
Mol­e­c­u­lar Weight
501.841
Beil­stein Reg­istry Number
11343300
MDL

Number

MFCD22373626
Prop­er­ties
Appear­ance
Off-white to white powder
Safe­ty Data
WGK

Germany

3
Spec­i­fi­ca­tions and Oth­er Infor­ma­tion of Our Drometri­zole Trisiloxane(Mexoryl
XL

)

CAS

155633-54-8
Iden­ti­fi­ca­tion Methods
HNMR, HPLC
Puri­ty
98% min
Shelf Life
2 years
Stor­age
Under room tem­per­a­ture away from light
Known Appli­ca­tion
Cre­stro­zole trisilox­ane is a chem­i­cal sun­screen agent, a patent­ed ingre­di­ent of L'Oréal, and is often referred to as Mex­o­ryl XL. It is a broad-spec­trum sun­screen with two absorp­tion peaks, one at 303 nm (UVB) and one at 344 nm (UVA). Mex­o­ryl XL and Mex­o­ryl SX are often used togeth­er to achieve a bet­ter syn­er­gis­tic sun­screen effect..
Gen­er­al View of Documents
Links
This prod­uct is devel­oped by our R
&
D com­pa­ny Apnoke Sci­en­tif­ic Ltd (
http://​www​.apnoke​.com/
), and here is the cor­re­spond­ing link
http://​www​.apnoke​.com/​d​r​o​m​e​t​r​i​z​o​l​e​-​t​r​i​s​i​l​o​x​a​n​e​m​e​x​o​r​y​l​-​x​l​-​c​a​s​-​1​5​5​6​3​3​-​5​4​-8/
Quick Inquiry
Fill out our inquiry form and one of our experts will be in touch with you short­ly (Please change screen to hor­i­zon­tal for com­plete brows­ing if you are check­ing Wat­son on your mobile phone).