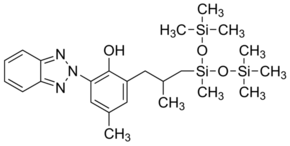 Identification
CAS Number
155633-54-8
Name
Drometrizole Trisiloxane(Mexoryl XL)
Synonyms
11343300 [Beilstein]
155633-54-8 [RN]
2-(2H-Benzotriazol-2-yl)-4-methyl-6-{2-methyl-3-{1,3,3,3-tetramethyl-1-[(trimethylsilyl)oxy]disiloxanyl}propyl}phenol
2-(2H-Benzotriazol-2-yl)-6-[3-(1,1,1,3,5,5,5-heptamethyl-3-trisiloxanyl)-2-methylpropyl]-4-methylphenol [ACD/IUPAC Name]
2-(2H-Benzotriazol-2-yl)-6-[3-(1,1,1,3,5,5,5-heptamethyl-3-trisiloxanyl)-2-methylpropyl]-4-methylphenol [German] [ACD/IUPAC Name]
2-(2H-Benzotriazol-2-yl)-6-[3-(1,1,1,3,5,5,5-heptaméthyl-3-trisiloxanyl)-2-méthylpropyl]-4-méthylphénol [French] [ACD/IUPAC Name]
Drometrizole trisiloxane [Wiki]
HC22845I1X
Mexoryl XL [Trade name]
MFCD22373626 [MDL number]
Phenol, 2-(2H-1,2,3-benzotriazol-2-yl)-4-methyl-6-[2-methyl-3-[1,3,3,3-tetramethyl-1-[(trimethylsilyl)oxy]disiloxanyl]propyl]- [ACD/Index Name]
Silatrizole
T56 BNNNJ BR BQ E1 C1Y1&1-SI-1&O-SI-1&1&1&&O-SI-1&1&1 [WLN]
UNII:HC22845I1X
2-(2H-benzo[d][1,2,3]triazol-2-yl)-6-(3-(1,1,1,3,5,5,5-heptamethyltrisiloxan-3-yl)-2-methylpropyl)-4-methylphenol
2-(2H-benzotriazol-2-yl)-4-methyl-6-[2-methyl-3-[1,3,3,3-tetramethyl-1-[(trimethylsilyl)-oxy]disiloxanyl]propyl]phenol
2-(Benzotriazol-2-yl)-4-methyl-6-[2-methyl-3-[methyl-bis(trimethylsilyloxy)silyl]propyl]phenol
SMILES
n1c3ccccc3nn1c2cc(cc(c2O)CC(C)C[Si](O[Si](C)(C)C)(O[Si](C)(C)C)C)C
StdInChI
InChI=1S/C24H39N3O3Si3/c1-18-14-20(15-19(2)17-33(9,29-31(3,4)5)30-32(6,7)8)24(28)23(16-18)27-25-21-12-10-11-13-22(21)26-27/h10-14,16,19,28H,15,17H2,1-9H3
StdInChIKey
HUVYTMDMDZRHBN-UHFFFAOYSA-N
Molecular Formula
C24H39N3O3Si3
Molecular Weight
501.841
Beilstein Registry Number
11343300
MDL Number
MFCD22373626
Properties
Appearance
Off-white to white powder
Safety Data
WGK Germany
3
Specifications and Other Information of Our Drometrizole Trisiloxane(Mexoryl XL) CAS 155633-54-8
Identification Methods
HNMR, HPLC
Purity
98% min
Shelf Life
2 years
Storage
Under room temperature away from light
Known Application
Crestrozole trisiloxane is a chemical sunscreen agent, a patented ingredient of L'Oréal, and is often referred to as Mexoryl XL. It is a broad-spectrum sunscreen with two absorption peaks, one at 303 nm (UVB) and one at 344 nm (UVA). Mexoryl XL and Mexoryl SX are often used together to achieve a better synergistic sunscreen effect..
General View of Documents
Links
This product is developed by our R&D company Apnoke Scientific Ltd (
http://www.apnoke.com/
), and here is the corresponding link
http://www.apnoke.com/drometrizole-trisiloxanemexoryl-xl-cas-155633-54-8/
Quick Inquiry
Fill out our inquiry form and one of our experts will be in touch with you shortly (Please change screen to horizontal for complete browsing if you are checking Watson on your mobile phone).