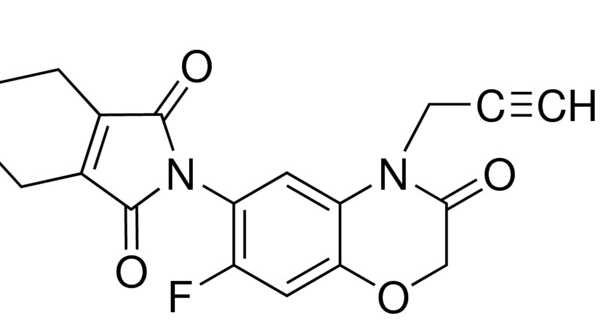 Iden­ti­fi­ca­tion
CAS

Number

103361-09-7
Name
Flu­miox­azin
Syn­onyms
103361-09-7 [RN]
1H-Isoindole-1,3(2H)-dione, 2-[7-fluoro-3,4-dihydro-3-oxo-4-(2-propyn-1-yl)-2H-1,4-benzoxazin-6-yl]-4,5,6,7-tetrahydro- [ACD/​Index Name]
2-(7-Fluoro-3-oxo-4-prop-2-yn-1-yl-3,4-dihydro-2H-1,4-benzoxazin-6-yl)-4,5,6,7-tetrahydro-1H-isoindole-1,3(2H)-dione
2-[7-Fluor-3-oxo-4-(2-propin-1-yl)-3,4-dihydro-2H-1,4-benzoxazin-6-yl]-4,5,6,7-tetrahydro-1H-isoindol-1,3(2H)-dion [Ger­man] [ACD/IUPAC Name]
2-[7-Fluor-3-oxo-4-(prop-2-in-1-yl)-3,4-dihydro-2H-1,4-benzoxazin-6-yl]-4,5,6,7-tetrahydro-1H-isoindol-1,3(2H)-dion
2-[7-Fluoro-3,4-dihydro-3-oxo-4-(2-propynyl)-2H-1,4-benzoxazin-6-yl]-4,5,6,7-tetrahydro-1H-isoindole-1,3(2H)-dione
2-[7-Fluoro-3-oxo-4-(2-propyn-1-yl)-3,4-dihydro-2H-1,4-benzoxazin-6-yl]-4,5,6,7-tetrahydro-1H-isoindole-1,3(2H)-dione [ACD/IUPAC Name]
2-[7-Fluoro-3-oxo-4-(2-propyn-1-yl)-3,4-dihydro-2H-1,4-benzoxazin-6-yl]-4,5,6,7-tétrahydro-1H-isoindole-1,3(2H)-dione [French] [ACD/IUPAC Name]
2-[7-Fluoro-3-oxo-4-(prop-2-yn-1-yl)-3,4-dihydro-2H-1,4-benzoxazin-6-yl]-4,5,6,7-tetrahydro-1H-isoindole-1,3(2H)-dione
flu­miox­azin [BSI] [ISO]
flu­miox­azine [French] [ISO]
Flu­miox­azine
FXF­FR CG DOR DNW CVOY1&VO2 [WLN]
MFCD01754256
17746-05-3 [RN]
1H-Isoindole-1,3(2H)-dione, 4,5,6,7-tetrahydro-2-(7-fluoro-3,4-dihydro-3-oxo-4-(2-propynyl)-2H-1,4-benzoxazin-6-yl)-
2-(7-fluoro-3-keto-4-propargyl-1,4-benzoxazin-6-yl)-4,5,6,7-tetrahydroisoindole-1,3-quinone
2-(7-fluoro-3-oxo-4-prop-2-ynyl-1,4-benzoxazin-6-yl)-4,5,6,7-tetrahydroisoindole-1,3-dione
2-[7-Fluoro-3,4-dihydro-3-oxo-4-(2-propyn-1-yl)-2H-1,4-benzoxazin-6-yl]-4,5,6,7-tetrahydro-1H-isoindole-1,3(2H)-dione
2-[7-Fluoro-3,4-dihydro-3-oxo-4-(2-propynyl)-2H-1,4-benzoxazin-6-yl]-4,5,6,7-tetrahydro-1H-isoindole-1,3(2H)-dione, 9CI
2-[7-fluoro-3-oxo-4-(prop-2-yn-1-yl)-3,4-dihydro-2H-1,4-benzoxazin-6-yl]-2,3,4,5,6,7-hexahydro-1H-isoindole-1,3-dione
7-Fluoro-6-(3,4,5,6-tetrahydrophthalimido)-4-(2-propynyl)-1,4-benzoxazin-3(2H)-one
Annex [Trade name]
EINECS Annex I Index 613-166-00-X
Flu­miox­azin [ISO]
Flu­miox­azin 10 ?g/​mL in Ace­toni­trile
Flu­miox­azin 10 ?g/​mL in Cyclo­hexa­ne
Flu­miox­azin 10 µg/​mL in Ace­toni­trile
Flu­miox­azin 10 µg/​mL in Cyclo­hexa­ne
Flu­mizin
Guil­lo­tine
L0PX7OGI22
N-(7-fluoro-3,4-dihydro-3-oxo-4-prop-2-ynyl-2H-1,4-benzoxazin-6-yl)cyclohex-1-ene-1,2-dicarboxamide
NCGC00163707-01
Sum­isoya
UNII :L0PX7OGI22
UNII-L0PX7OGI22
SMILES
C#CCN1c2cc(c(cc2OCC1=O)F)N3C(=O)C4=C(C3=O)CCCC4
Std­InChI
InChI=1S/C19H15FN2O4/c1-2-7-21-15-9-14(13(20)8-16(15)26-10-17(21)23)22-18(24)11-5-3-4-6-12(11)19(22)25/h1,8-9H,3-7,10H2
Std­InChIKey
FOUWC­S­D­KD­DHKQP-UHF­F­­FAOYSA-N
Mol­e­c­u­lar Formula
C19H15FN2O4
Mol­e­c­u­lar Weight
354.33
MDL

Number

MFCD01754256
Prop­er­ties
Appear­ance
Off-white to light brown powder
Safe­ty Data
WGK

Germany

3
MSDS

Download
Spec­i­fi­ca­tions and Oth­er Infor­ma­tion of Our Flu­miox­azin
CAS

103361-09-7
Puri­ty
97% min
pH
5.5~8.5
Ace­tone Insol­u­ble Content
≤0.3%
Water
≤0.5%
Shelf Life
2 years
Stor­age
Store at room tem­per­a­ture, keep con­tain­er tight­ly closed and away from light.
Known Appli­ca­tion
As a her­bi­cide, it is used to con­trol weeds such as soy­beans and peanuts.
Links
This prod­uct is devel­oped by our R&D com­pa­ny Warshel Chem­i­cal Ltd (https://www.warshel.com/​).
Quick Inquiry
Fill out our inquiry form and one of our experts will be in touch with you shortly.