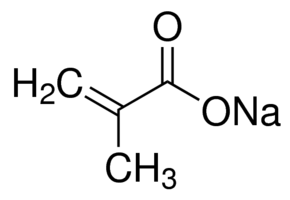 Sodium methacrylate CAS 5536-61-8
Identification
CAS Number
5536-61-8
Name
Sodium methacrylate
Synonyms
226-896-5 [EINECS]
2-Propenoic acid, 2-methyl-, sodium salt
2-Propenoic acid, 2-methyl-, sodium salt (1:1) [ACD/Index Name]
5536-61-8 [RN]
Méthacrylate de sodium [French] [ACD/IUPAC Name]
Methacrylic acid sodium salt
MFCD00045886 [MDL number]
Natriummethacrylat [German] [ACD/IUPAC Name]
Sodium 2-methyl-2-propenoate
Sodium methacrylate [ACD/IUPAC Name]
[5536-61-8]
125395-40-6 [RN]
132635-02-0 [RN]
161161-98-4 [RN]
200284-44-2 [RN]
25086-62-8 [RN]
25087-26-7 [RN]
28678-81-1 [RN]
2-Methyl-2-propenoic acid homopolymer sodium salt
2-Methyl-2-propenoic acid, sodium salt
2-Propenoic acid, 2-methyl-, homopolymer, sodium salt
2-Propenoic acid, 2-methyl-, hompolymer, sodium salt
2-Propenoic acid, 2-methyl-, sodium salt, homopolymer
39362-60-2 [RN]
54193-36-1 [RN]
55200-24-3 [RN]
56048-00-1 [RN]
62587-56-8 [RN]
77152-62-6 [RN]
9003-25-2 [RN]
Acrynax
Comet [Wiki]
Darvan
Darvan 7
Daxad
EINECS 226-896-5
Komet [Wiki]
Kometa
Methacrylic acid sodium salt(Technical)
METHACRYLIC ACID, SODIUM SALT
Natrium-2-methylacrylat
Osakryl S
POLY(METHACRYLIC ACID) SODIUM SALT, 30% SOLN. IN WATER
Polymethakrylat sodny [Czech]
Sodium 2-methyl-2-propenoate, homopolymer
sodium 2-methylprop-2-enoate
sodium and 2-methylprop-2-enoate
Sodium methacrylate homopolymer
Sodium methacrylate polymer
Sodium methacrylate, polymerized
SODIUM POLYMETHACRYLATE|SODIUM 2-METHYLPROP-2-ENOATE
sodium;2-methylprop-2-enoate
SODIUMMETHACRYLATE
Vinamul N 3311
SMILES
CC(=C)C(=O)[O-].[Na+]
StdInChI
InChI=1S/C4H6O2.Na/c1-3(2)4(5)6;/h1H2,2H3,(H,5,6);/q;+1/p-1
StdInChIKey
SONHXMAHPHADTF-UHFFFAOYSA-M
Molecular Formula
C4H5NaO2
Molecular Weight
108.07
EINECS
226-896-5
MDL Number
MFCD00045886
Properties
Appearance
White superfine powder
Metling Point
300°C
Density
2.703g/[email protected]°C
Safety Data
Symbol
GHS07
Signal Word
Warning
Hazard statements
H315-H319-H335
Precautionary Statements
P261-P305 + P351 + P338
Personal Protective Equipment
dust mask type N95 (US), Eyeshields, Gloves
RIDADR
NONH for all modes of transport
WGK Germany
3
Specifications and Other Information of Our Sodium methacrylate CAS 5536-61-8
Identification Methods
HPLC
Purity
99% min
Water
0.5%max
Free alkali
0.4%max
Volatile
0.05%max
Storage
Store in dark and dry place, away from light.
Known Application
1.Used as dispersing agent;
2.Used as coating materials.
3.Sodium Methacrylate polymerization reaction to poly acrylic acid sodium(PAAS). PAAS is a kind of poly anionic polymer dielectric, is a widely used and important chemicals.
Links
This product is developed by our R&D company Warshel Chemical Ltd(
Warshel Chemical Ltd
), and here is the corresponding link
http://www.warshel.com/sodium-methacrylate-cas-5536-61-8/
Quick Inquiry
Fill out our inquiry form and one of our experts will be in touch with you shortly (Please change screen to horizontal for complete browsing if you are checking Watson on your mobile phone).