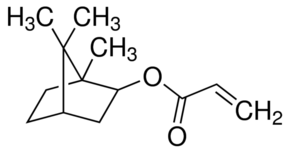 IBOA CAS 5888-33-5
Identification
CAS Number
5888-33-5
Name
IBOA
Synonyms
(1S,2S,4S)-1,7,7-Trimethylbicyclo[2.2.1]hept-2-yl acrylate [ACD/IUPAC Name]
(1S,2S,4S)-1,7,7-trimethylbicyclo[2.2.1]hept-2-yl prop-2-enoate
(1S,2S,4S)-1,7,7-Trimethylbicyclo[2.2.1]hept-2-yl-acrylat [German] [ACD/IUPAC Name]
227-561-6 [EINECS]
2-Propenoic acid, (1S,2S,4S)-1,7,7-trimethylbicyclo[2.2.1]hept-2-yl ester [ACD/Index Name]
5888-33-5 [RN]
Acrylate de (1S,2S,4S)-1,7,7-triméthylbicyclo[2.2.1]hept-2-yle [French] [ACD/IUPAC Name]
acrylic acid isobornyl ester
exo-1,7,7-Trimethylbicyclo(2.2.1)hept-2-yl acrylate
IBA
Isobornyl acrylate
MFCD00080424 [MDL number]
UD3940000
(1R,2R,4R)-rel-1,7,7-Trimethylbicyclo[2.2.1]heptan-2-yl acrylate
[(1R,2R,4R)-1,7,7-trimethylnorbornan-2-yl] prop-2-enoate
[(1R,4R,6R)-1,7,7-trimethyl-6-bicyclo[2.2.1]heptanyl] prop-2-enoate
[(1S,3S,4S)-4,7,7-trimethyl-3-bicyclo[2.2.1]heptanyl] prop-2-enoate
1,7,7-Trimethylbicyclo[2.2.1]hept-2-yl acrylate [ACD/IUPAC Name]
2-Propenoic acid, 1,7,7-trimethylbicyclo[2.2.1]hept-2-yl ester [ACD/Index Name]
exo-1,7,7-trimethylbicyclo[2.2.1]hept-2-yl acrylate
InChI=1/C13H20O2/c1-5-11(14)15-10-8-9-6-7-13(10,4)12(9,2)3/h5,9-10H,1,6-8H2,2-4H
isobornyl acrylate, technical
MFCD30176438
prop-2-enoic acid [(1R,2R,4R)-1,7,7-trimethyl-2-norbornanyl] ester
UNII-IX0PRH184P
SMILES
C[[email protected]]12CC[[email protected]](C1(C)C)C[[email protected]@H]2OC(=O)C=C
StdInChI
InChI=1S/C13H20O2/c1-5-11(14)15-10-8-9-6-7-13(10,4)12(9,2)3/h5,9-10H,1,6-8H2,2-4H3/t9-,10-,13+/m0/s1
StdInChIKey
PSGCQDPCAWOCSH-OUJBWJOFSA-N
Molecular Formula
C13H20O2
Molecular Weight
208.30
EINECS
227-561-6
MDL Number
MFCD00080424
Properties
Appearance
Colorless transparent clear liquid
Safety Data
Symbol

GHS07, GHS09
Signal word
Warning
Hazard statements
H315-H319-H335-H411
Precautionary Statements
P273-P305 + P351 + P338-P391-P501
Personal Protective Equipment
Eyeshields, Faceshields, full-face respirator (US), Gloves, multi-purpose combination respirator cartridge (US), type ABEK (EN14387) respirator filter
RIDADR
UN 3082 9 / PGIII
WGK Germany
2
RTECS
UD3940000
Specifications and Other Information of Our IBOA CAS 5888-33-5
Identification Methods
GC
Ester Content
98.5% min
Moisture
0.1%
Color(APHA)
20max
Acid(mgkoh/g)
1.0max
Viscosity(cps at 25 ℃)
7.0-10.0
Surface Tension(dyne/cm)
30 max
Polymer Content (%)
None
Inhibitor MEHQ (PPM)
100+/-20; Content of inhibito「 can be added according demand of customer.
Storage
Under room temperature away from light
Known Application
IBOA is a special monomer with many func­tions. IBOA is colorless, transparent, odorless liquid. The product has the unique bridge ring structure, endowing it with the special physical and chemical properties, low viscosity, high boiling point, low surface tension (low shrink­age), high Tg., low chromaticity, high refractive index, good hydrophobicity, soluble in various resins, solvents, pigments, low toxicity, non-flammable.
When IBOA is used in radiate curing coating (printing ink) as active diluents, it may effectively reduce the viscosity of the coating (printing ink), improve the perormance of construc­tion, and enhance leveling properties.
When IBOA is served as the active diluents of the epoxy-acrylic oligomer, it may reduce internal stress and volume shrinkage of the coating, thus improving the character index of radiation curing coating such as adhesion, volume shrinkage, anti-impact, scratch resistance, weather resis­tance, and it won't lose hardness and flexibility in its coating.
If IBOA is used in protective coating of discs, it will attach extremely close with the surface of the texture on the disc. Moreover, has extremely enhances mar resistance and coat­ing performance, and very distinctly improves the gloss of film.
Because IBOA has all sorts of merits (as listed above), it has been widely used in domains as active diluents of radiation curing coating, such as gloss varnish for metal, glass flexibili­ty plastic film, engineering plastics as well as optical fiber coating, and has been simultaneously used in some special printing inks like outdoors spurt ink & news printing ink on thin-film of polyethylene.
IBOA is suitable for the manufacture of high Tg thermoplastic acrylic resin, the resins have high hardness, high alcohol resistance and heat resistance. With good flexibility.adhesion and moisture resistance, weather resistance, IBOA is a special and new acrylic monomer, suitable for manufacturing such as PET, PE, PP soft plastic film coating and PE, PP, PC and other engineering plastic decorative protective coating.
Because of the highr efractive index , IBOA can be used in contact lenses.
Due to its low surface energy, the latex polymer is suitable for acrylic pressure-sensitive adhesive of corrugated plate and can be used as a viscosifier of pressure-sensitive adhesive. In powder coatings, it can be used as a flow improver in molten state.
Links
This product is developed by our R&D company Warshel Chemical Ltd(
Warshel Chemical Ltd
), and here is the corresponding link
http://www.warshel.com/iboa-cas-5888-33-5/
Quick Inquiry
Fill out our inquiry form and one of our experts will be in touch with you shortly (Please change screen to horizontal for complete browsing if you are checking Watson on your mobile phone).