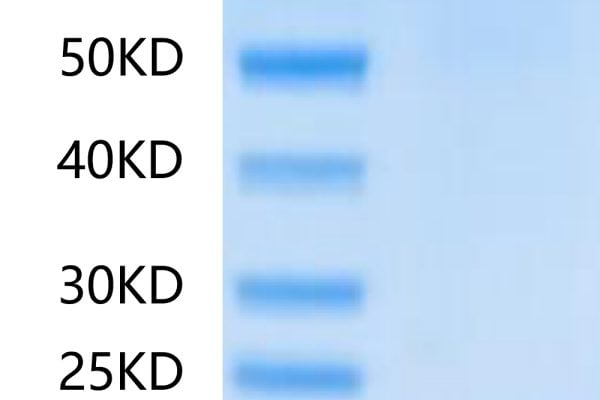 Overview
Gen­er­al Description
Recom­bi­nant Human BCHE/​Butyrylcholinesterase Pro­tein is expressed from HEK293 with His tag at the C​-ter​mi​nal​.It con­tains Glu29-Leu602.
Biotiny­lat­ed
Spec­i­fi­ca­tions
Tar­get
BCHE/​Butyrylcholinesterase
Syn­onyms
Acces­sion
Species
Human
Exact Sequence
Glu29-Leu602
Mol­e­c­u­lar Weight
The pro­tein has a pre­dict­ed MW of 66.18 kDa. Due to gly­co­sy­la­tion, the pro­tein migrates to 70-110 kDa based on Tris-Bis PAGE result.
Activ­i­ty
Prod­uct Tag
C-His
Express Sys­tem
HEK293
Puri­ty
> 95% as deter­mined by Tris-Bis PAGE
Endo­tox­in
Less than 1EU per ug by the LAL method.
Ship­ping, Recon­sti­tu­tion
&

Storage
Appear­ance
Liq­uid
Ship­ping Conditions
Shipped with blue ice.
For­mu­la­tion
Sup­plied as 0.22um fil­tered solu­tion in 50mM Tris, 150mM Nacl (pH 8.0).
Recon­sti­tu­tion
Sta­bil­i­ty
&

Storage

Valid for 12 months from date of receipt when stored at -80°C.;Recommend to aliquot the pro­tein into small­er quan­ti­ties for opti­mal stor­age. Please avoid repeat­ed freeze-thaw cycles.
Gen­er­al View of Documents
Human BCHE on Tris-Bis PAGE under reduced con­di­tion. The puri­ty is greater than 95%.
Dec­la­ra­tion
This prod­uct is brand­ed by ChemWhat and sold through our web­site. (ChemWhat Offi­cial Web­site).
Quick Inquiry
Fill out our inquiry form and one of our experts will be in touch with you shortly.