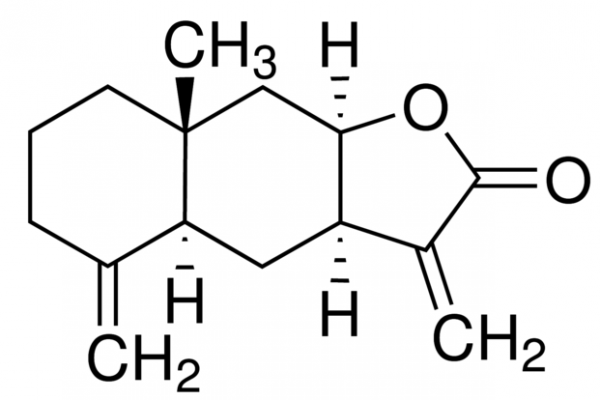 Iden­ti­fi­ca­tion
CAS

Number

470-17-7
Name
Isoalan­to­lac­tone
Syn­onyms
(+)-Isoalan­to­lac­tone
(3aR,4aS,8aR,9aR)-8a-Methyl-3,5-bis(methylene)decahydronaphtho[2,3-b]furan-2(3H)-one [ACD/IUPAC Name]
(3aR,4aS,8aR,9aR)-8a-Methyl-3,5-dimethylendecahydronaphtho[2,3-b]furan-2(3H)-on [Ger­man] [ACD/IUPAC Name]
(3aR,4aS,8aR,9aR)-8a-Méthyl-3,5-diméthylènedécahydronaphto[2,3-b]furan-2(3H)-one [French] [ACD/IUPAC Name]
(3aR,4aS,8aR,9aR)-8a-methyl-3,5-dimethylidenedecahydronaphtho[2,3-b]furan-2(3H)-one
470-17-7 [RN]
iso-Alan­­to­lac­­tone
Isoalan­to­lac­tone
Naphtho[2,3-b]furan-2(3H)-one, decahydro-8a-methyl-3,5-bis(methylene)-, (3aR,4aS,8aR,9aR)- [ACD/​Index Name]
(+)-Isoalantolactone;Isohelenin
(3aR,4aS,8aR,9aR)-8a-methyl-3,5-bis(methylidene)decahydronaphtho[2,3-b]furan-2(3H)-one ; eudesma-4(14),11(13)-dieno-12,8β-olactone
(3aR,4aS,8aR,9aR)-8a-methyl-3,5-dimethylenedecahydronaphtho[2,3-b]furan-2(3H)-one
(3aR,4aS,8aR,9aR)-8a-Methyl-3,5-dimethylene-decahydro-naphtho[2,3-b]furan-2-one
(3aR,4aS,8aR,9aR)-8a-methyl-3,5-dimethylidene-3a,4,4a,6,7,8,9,9a-octahydrobenzo[f][1]benzofuran-2-one
(3AR,4AS,8AR,9AR)-8A-METHYL-3,5-DIMETHYLI­DENE-DODEC­AHY­DRON­APH­THO[2,3-B]FURAN-2-ONE
[470-17-7] [RN]
4-17-00-05031 [Beil­stein]
4677-48-9 [RN]
6994-20-3 [RN]
8β-hydroxyeudesma-4(14),11(13)-dien-12-oic acid γ-lac­­tone
Ben­zoic acid, 4-(aminomethyl)- (9CI)
Eudesma-4(14),11(13)-dien-12-oic acid, 8-β-hydroxy-, γ-lac­­tone
ISOALAN­TOAC­TONE
iso-alan­­to­lac­­ton
Iso­he­lenin
MFCD00056777 [MDL num­ber]
MFCD08689940
Naphtho(2,3-b)furan-2(3H)-one, decahydro-8a-methyl-3,5-bis(methylene)-, (3aR-(3a α,4a α,8a β,9a α))-
Naphtho[2,3-b]furan-2(3H)-one, dec­ahy­­dro-8a-methyl-3, 5-bis(methylene)-, [3aR-(3aα,4aα,8aβ,9aα)]-
Naphtho[2,3-b]furan-2(3H)-one, decahydro-8a-methyl-3,5-bis(methylene)-, [3aR-(3aα,4aα,8aβ,9aα)]-
Naphtho[2,3-b]furan-2(3H)-one,decahydro-8a-methyl-3,5-bis(methylene)-, (3aR,4aS,8aR,9aR)-
332-80-9 [RN]
SMILES
C[[email protected]]12CCCC(=C)[[email protected]@H]1C[[email protected]]3[[email protected]@H](C2)OC(=O)C3=C
Std­InChI
InChI=1S/C15H20O2/c1-9-5-4-6-15(3)8-13-11(7-12(9)15)10(2)14(16)17-13/h11-13H,1-2,4-8H2,3H3/t11-,12+,13-,15-/m1/s1
Std­InChIKey
CVUANY­C­Q­­TOGILD-QVHK­T­LOISA-N
Mol­e­c­u­lar Formula
C15H20O2
Mol­e­c­u­lar Weight
232.32
Beil­stein Reg­istry Number
4-17-00-05031
MDL

Number

MFCD08689940
Prop­er­ties
Appear­ance
White crys­talline powder
Safe­ty Data
Sig­nal Word
Warn­ing
WGK

Germany

3
Spec­i­fi­ca­tions and Oth­er Infor­ma­tion of Our Isoalan­to­lac­tone
CAS

470-17-7
Iden­ti­fi­ca­tion Methods
HNMR, HPLC
Puri­ty
99% min
Sol­u­bil­i­ty
Sol­u­ble in chlo­ro­form and DMSO.
Light absorp­tion (

UV

absorption)
Exhib­it UV absorp­tion between 210- 350 nm
TLC
Gives a sin­gle spot
1 H -NMR
Con­firms to structure
13C-NMR
Con­firms to structure
Shelf Life
2 years
Stor­age
Below 25 oC for long time.
Known Appli­ca­tion
Isoin­ulin has anthelmintic and antibac­te­r­i­al properties.
Links
This prod­uct is devel­oped by our R&D com­pa­ny Wat­son­noke Sci­en­tif­ic Ltd (http://​www​.wat​son​noke​.com/).
Quick Inquiry
Fill out our inquiry form and one of our experts will be in touch with you shortly.