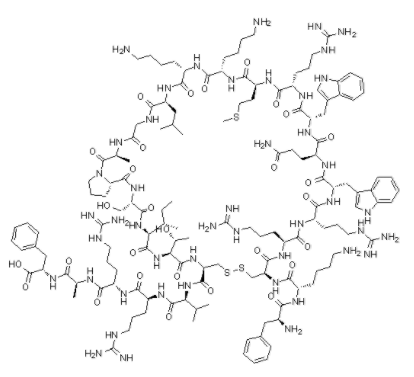 lactoferrin CAS 146897-68-9
Identification
CAS Number
146897-68-9
Name
lactoferrin
Synonyms
COLOSTRUM;
LACTOSIDEROPHILIN (BOVINE);
LACTOFERRIN, HUMAN;
LACTOFERRIN, HUMAN MILK;
LACTOFERRIN;
Lactoferricin B
SMILES
CC[[email protected]](C)[[email protected]]1C(=O)N[[email protected]](C(=O)N[[email protected]@H](CSSC[[email protected]@H](C(=O)N[[email protected]](C(=O)N[[email protected]](C(=O)N[[email protected]](C(=O)N[[email protected]](C(=O)N[[email protected]](C(=O)N[[email protected]](C(=O)N[[email protected]](C(=O)N[[email protected]](C(=O)N[[email protected]](C(=O)N[[email protected]](C(=O)NCC(=O)N[[email protected]](C(=O)N2CCC[[email protected]]2C(=O)N[[email protected]](C(=O)N1)CO)C)CC(C)C)CCCCN)CCCCN)CCSC)CCCNC(=N)N)Cc3c[nH]c4c3cccc4)CCC(=O)N)Cc5c[nH]c6c5cccc6)CCCNC(=N)N)CCCNC(=N)N)NC(=O)[[email protected]](CCCCN)NC(=O)[[email protected]](Cc7ccccc7)N)C(=O)N[[email protected]@H](C(C)C)C(=O)N[[email protected]@H](CCCNC(=N)N)C(=O)N[[email protected]@H](CCCNC(=N)N)C(=O)N[[email protected]@H](C)C(=O)N[[email protected]@H](Cc8ccccc8)C(=O)O)[[email protected]@H](C)O
StdInChI
InChI=1S/C141H224N46O29S3/c1-11-77(6)111-133(212)186-112(80(9)189)134(213)183-106(130(209)184-110(76(4)5)132(211)176-97(49-32-61-161-141(155)156)120(199)170-93(45-28-57-157-137(147)148)116(195)166-78(7)113(192)180-103(136(215)216)66-82-36-16-13-17-37-82)74-219-218-73-105(182-123(202)90(42-22-25-54-142)167-114(193)87(145)65-81-34-14-12-15-35-81)129(208)173-95(47-30-59-159-139(151)152)118(197)171-96(48-31-60-160-140(153)154)122(201)178-102(68-84-70-163-89-41-21-19-39-86(84)89)127(206)174-98(51-52-108(146)190)124(203)179-101(67-83-69-162-88-40-20-18-38-85(83)88)126(205)172-94(46-29-58-158-138(149)150)119(198)175-99(53-63-217-10)125(204)169-91(43-23-26-55-143)117(196)168-92(44-24-27-56-144)121(200)177-100(64-75(2)3)115(194)164-71-109(191)165-79(8)135(214)187-62-33-50-107(187)131(210)181-104(72-188)128(207)185-111/h12-21,34-41,69-70,75-80,87,90-107,110-112,162-163,188-189H,11,22-33,42-68,71-74,142-145H2,1-10H3,(H2,146,190)(H,164,194)(H,165,191)(H,166,195)(H,167,193)(H,168,196)(H,169,204)(H,170,199)(H,171,197)(H,172,205)(H,173,208)(H,174,206)(H,175,198)(H,176,211)(H,177,200)(H,178,201)(H,179,203)(H,180,192)(H,181,210)(H,182,202)(H,183,213)(H,184,209)(H,185,207)(H,186,212)(H,215,216)(H4,147,148,157)(H4,149,150,158)(H4,151,152,159)(H4,153,154,160)(H4,155,156,161)/t77-,78-,79-,80+,87-,90-,91?,92-,93-,94?,95-,96?,97-,98-,99-,100-,101-,102-,103-,104?,105-,106?,107-,110-,111-,112-/m0/s1
StdInChIKey
PHEGMCHJJYMADA-WDZJEJQUSA-N
Molecular Formula
C141H224N46O29S3
Molecular Weight
3123.773
Properties
Appearance
Light Red to Pink fine powder
<0.1
pH solution 2%
5.5-6.5
Foreign matter
ABS(class 1)
Sediment ADMI/5g
A
Safety Data
RIDADR
NONH for all modes of transport
Specifications and Other Information of Our lactoferrin CAS 146897-68-9
Identification Methods
HPLC
Assay
≥95%
Moisture
≤1.5%
Ash
≤1.5%
Iron saturation
10-20%
Iron content
< 350 mg/kg
Melamine
≤0.50ppm
Mineral
Calcium
0.0083 mg/100g
Chloride
1000 mg/100g
Phosphorous
0.0053 mg/100g
Potassium
1.2 mg/100g
Sodium
210 mg/100g
Lead
≤0.03ppm
Heavy metals (as lead)
≤5ppm
Arsenic (as)
≤0.01ppm
Nitrate
≤100ppm
Nitrite
≤2ppm
Microbiological
Aerobic plate count/g
≤50
Bacillus cereus/g
≤50
Coliforms/g
absent
E. Coli/g
absent
Enterobacter sakazakii/100g (ESAK020405)
absent
Clostridium perfringens/g
absent
Shigella/g
absent
Sulphite reducing clostridia spores/g
≤25
Enterobacteriacea/g
absent
Yeast and moulds/g
<1
Coagulase+ve staph aureus
absent
Inhibitory substance μg/ml
<0.003
Salmonella/25g
absent
Listeria/25g
absent
Residual Pesticides
absent
Shelf Life
24 months from production date, in original unopened packing under recommended storage conditions.
Storage
Store in cool and dry place free from toxic chemicals and odours. Storage temperature: Ambient
Storage humidity
<85%
Packaging
0,5-1, 5 and 10 kg PE. Safe for use in contact with foodstuffs (EU Reg. 1935/2004 on General Requirements for all food contact materials and Regulation 10/2011 on plastic materials and articles intended to come into contact with food).
Known Application
lactoferrin is an excellent inhibitor of a wide range microorganisms that require iron for growth. As well as being necessary for normal growth of intestinal cells, lactoferrine functions as an antioxidant in iron mediated oxidation reactions and as an anti-inflammatory agent. It also may play an important role in the transport of iron across the duodenal mucosa.
Links
This product is developed by our R&D company Ulcho Biochemical Ltd(
http://www.ulcho.com/
), and here is the corresponding link
http://www.ulcho.com/lactoferrin-cas-146897-68-9/
Quick Inquiry
Fill out our inquiry form and one of our experts will be in touch with you shortly (Please change screen to horizontal for complete browsing if you are checking Watson on your mobile phone).