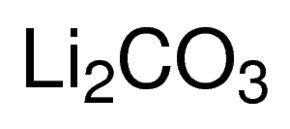 Lithium Carbonate (LC) CAS 554-13-2
Identification
Properties
Safety Data
Specifications & Other Information
Links
Identification
CAS Number
554-13-2
Name
Lithium Carbonate (LC)
Synonyms
Lithium carbonate [Wiki]
209-062-5 [EINECS]
2BMD2GNA4V
554-13-2 [RN]
Carbonate de dilithium [French] [ACD/IUPAC Name]
Carbonic acid dilithium salt
Carbonic acid lithium salt
CARBONIC ACID, LITHIUM SALT
Carbonic acid, lithium salt (1:2) [ACD/Index Name]
Dilithium carbonate [ACD/IUPAC Name]
Dilithiumcarbonat [German] [ACD/IUPAC Name]
Lithocarb
MFCD00011084 [MDL number]
[554-13-2]
3999191 [Beilstein]
5-17-01-00324 [Beilstein]
AC1O3S1L
AGN-PC-0LSXD0
Camcolit [Wiki]
Candamide
Carbolith [Wiki]
Carbolithium
Carbolithium IFI
Carbolitium
carbonic acid; lithium
carbonic acid;lithium
Ceglution
dilithium and carbonate
Dilithium Carbonate, Dilithium Salt, Carbonic Acid
dilithium trioxidocarbonate
dilithium trioxidocarbonate; lithium carbonate
dilithium(1+) ion carbonate
dilithium;carbonate
EINECS 209-062-5
EINECS 233-818-3
Eskalith [Trade name] [Wiki]
Eskalith (TN)
Eskalith CR
Eutimin
Hypnorex
Li2CO3
Limas
Liskonum
Litard
Lithane [Wiki]
Lithea
Lithicarb
Lithinate
Lithionate
Lithium carbonate (2:1)
Lithium carbonate (JP15/USP) [USP]
Lithium carbonate, 400 mesh
LITHIUM CARBONATE-7LI
Lithium Phasal
Lithium QD
lithiumcarbonate
Lithizine
Lithobid [Wiki]
Lithobid (TN)
Litho-Carb
LITHONATE [Wiki]
Lithotabs [Wiki]
Liticar
Manialith
Maniprex [Wiki]
Micalith
NAGly |
Neurolepsin
Pfi-lithium
Pfl-Lithium
Phasal
PLENUR
Priadel
QUILONORM
Quilonum
Quilonum retard
Teralithe [French]
Teralithe [French]
UNII:2BMD2GNA4V
UNII-2BMD2GNA4V
碳酸锂 [Chinese]
SMILES
[Li+].[Li+].C(=O)([O-])[O-]
StdInChI
InChI=1S/CH2O3.2Li/c2-1(3)4;;/h(H2,2,3,4);;/q;2*+1/p-2
StdInChIKey
XGZVUEUWXADBQD-UHFFFAOYSA-L
Molecular Formula
CLi2O3
Molecular Weight
73.891
EINECS
209-062-5
Beilstein Registry Number
3999191
MDL Number
MFCD00011084
Properties
Appearance
Colorless monoclinic crystal or white powder
Boiling Point
1230℃
Melting Point
723℃
Flash Point
103 °C
Density
2.11g/cm3
Safety Data
Symbol
GHS07
Signal Word
Warning
Hazard Statements
Precautionary Statements
RIDADR
NONH for all modes of transport
WGK Germany
1
RTECS
OJ5800000
Specifications and Other Information of Our Lithium Carbonate (LC) CAS 554-13-2
Standard
Enterprise standard
Detailed Specification
Battery Grade
Item
Battery Grade
Grade
1
2
3
Li2CO3
≥99.5%
≥99.5%
≥99.2%
H2O
≤0.25%
Particle Size(D50)
3μm~8μm
Magnetic substance
≤0.003%
Li2CO3
≥99.5%
≥99.5%
≥99.2%
Impurities
Na
≤0.025%
≤0.025%
≤0.033%
K
≤0.001%
≤0.001%
≤0.01%
Fe
≤0.001%
≤0.001%
≤0.005%
Ca
≤0.005%
≤0.005%
≤0.035%
Cu
≤0.0003%
≤0.0003%
≤0.001%
Pb
≤0.0003%
≤0.0003%
≤0.001%
Ni
≤0.001%
≤0.001%
–
Mn
≤0.0003%
≤0.0003%
–
Zn
≤0.0003%
≤0.0003%
–
Al
≤0.001%
≤0.001%
–
Mg
≤0.008%
≤0.008%
≤0.01%
Industry Grade
Item
Industry Grade
Grade
1
2
3
Li2CO3
≥99.2%
≥99.0%
≥98.5%
H2O
≤0.3%
≤0.5%
Hydrochloric acid insoluble
≤0.005%
≤0.015%
≤0.050%
Impurities
Na
≤0.08%
≤0.15%
≤0.02%
Fe
≤0.002%
≤0.0035%
≤0.007%
Ca
≤0.025%
≤0.040%
≤0.070%
Mg
≤0.015%
–
–
SO4
≤0.20%
≤0.35%
≤0.50%
Cl-
≤0.010%
≤0.020%
≤0.030%
Package
It is lined with two layers of plastic film bags, plastic woven bags or plastic coated bags. The inner bag is tied or heat sealed, and the outer bag has a firm seam. The net weight of each bag is 20Kg.
Manufacturing Capacity
MT scale
Storage
Under the room temperature and away from light
Application
LC is used as a cathode material;It is widely used in the cathode material and electrolyte material industry of lithium ion batteries, and is also the basic raw material for nuclear industry, high-grade Al-Li alloy, special glass and rear projection color TV industry.
Links
Warshel Chemical Ltd
This product is developed by our R&D company Warshel Chemical Ltd(http://www.warshel.com/), and here is the corresponding linkhttp://www.warshel.com/lithium-carbonate-lc-cas-554-13-2/Quick InquiryFill out our inquiry form and one of our experts will be in touch with you shortly.