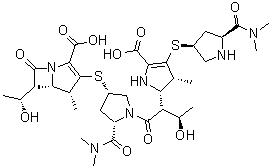 Iden­ti­fi­ca­tion
CAS

Number

161265-03-8
Name
Meropen­em Impu­ri­ty B
Syn­onyms
Meropen­em Dimer USP
(4R,5S,6S)-3-{[(3S,5S)-1-{(2S,3R)-2-[(2S,3R)-5-Car­boxy-4-{[(3S,5S)-5-(dimethylcarbamoyl)-3-pyrrolidinyl]sulfanyl}-3-methyl-2,3-dihydro-1H-pyrrol-2-yl]-3-hydroxybutanoyl}-5-(dimethylcarbamoyl)-3-pyrrol idinyl]sulfanyl}-6-[(1R)-1-hydroxyethyl]-4-methyl-7-oxo-1-azabicyclo[3.2.0]hept-2-en-2-carbonsäure (non-pre­­ferred name) [Ger­man] [ACD/IUPAC Name]
(4R,5S,6S)-3-{[(3S,5S)-1-{(2S,3R)-2-[(2S,3R)-5-Car­boxy-4-{[(3S,5S)-5-(dimethylcarbamoyl)-3-pyrrolidinyl]sulfanyl}-3-methyl-2,3-dihydro-1H-pyrrol-2-yl]-3-hydroxybutanoyl}-5-(dimethylcarbamoyl)-3-pyrrol idinyl]sulfanyl}-6-[(1R)-1-hydroxyethyl]-4-methyl-7-oxo-1-azabicyclo[3.2.0]hept-2-ene-2-carboxylic acid (non-pre­­ferred name) [ACD/IUPAC Name]
1-Azabicyclo[3.2.0]hept-2-ene-2-carboxylic acid, 3-[[(3S,5S)-1-[(2S,3R)-2-[(2S,3R)-5-car­boxy-4-[[(3S,5S)-5-[(dimethylamino)carbonyl]-3-pyrrolidinyl]thio]-2,3-dihydro-3-methyl-1H-pyrrol-2-yl]-3-hydroxy -1-oxobutyl]-5-[(dimethylamino)carbonyl]-3-pyrrolidinyl]thio]-6-[(1R)-1-hydroxyethyl]-4-methyl-7-oxo-, (4R,5S,6S)- [ACD/​Index Name]
Acide (4R,5S,6S)-3-{[(3S,5S)-1-{(2S,3R)-2-[(2S,3R)-5-car­boxy-4-{[(3S,5S)-5-(diméthylcarbamoyl)-3-pyrrolidinyl]sulfanyl}-3-méthyl-2,3-dihydro-1H-pyrrol-2-yl]-3-hydroxybutanoyl}-5-(diméthylcarbamoyl)-3- pyrrolidinyl]sulfanyl}-6-[(1R)-1-hydroxyéthyl]-4-méthyl-7-oxo-1-azabicyclo[3.2.0]hept-2-ène-2-carboxylique (non-pre­­ferred name) [French] [ACD/IUPAC Name]
166901-45-7 [RN]
SMILES
C[C@@H](O)[C@H]([C@@H]1NC(=C(S[C@H]2C[C@H](NC2)C(=O)N(C)C)[C@@H]1C)C(O)=O)C(=O)N1C[C@H](C[C@H]1C(=O)N(C)C)SC1[C@H](C)[C@@H]2[C@@H]([C@@H](C)O)C(=O)N2C=1C(O)=O
Std­InChI
InChI=1S/C34H50N6O10S2/c1-13-23(36-24(33(47)48)27(13)51-17-9-19(35-11-17)29(43)37(5)6)21(15(3)41)31(45)39-12-18(10-20(39)30(44)38(7)8)52-28-14(2)25-22(16(4)42)32(46)40(25)26(28)34(49)50/h13-23,25,35-36,41-42H,9-12H2,1-8H3,(H,47,48)(H,49,50)/t13-,14-,15-,16-,17+,18+,19+,20+,21-,22-,23-,25-/m1/s1
Std­InChIKey
XKGAB­VKQWYZC­QF-WWQI­JRAWSA-N
Mol­e­c­u­lar Formula
C34H50N6O10S2
Mol­e­c­u­lar Weight
766.92
Prop­er­ties
Appear­ance
Yel­low powder
Safe­ty Data
RIDADR
NONH for all modes of transport
WGK

Germany

3
Spec­i­fi­ca­tions and Oth­er Infor­ma­tion of Our Meropen­em Impu­ri­ty B
CAS

166901-45-7
Iden­ti­fi­ca­tion Methods
HNMR, HPLC
Assay(Titration)
≥95%
Shelf Life
3 years
Stor­age
Store at -20℃, sealed and away from light.
Known Appli­ca­tion
It is an impu­ri­ty of Meropenem.
Gen­er­al View of Documents
Links
This prod­uct is devel­oped by our R&D com­pa­ny Cam­ing Phar­ma­ceu­ti­cal Ltd (https://​www​.cam​ing​.com/).
Quick Inquiry
Fill out our inquiry form and one of our experts will be in touch with you shortly.