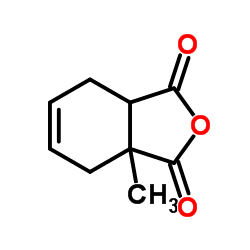 MTHPA CAS 26590-20-5


Identification
Properties
Safety Data
Specifications & Other Information
Links
Identification
CAS Number
26590-20-5
Name
MTHPA
Synonyms
1,3-Isobenzofurandione, 3a,4,7,7a-tetrahydro-3a-methyl- [ACD/Index Name]
247-830-1 [EINECS]
26590-20-5 [RN]
3a-Methyl-3a,4,7,7a-tetrahydro-2-benzofuran-1,3-dion [German] [ACD/IUPAC Name]
3a-Methyl-3a,4,7,7a-tetrahydro-2-benzofuran-1,3-dione [ACD/IUPAC Name]
3a-Méthyl-3a,4,7,7a-tétrahydro-2-benzofurane-1,3-dione [French] [ACD/IUPAC Name]
Methyltetrahydrophthalic anhydride
1,2,3,6-tetrahydromethylphthalic anhydride
1,3-Isobenzofurandione, 3a,4,7,7a-tetrahydromethyl-
1-methylcyclohex-4-ene-1,2-dicarboxylic acid anhydride
3A,4,7,7A-TETRAHYDROMETHYL-1,3-ISOBENZOFURANDIONE
3a-Methyl-3a,4,7,7a-tetrahydroisobenzo[b]furan-1,3-dione
3a-Methyl-3a,4,7,7a-tetrahydroisobenzofuran-1,3-dione
7a-methyl-4,7-dihydro-3aH-2-benzofuran-1,3-dione
82583
Epoxy hardener zzla-0334 [Trade name]
http://en.atomaxchem.com/42498-58-8.html
Lindride [Trade name]
Methyl tetrahydrophthalic anhydride
MFCD00870768 [MDL number]
MFCD01729520 [MDL number]
MTHPA
phthalic anhydride, methyltetrahydro-
SMILES
CC12CC=CCC1C(=O)OC2=O
StdInChI
InChI=1S/C9H10O3/c1-9-5-3-2-4-6(9)7(10)12-8(9)11/h2-3,6H,4-5H2,1H3
StdInChIKey
SOOZEQGBHHIHEF-UHFFFAOYSA-N
Molecular Formula
C9H10O3
Molecular Weight
166.174
Properties
Appearance
Light yellow transparent liquid
Boiling Point
115-155℃/1.3hPa
Specific gravity
Viscosity
Refractive Index
n20/D 1.4960~1.4980
Safety Data
WGK Germany
3
Specifications and Other Information of Our MTHPA CAS 26590-20-5
Standard
Enterprise standard
Package
25 kg or 200 kg plastic drums.
Storage
Store in a moisture-proof, fire-proof, waterproof, storage in a dry and ventilated warehouse.
Application
Used in epoxy resin curing agents, solvent-free paints, laminates, epoxy adhesives, etc. It has long-term storage at room temperature, low freezing point, low volatility and low toxicity. Widely used in motors, dry-type transformers, high-voltage switches, transformers, line output transformers, home appliance capacitors, power capacitor resistors, integrated circuits, impregnation, casting and winding.
Links
This product is developed by our R&D company Warshel Chemical Ltd(http://www.warshel.com/), and here is the corresponding linkhttp://www.warshel.com/mthpa-cas-26590-20-5/
Quick Inquiry
Fill out our inquiry form and one of our experts will be in touch with you shortly (Please change screen to horizontal for complete browsing if you are checking Watson on your mobile phone).