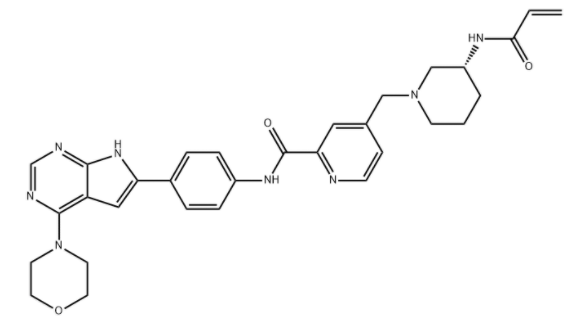 Iden­ti­fi­ca­tion
CAS

Number

2448172-22-1
Name
N-[4-(4-morpholin-4-yl-7H-pyrrolo[2,3-d]pyrimidin-6-yl)phenyl]-4-[[(3R)-3-(prop-2-enoylamino)piperidin-1-yl]methyl]pyridine-2-carboxamide
Std­InChIKey
CPRL­H­P­SXWZTPMC-XMMPIX­­PASA-N
Mol­e­c­u­lar Formula
C31H34N8O3
Mol­e­c­u­lar Weight
566.65
Prop­er­ties
Appear­ance
White pow­der
Safe­ty Data
RIDADR
NONH for all modes of transport
Spec­i­fi­ca­tions and Oth­er Infor­ma­tion of Our N-[4-(4-morpholin-4-yl-7H-pyrrolo[2,3-d]pyrimidin-6-yl)phenyl]-4-[[(3R)-3-(prop-2-enoylamino)piperidin-1-yl]methyl]pyridine-2-carboxamide
CAS

2448172-22-1
Iden­ti­fi­ca­tion Methods
HNMR, HPLC
Puri­ty
98% min
Shelf Life
1 year
Stor­age
Store at 2-8℃ for long time, sealed and away from light.
Known Appli­ca­tion
Com­mon­ly used in the treat­ment of type II dia­betes, mul­ti­ple myelo­ma, acute lym­phoblas­tic leukemia, acute myeloid leukemia, dif­fuse large B-cell lym­phoma, sol­id tumors.
Links
This prod­uct is devel­oped by our R&D com­pa­ny Wat­son­noke Sci­en­tif­ic Ltd (http://​www​.wat​son​noke​.com/).
Quick Inquiry
Fill out our inquiry form and one of our experts will be in touch with you shortly.