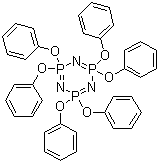 Phenoxycycloposphazene CAS 1184-10-7
Identification
Properties
Safety Data
Specifications and Other Information
Links
Identification
CAS Number
1184-10-7
Name
Phenoxycycloposphazene
Synonyms
1,3,5,2,4,6-Triazatriphosphorine, 2,2,4,4,6,6-hexahydro-2,2,4,4,6,6-hexaphenoxy- [ACD/Index Name]
2,2,4,4,6,6-Hexaphenoxy-1,3,5,2λ5,4λ5,6λ5-triazatriphosphinin [German] [ACD/IUPAC Name]
2,2,4,4,6,6-Hexaphenoxy-1,3,5,2λ5,4λ5,6λ5-triazatriphosphinine [ACD/IUPAC Name]
2,2,4,4,6,6-Hexaphénoxy-1,3,5,2λ5,4λ5,6λ5-triazatriphosphinine [French] [ACD/IUPAC Name]
1,3,5,2,4,6-Triazatriphosphorine, 2,2, 4,4,6,6-hexahydro-2,2,4,4,6,6-hexaphenoxy-
1184-10-7 [RN]
2,2,4,4,6,6-hexaphenoxy-1,3,5,2,4,6-triazatriphosphine
Cyclo-tris(diphenoxyphosphonitrile)
Hexaphenoxy-1,3,5,2,4,6-triazatriphosphorine
Hexaphenoxycyclotriphosphazatriene
Hexaphenoxycyclotriphosphazene
Trimeric bis(phenoxy)phosphonitrile
Molecular Structure
SMILES
c1ccc(cc1)OP2(=NP(=NP(=N2)(Oc3ccccc3)Oc4ccccc4)(Oc5ccccc5)Oc6ccccc6)Oc7ccccc7
StdInChI
InChI=1S/C36H30N3O6P3/c1-7-19-31(20-8-1)40-46(41-32-21-9-2-10-22-32)37-47(42-33-23-11-3-12-24-33,43-34-25-13-4-14-26-34)39-48(38-46,44-35-27-15-5-16-28-35)45-36-29-17-6-18-30-36/h1-30H
StdInChIKey
RNFJDJUURJAICM-UHFFFAOYSA-N
Molecular Formula
C36H30N3O6P3
Molecular Weight
693.56
Properties
Appearance
White to light yellow crystalline powder
Melting Point
110℃ min
Phenoxycycloposphazene CAS 1184-10-7 MSDS
Phenoxycycloposphazene CAS 1184-10-7 MSDS
Specifications and Other Information of Our Phenoxycycloposphazene CAS 1184-10-7
Standard
Enterprise standard
Identification Methods
HNMR, GC
Purity
99% min by GC
Loss On Drying
0.2% max
Phosphorous Content
13.4% min
5% Weight Loss Temperature
350℃ min
Package
20kg/drum
Storage
Under room temperature and away from light
Shelf Life
1 year
Application
It can be used as an additive-tip fire retardant or halogen-free fire retardant in epoxy resin,copper clad plate ,LED lumlinous diode,powder paint,encapsulating material or polymer matenial.
General View of DocumentsLinks
This product is developed by our RandD company Warshel Chemical Ltd(http://www.warshel.com/), and here is the corresponding linkhttp://warshel.com/phenoxycycloposphazene-cas-1184-10-7/
Quick Inquiry
Fill out our inquiry form and one of our experts will be in touch with you shortly (Please change screen to horizontal for complete browsing if you are checking Watson on your mobile phone).

andD purpose. It may be toxic or hazardous, and should be handled only by qualified individuals trained in laboratory procedures. The buyer will be responsible to warn and inform any person that may be in contact with the product of the potential risks and hazards, as well as to ensure that purchase, use and disposal of the product comply with local laws and regulations.