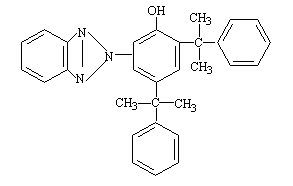 Ultraviolet absorber UV-234 CAS 70321-86-7
Identification
CAS Number
70321-86-7
Name
Ultraviolet absorber UV-234
Synonyms
2-(2H-Benzotriazol-2-yl)-4,6-bis(1-methyl-1-phenylethyl)phenol
2-(2H-Benzotriazol-2-yl)-4,6-bis(2-phenyl-2-propanyl)phenol [ACD/IUPAC Name]
2-(2H-Benzotriazol-2-yl)-4,6-bis(2-phenyl-2-propanyl)phenol [German] [ACD/IUPAC Name]
2-(2H-Benzotriazol-2-yl)-4,6-bis(2-phényl-2-propanyl)phénol [French] [ACD/IUPAC Name]
2-(2h-benzotriazol-2-yl)-4,6-bis(2-phenylpropan-2-yl)phenol
274-570-6 [EINECS]
70321-86-7 [RN]
MFCD00134705 [MDL number]
Phenol, 2-(2H-1,2,3-benzotriazol-2-yl)-4,6-bis(1-methyl-1-phenylethyl)- [ACD/Index Name]
PHENOL, 2-(2H-BENZOTRIAZOL-2-YL)-4,6-BIS(1-METHYL-1-PHENYLETHYL)-
UV-234
[70321-86-7]
134531-15-0 [RN]
147614-31-1 [RN]
2- -4,6-bis phenol
2-(2-benzotriazolyl)-4,6-bis(1-methyl-1-phenylethyl)phenol
2-(2-benzotriazolyl)-4,6-bis(2-phenylpropan-2-yl)phenol
2-(2H -Benzotriazol-2-yl)-4,6-bis(1-methyl-1-phenylethyl)phenol
2-(2H -Benzotriazol-2-yl)-4,6-bis(1-methyl-l-phenylethyl)phenol
2-(2H-Benzo[d][1,2,3]triazol-2-yl)-4,6-bis(2-phenylpropan-2-yl)phenol
2-(2H-BENZOTRIAZOL-2-YL)-4,6- BIS(1-METHYL-1- PHENYLETHYL) PHENOL
2-(2H-Benzotriazol-2-yl)-4,6-bis(1-methyl-1-phenylethyl)-phenol
2-(2-Hydroxy-3,5-dicumyl)benzotriazole
2-(2-Hydroxy-3,5-di-α-cumylphenyl)-2H -benzotriazole
2-(3′,5′-Bis(1-methyl-1-phenylethyl)-2′-hydroxyphenyl)benzotriazole
2-(3′,5′-Bis(α,α-dimethylbenzyl)-2′-hydroxyphenyl)benzotriazole
2-(benzotriazol-2-yl)-4,6-bis(1-methyl-1-phenyl-ethyl)phenol
2-(benzotriazol-2-yl)-4,6-bis(2-phenylpropan-2-yl)phenol
2-[2-Hydroxy-3,5-bis(α,α-dimethylbenzyl)phenyl]-2H -benzotriazole
2-[2-Hydroxy-3,5-di(1,1-dimethylbenzyl)phenyl]2H-benzotriazole
4,6-bis(1-methyl-1-phenylethyl)-2-(2-hydrobenzotriazol-2-yl)phenol
70321-86-1 [RN]
83931-73-1 [RN]
88653-64-9 [RN]
BENZOTRIAZOLE BT
EINECS 274-570-6
NCGC00164197-01
Ultraviolet absorbent UV-234
UV234
SMILES
CC(C)(c1ccccc1)c2cc(c(c(c2)n3nc4ccccc4n3)O)C(C)(C)c5ccccc5
StdInChI
InChI=1S/C30H29N3O/c1-29(2,21-13-7-5-8-14-21)23-19-24(30(3,4)22-15-9-6-10-16-22)28(34)27(20-23)33-31-25-17-11-12-18-26(25)32-33/h5-20,34H,1-4H3
StdInChIKey
OLFNXLXEGXRUOI-UHFFFAOYSA-N
Molecular Formula
C30H29N3O
Molecular Weight
447.57
EINECS
274-570-6
MDL Number
MFCD00134705
Properties
Appearance
Light yellow powder
Melting Point
139.5-141°C
Safety Data
Symbol
GHS07
Signal Word
Warning
Hazard statements
H315 – H319 – H335
Precautionary Statements
P302 + P352 – P305 + P351 + P338
Personal Protective Equipment
dust mask type N95 (US),Eyeshields,Gloves
RIDADR
NONH for all modes of transport
WGK Germany
1
Specifications and Other Information of Our Ultraviolet absorber UV-234 CAS 70321-86-7
Identification Methods
HNMR, HPLC
Purity
99% min
Volatile matter
≤0.5%
Ash content
≤0.05%
Transmissirity
460nm≥97%; 500nm≥98%
Shelf Life
2 years
Storage
Under room temperature away from light
Package
25kg Carton
Properties
It has the efficient light stabilizer.
Known Application
Mainly used for PE, PP polyester and coatings.
Links
This product is developed by our R&D company Warshel Chemical Ltd(
http://www.warshel.com/
), and here is the corresponding link
http://www.warshel.com/ultraviolet-absorber-uv-234-cas-70321-86-7/
Quick Inquiry
Fill out our inquiry form and one of our experts will be in touch with you shortly (Please change screen to horizontal for complete browsing if you are checking Watson on your mobile phone).