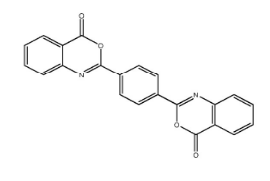 UV 3638/2,2′-Benzene-1,4-diylbis(4H-3,1-benzoxazin-4-one) CAS 18600-59-4
Identification
Properties
Safety Data
Specifications & Other Information
Links
Identification
CAS Number
18600-59-4
Name
UV 3638/2,2′-Benzene-1,4-diylbis(4H-3,1-benzoxazin-4-one)
Synonyms
18600-59-4 [RN]
2,2′-(1,4-Phenylen)bis(4H-3,1-benzoxazin-4-on) [German] [ACD/IUPAC Name]
2,2′-(1,4-PHENYLENE)BIS(3,1-BENZOXAZIN-4-ONE)
2,2′-(1,4-Phenylene)bis(4H-3,1-benzoxazin-4-one) [ACD/IUPAC Name]
2,2′-(1,4-Phénylène)bis(4H-3,1-benzoxazin-4-one) [French] [ACD/IUPAC Name]
4H-3,1-Benzoxazin-4-one, 2,2′-(1,4-phenylene)bis- [ACD/Index Name]
8V348NL4QK
T66 BVO ENJ DR D- DT66 BVO ENJ [WLN]
[18600-59-4]
2,2-(1,4-phenylene)bis((4H-3,1-benzoxazine-4-one)
2,2′-(1,4-Phenylene)bis(4H-benzo[d][1,3]oxazin-4-one)
2,2-(1,4-PHENYLENE)BIS-4H-3,1-BENZOXAZIN-4-ONE
2,2?-(1,4-Phenylene)bis[4H-3,1-Benzoxazin-4-one]
2,2′-benzene-1,4-diylbis(4H-3,1-benzoxazin-4-one)
2-[4-(4-keto-3,1-benzoxazin-2-yl)phenyl]-3,1-benzoxazin-4-one
2-[4-(4-oxo-3,1-benzoxazin-2-yl)phenyl]-3,1-benzoxazin-4-one
2-[4-(4-oxobenzo[d]1,3-oxazin-2-yl)phenyl]benzo[d]1,3-oxazin-4-one
MFCD00356293 [MDL number]
Oprea1_802650
Oprea1_828724
Phenylene-1,4-bis-(benz-1,3-oxazin-4-one)
STK296324
UNII:8V348NL4QK
UNII-8V348NL4QK
UV-3638
SMILES
c1ccc2c(c1)c(=O)oc(n2)c3ccc(cc3)c4nc5ccccc5c(=O)o4
StdInChI
InChI=1S/C22H12N2O4/c25-21-15-5-1-3-7-17(15)23-19(27-21)13-9-11-14(12-10-13)20-24-18-8-4-2-6-16(18)22(26)28-20/h1-12H
StdInChIKey
BBITXNWQALLODC-UHFFFAOYSA-N
Molecular Formula
C22H12N2O4
Molecular Weight
368.34
Properties
Appearance
White to off-white crystalline powder
Melting Point
≥310℃
Safety Data
WGK Germany
3
Specifications and Other Information of Our UV 3638/2,2′-Benzene-1,4-diylbis(4H-3,1-benzoxazin-4-one) CAS 18600-59-4
Standard
Enterprise standard
Purity
98%min
Loss on Drying
0.50%max
Ash Content
0.10%max
Package
According to customer requirements to packaging
Storage
Under the room temperature and away from light
Key Benefits
Excellent long-term performance;Excellent process ability;Both indoor and outdoor;High absorptivity in the range of 300-360n;Good compatibility with plasticizers;High absorbance in 300-360 nm region
Application
UV 3638 is a highly efficient benzoxazinone type UV absorber, which is distinguished by its superiorly low volatility, and its strong & broad range of UV light absorption. OMNISTAB® UV 3638 has no color contribution and is an excellent stabilizer for polymers. It is designed to meet the requirements for processing at high temperatures and is the solution when long term permanent UV light stability is required.
Links
This product is developed by our R&D company Warshel Chemical Ltd(http://www.warshel.com/), and here is the corresponding linkhttp://www.warshel.com/uv-3638-22-benzene-14-diylbis4h-31-benzoxazin-4-one-cas-18600-59-4/
Quick Inquiry
Fill out our inquiry form and one of our experts will be in touch with you shortly.