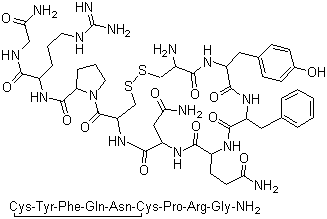 Iden­ti­fi­ca­tion
CAS

Number

11000-17-2
Name
Vaso­pressin
Syn­onyms
Lypressin [INN] [USP] [Wiki]
1-{[(4R,7S,10S,13R,16S,19R)-19-Amino-7-(2-amino-2-oxoethyl)-10-(3-amino-3-oxopropyl)-13-benzyl-16-(4-hydroxybenzyl)-6,9,12,15,18-pentaoxo-1,2-dithia-5,8,11,14,17-pentaazacycloicosan-4-yl]carbonyl}-L-p rolyl-L-lysyl­g­ly­ci­­namid [Ger­man] [ACD/IUPAC Name]
1-{[(4R,7S,10S,13R,16S,19R)-19-Amino-7-(2-amino-2-oxoethyl)-10-(3-amino-3-oxopropyl)-13-benzyl-16-(4-hydroxybenzyl)-6,9,12,15,18-pentaoxo-1,2-dithia-5,8,11,14,17-pentaazacycloicosan-4-yl]carbonyl}-L-p rolyl-L-lysyl­g­ly­ci­­namide [ACD/IUPAC Name]
1-{[(4R,7S,10S,13R,16S,19R)-19-Amino-7-(2-amino-2-oxoéthyl)-10-(3-amino-3-oxopropyl)-13-benzyl-16-(4-hydroxybenzyl)-6,9,12,15,18-pentaoxo-1,2-dithia-5,8,11,14,17-pentaazacycloicosan-4-yl]carbonyl}-L-p rolyl-L-lysyl­g­ly­ci­­namide [French] [ACD/IUPAC Name]
11000-17-2 [RN]
8-L-Lysine vaso­pressin
Glyci­namide, 1-[[(4R,7S,10S,13R,16S,19R)-19-amino-7-(2-amino-2-oxoethyl)-10-(3-amino-3-oxopropyl)-16-[(4-hydroxyphenyl)methyl]-6,9,12,15,18-pentaoxo-13-(phenylmethyl)-1,2-dithia-5,8,11,14,17-pentaazac ycloeicos-4-yl]carbonyl]-L-prolyl-L-lysyl- [ACD/​Index Name]
lipresina [Span­ish] [INN]
lypres­sine [French] [INN]
Vaso­pressin [JP15] [USP] [Wiki]
липрессин [Russ­ian] [INN]
ليبريسين [Ara­bic] [INN]
赖氨加压素 [Chi­nese] [INN]
3-(Phenylalanine)-8-lysine oxy­tocin
ADH
Antid­i­uret­ic hor­mone
DIAPID [Trade name] [Wiki]
Pitressin tan­nate [Trade name]
Pressyn
[11000-17-2] [RN]
1-{[(4R,7S,10S,13R,16S,19R)-19-amino-7-(2-amino-2-oxoethyl)-10-(3-amino-3-oxopropyl)-13-benzyl-16-(4-hydroxybenzyl)-6,9,12,15,18-pentaoxo-1,2-dithia-5,8,11,14,17-pentaazacycloicosan-4-yl]carbonyl}-L-p rolyl-L-lysyl­g­ly­ci­­namide
MFCD03839092
SMILES
c1ccc(cc1)C[C@@H]2C(=O)N[C@H](C(=O)N[C@H](C(=O)N[C@@H](CSSC[C@@H](C(=O)N[C@H](C(=O)N2)Cc3ccc(cc3)O)N)C(=O)N4CCC[C@H]4C(=O)N[C@@H](CCC­CN)C(=O)NCC(=O)N)CC(=O)N)CCC(=O)N
Std­InChI
InChI=1S/C46H65N13O12S2/c47-17-5-4-9-29(40(65)52-22-38(51)63)54-45(70)35-10-6-18-59(35)46(71)34-24-73-72-23-28(48)39(64)55-31(20-26-11-13-27(60)14-12-26)43(68)56-32(19-25-7-2-1-3-8-25)42(67)53-30(15-16-36(49)61)41(66)57-33(21-37(50)62)44(69)58-34/h1-3,7-8,11-14,28-35,60H,4-6,9-10,15-24,47-48H2,(H2,49,61)(H2,50,62)(H2,51,63)(H,52,65)(H,53,67)(H,54,70)(H,55,64)(H,56,68)(H,57,66)(H,58,69)/t28-,29-,30-,31-,32+,33-,34-,35-/m0/s1
Std­InChIKey
BJFID­­CAD­FRD­­PIO-XHQHHRC­C­SA-N
Mol­e­c­u­lar Formula
C46H65N13O12S2
Mol­e­c­u­lar Weight
1056.218
MDL

Number

MFCD03839092
Prop­er­ties
Appear­ance
White pow­der
Safe­ty Data
RIDADR
NONH for all modes of transport
Spec­i­fi­ca­tions and Oth­er Infor­ma­tion of Our Vaso­pressin
CAS

11000-17-2
Iden­ti­fi­ca­tion Methods
HNMR, HPLC
Puri­ty
98% min
Shelf Life
2 years
Stor­age
Store at -20° for long time.
Known Appli­ca­tion
It is used for tem­po­rary dia­betes insipidus after pitu­itary resec­tion and trau­mat­ic brain injury, and can also be used as a diag­nos­tic drug for sus­pect­ed dia­betes insipidus.
Links
This prod­uct is devel­oped by our R&D com­pa­ny Apnoke Sci­en­tif­ic Ltd (http://​www​.apnoke​.com/).
Quick Inquiry
Fill out our inquiry form and one of our experts will be in touch with you shortly.