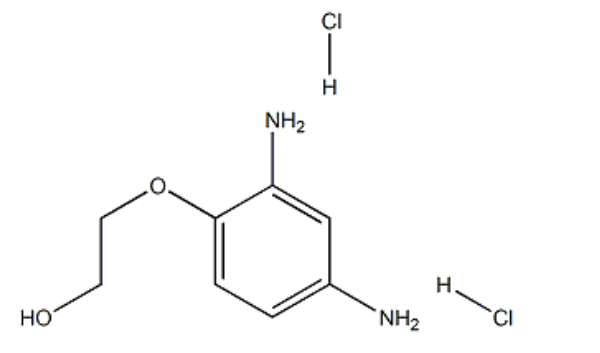 Iden­ti­fi­ca­tion
CAS

Number

11138-66-2
Name
Xan­than gum
Syn­onyms
2-(2,4-Diaminophenoxy)ethanol dihy­drochlo­ride [ACD/IUPAC Name]
2-(2,4-Diaminophénoxy)éthanol, dichlorhy­drate [French] [ACD/IUPAC Name]
2-(2,4-Diaminophenoxy)ethanoldihydrochlorid [Ger­man] [ACD/IUPAC Name]
2,4-DIAMINOPHE­NOXYETHANOL HYDROCHLO­RIDE
266-357-1 [EINECS]
66422-95-5 [RN]
Ethanol, 2-(2,4-diaminophenoxy)-, hydrochlo­ride (1:2) [ACD/​Index Name]
[11138-66-2] [RN]
[66422-95-5] [RN]
11138-66-2 [RN]
2-(2,4-Diamino)benzyloxyethanol dihy­drochlo­ride
2-(2,4-diaminophenoxy)ethan-1-ol, chlo­ride, chlo­ride
2-(2,4-diaminophenoxy)ethanol dih­cl
2-(2,4-diaminophenoxy)ethanoldihydrochloride
2, 4-diaminophe­noxyethanol 2hcl
2,4-Diamino Phe­noxyethanol 2HCl
2,4-Diamino Phe­noxyethanol Dihy­drochlo­ride
2,4-DIAMINOPHE­NOXY ETHANOL DIHY­DROCHLO­RIDE
2,4-Diaminophenoxyethanol 2HCl
2,4-DIAMINOPHE­NOXYETHANOL DIHY­DROCHLO­RIDE
2,4-Diaminophenoxyethanol HCl
2,4-二氨基苯氧基乙醇盐酸盐 [Chi­nese]
2-[(6,6-diamino-1-cyclohexa-2,4-dienyl)methoxy]ethanol dihy­drochlo­ride
4-(2-hydroxyethoxy)-1,3-phenylenediamine dihy­drochlo­ride
70643-19-5 [RN]
DIHY­DRO­GEN 2-(2,4-DIAMINOPHE­NOXY)ETHANOL DICHLO­RIDE
Ethanol, 2-(2,4-diaminophenoxy)-, dihy­drochlo­ride
MFCD00035494 [MDL num­ber]
MFCD00131256
OR-1486
Xan­than gum
SMILES
c1cc(c(cc1N)N)OCCO.Cl​.Cl
Std­InChI
InChI=1S/C8H12N2O2.2ClH/c9-6-1-2-8(7(10)5-6)12-4-3-11;;/h1-2,5,11H,3-4,9-10H2;2*1H
Std­InChIKey
VXY­WXJX­C­QS­DNHX-UHF­F­­FAOYSA-N
Mol­e­c­u­lar Formula
C8H14Cl2N2O2
Mol­e­c­u­lar Weight
241.115
EINECS
234-394-2
MDL

Number

MFCD00131256
Prop­er­ties
Appear­ance
Cream White / Light Yel­low Free Flow­ing Powder
Safe­ty Data
Sig­nal Word
Warn­ing
WGK

Germany

3
MSDS

Download
Spec­i­fi­ca­tions and Oth­er Infor­ma­tion of Our
Iden­ti­fi­ca­tion Methods
HNMR, HPLC
VIS­COS­I­TY

(1%

XG

IN

1%

KCL

SOLU­TION

)

1200-1600cps


THROUGH

200(75µM)

MESH

≥95%


SHEAR­ING
RATIO
≥ 6.5


LOSS
ON
DRY­ING
≤15%


ASH
≤16%


PB
≤2 ppm


PYRU­VIC
ACID
≥1.5%


TOTAL
NITRO­GEN
≤1.5%


TOTAL
PLATE
COUNT
≤2000 cfu/​g

Moulds/​Yeasts
≤500 cfu/​g

Col­iform
≤3 mpn/​g

Salmonella(In 10g)
Neg­a­tive
Shelf Life
2 years
Stor­age
Store in dry, cool and ven­ti­lat­ed place. Keep away from hot sources, sparks and hot sur­face. Keep away from incom­pat­i­ble mate­ri­als and food containers
Known Appli­ca­tion
Xan­than gum used in petro­le­um indus­try drilling, 0.5% xan­than gum aque­ous solu­tion can main­tain the vis­cos­i­ty of water-based drilling flu­id and con­trol its rhe­o­log­i­cal prop­er­ties, so that the vis­cos­i­ty of the high-speed rotat­ing drill bit is extreme­ly small, which great­ly saves pow­er consumption.
In the food indus­try, it is bet­ter than the cur­rent food addi­tives such as gelatin, CMC, sea­weed gum and pectin. Add 0.2% to 1% to the juice to make the juice have good adhe­sion, good taste, and con­trol pen­e­tra­tion and flow.
Gen­er­al View of Documents
Links
This prod­uct is devel­oped by our R&D com­pa­ny Cam­ing Phar­ma­ceu­ti­cal Lim­it­ed (https://​www​.cam​ing​.com/).
Quick Inquiry
Fill out our inquiry form and one of our experts will be in touch with you shortly.