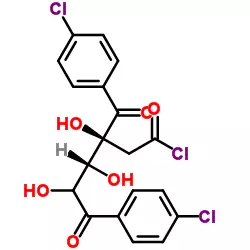 Identification
Properties
Safety Data
Specifications and Other Information
Links
Identification
CAS Number
3601-90-9
Name
1-Chloro-3,5-di(4-chlorbenzoyl)-2-deoxy-D-ribose
Synonyms
(1-Chloro-3,5-di-(p-chlorobenzoyl)-2-deoxy-D-ribose) (3S,4R)-3-(4-Chlorbenzoyl)-6-(4-chlorphenyl)-3,4,5-trihydroxy-6-oxohexanoylchlorid [German] [ACD/IUPAC Name] (3S,4R)-3-(4-Chlorobenzoyl)-6-(4-chlorophenyl)-3,4,5-trihydroxy-6-oxohexanoyl chloride [ACD/IUPAC Name] Chlorure de (3S,4R)-3-(4-chlorobenzoyl)-6-(4-chlorophényl)-3,4,5-trihydroxy-6-oxohexanoyle [French] [ACD/IUPAC Name] 1-Chloro-3,5-di(4-chlorbenzoyl)-2-deoxy-D-ribose 1-Chloro-3,5-di-(4-chlorobenzoyl)-2-deoxy-D-ribose 1-Chloro-3,5-di-(p-chlorobenzoyl)-2-deoxy-D-ribofuranose 1-Chloro-3,5-Di-(P-Chlorobenzoyl)-2-Deoxy-D-Ribose 21740?23?8 21740-23-8 [RN] 3,5-O-Bis(4-chlorobenzoyl)-2-deoxy-D-ribofuranosyl chloride 3601-90-9 [RN] MFCD00672145 [MDL number]
Molecular Structure
SMILES
c1cc(ccc1C(=O)C([
[email protected]
]([
[email protected]
@](CC(=O)Cl)(C(=O)c2ccc(cc2)Cl)O)O)O)Cl
StdInChI
InChI=1S/C19H15Cl3O6/c20-12-5-1-10(2-6-12)15(24)16(25)18(27)19(28,9-14(22)23)17(26)11-3-7-13(21)8-4-11/h1-8,16,18,25,27-28H,9H2/t16?,18-,19-/m1/s1
StdInChIKey
HWBPAGFLYJHNSJ-VOBHOPKGSA-N
Molecular Formula
C19H15Cl3O5
Molecular Weight
445.68
MDL Number
MFCD00672145
Properties
Appearance
White or almost white powder.
Melting Point
118-125°C
Specifications and Other Information of Our 1-Chloro-3,5-di(4-chlorbenzoyl)-2-deoxy-D-ribose CAS 3601-90-9
Standard
Enterprise standard
Identification Methods
HNMR/HPLC
Assay
90%min
Specific Optical Rotation
+31.0-+35.0°
Heavy Metals
20ppm max
Loss on Drying
1.0% max
Residue on Ignition
0.2% max
Storage
Under the room temperature and away from light
Application
Used as the pharmaceutical intermediates of the Qu fluorouridine and decitabine
General View of Documents
Links
This product is developed by our RandD company Ulcho Biochemical Ltd(
http://www.ulcho.com/
), and here is the corresponding link
http://www.ulcho.com/1-chloro-35-di4-chlorbenzoyl-2-deoxy-d-ribose-cas-3601-90-9/
Quick Inquiry
Fill out our inquiry form and one of our experts will be in touch with you shortly (Please change screen to horizontal for complete browsing if you are checking Watson on your mobile phone).
andD purpose. It may be toxic or hazardous, and should be handled only by qualified individuals trained in laboratory procedures. The buyer will be responsible to warn and inform any person that may be in contact with the product of the potential risks and hazards, as well as to ensure that purchase, use and disposal of the product comply with local laws and regulations.