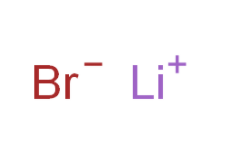 Iden­ti­fi­ca­tion
CAS

Number

7550-35-8
Name
LITHI­UM BRO­MIDE
Syn­onyms
Lithi­um bro­mide [ACD/IUPAC Name] [Wiki]
231-439-8 [EINECS]
7550-35-8 [RN]
7750-35-8 [RN]
Bro­mure de lithi­um [French] [ACD/IUPAC Name]
LITHI­UM MONO­BRO­MIDE
Lithi­um­bro­mid [Ger­man] [ACD/IUPAC Name]
128084-72-0 [RN]
13453-70-8 [RN]
14644-35-0 [RN]
59217-62-8 [RN]
85017-82-9 [RN]
bro­mo lithi­um
bro­molithi­um
bro­mo – lithi­um
Bro­­mo-lithi­um
https://​www​.ebi​.ac​.uk/​c​h​e​b​i​/​s​e​a​r​c​h​I​d​.​d​o​?​c​h​e​b​i​I​d​=​C​H​E​B​I​:​6​3​042
LiBr
lithi­um and bro­mide
Lithi­um bro­mide, 30% in THF
Lithi­um bro­mide, Trace met­als grade 99.9%
Lithi­um bro­mide­miss­ing
lithium(1+) ion bro­mide
Lithi­um-7Li bro­mide
lithi­um­bro­mide
MFCD00011077 [MDL num­ber]
溴化锂 [Chi­nese]
SMILES
[Li+].[Br-]
Std­InChI
InChI=1S/BrH.Li/h1H;/q;+1/p-1
Std­InChIKey
AMX­OYN­BUYSYVKV-UHF­F­­FAOYSA-M
Mol­e­c­u­lar Formula
LiBr
Mol­e­c­u­lar Weight
86.84
EINECS
231-439-8
MDL

Number

MFCD00011077
Prop­er­ties
Appear­ance
White pow­der
Safe­ty Data
WGK

Germany

3
Spec­i­fi­ca­tions and Oth­er Infor­ma­tion of Our
LITHI­UM

BRO­MIDE

CAS

7550-35-8
Iden­ti­fi­ca­tion Methods
HNMR, HPLC
Puri­ty
99% min
Iterms
Spec­i­fi­ca­tion I
Spec­i­fi­ca­tion

II

LiBr
99.0%
99.5%
Ca
0.01%
0.005%
Mg
0.005%
0.0005%
Fe
0.001%
0.0002%
Cl
0.1%
0.05%

SO

4
0.04%
0.02%
Water insol­u­ble matter
0.04%
0.02%
Water
0.8%
0.4%
Shelf Life
2 years
Stor­age
Under room tem­per­a­ture away from light
Known Appli­ca­tion
High­ly effi­cient water vapor absorbent and air humid­i­ty reg­u­la­tor. Used as an absorp­tion refrig­er­ant. In organ­ic chem­istry, it is used as hydro­gen chlo­ride remover, organ­ic fiber (such as wool, hair, etc.) expan­sion agent. Used in med­i­cine as a hyp­not­ic and seda­tive. It is also used in pho­tog­ra­phy, elec­trolyte and chem­i­cal reagent prepa­ra­tion in some advanced bat­ter­ies, and process neutralization.
Links
This prod­uct is devel­oped by our R&D com­pa­ny Warshel Chem­i­cal Ltd (https://​www​.warshel​.com/).
Quick Inquiry
Fill out our inquiry form and one of our experts will be in touch with you shortly.