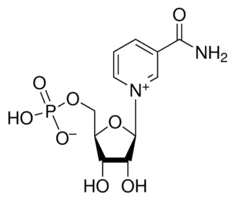 beta-NMN CAS 1094-61-7

Identification
Properties
Safety Data
Specifications andamp; Other Information
Links
Identification
CAS Number
1094-61-7
Name
beta-NMN
Synonyms
Nicotinamide ribotide
[(2R,3S,4R,5R)-5-(3-Carbamoyl-1-pyridiniumyl)-3,4-dihydroxytetrahydro-2-furanyl]methyl hydrogen phosphate
1094-61-7 [RN]
3-(Aminocarbonyl)-1-(5-O-phosphono-b-D-ribofuranosyl)pyridinium Hydroxide Inner Salt
3-Carbamoyl-1-[5-O-(hydroxyphosphinato)-β-D-ribofuranosyl]pyridinium [ACD/IUPAC Name]
3-Carbamoyl-1-[5-O-(hydroxyphosphinato)-β-D-ribofuranosyl]pyridinium [German] [ACD/IUPAC Name]
3-Carbamoyl-1-[5-O-(hydroxyphosphinato)-β-D-ribofuranosyl]pyridinium [French] [ACD/IUPAC Name]
3-Carbamoyl-1-b-D-ribofuranosylpyridinium Hydroxide 5′-(Dihydrogen Phosphate) Inner Salt
Pyridinium, 3-(aminocarbonyl)-1-(5-O-phosphono-β-D-ribofuranosyl)-, inner salt [ACD/Index Name]
pyridinium, 3-(hydroxyiminomethyl)-1-(5-O-phosphono-β-D-ribofuranosyl)-, inner salt
3-(aminocarbonyl)-1-(5-O-phosphono-b-D-ribofuranosyl)-Pyridinium hydroxide inner salt
3-(aminocarbonyl)-1-(5-O-phosphono-b-D-ribofuranosyl)-Pyridinium inner salt
3-(aminocarbonyl)-1-(5-O-phosphono-β-δ-ribofuranosyl)-Pyridinium hydroxide inner salt
3-(aminocarbonyl)-1-(5-O-phosphono-β-δ-ribofuranosyl)-Pyridinium inner salt
3-Carbamoyl-1-b-D-ribofuranosylpyridinium hydroxide 5′-phosphate inner salt
3-Carbamoyl-1-β-δ-ribofuranosylpyridinium hydroxide 5′-phosphate inner salt
b-D-NMN
b-NMN
Nicotinamide ribonucleoside 5′-phosphate
β-δ-NMN
((2R,3S,4R,5R)-5-(3-Carbamoylpyridin-1-ium-1-yl)-3,4-dihydroxytetrahydrofuran-2-yl)methyl hydrogen phosphate
??-Nicotinamide mononucleotide
?-Nicotinamide Mononucleotide
?-NMN
[(2R,3S,4R,5R)-5-(3-aminocarbonylpyridin-1-ium-1-yl)-3,4-dihydroxy-oxolan-2-yl]methyl hydrogen phosphate
[(2R,3S,4R,5R)-5-(3-carbamoyl-1-pyridin-1-iumyl)-3,4-dihydroxy-2-tetrahydrofuranyl]methyl hydrogen phosphate
[(2R,3S,4R,5R)-5-(3-carbamoylpyridin-1-ium-1-yl)-3,4-dihydroxyoxolan-2-yl]methyl hydrogen phosphate
[(2R,3S,4R,5R)-5-(3-carbamoylpyridin-1-ium-1-yl)-3,4-dihydroxy-tetrahydrofuran-2-yl]methyl hydrogen phosphate
¦Â-Nicotinamide mononucleotide
1-[(2R,3R,4S,5S)-3,4-dihydroxy-5-[(hydroxy-oxido-phosphoryl)oxymethyl]oxolan-2-yl]pyridine-5-carboxamide
1-[(2R,3R,4S,5S)-3,4-dihydroxy-5-[(hydroxy-oxido-phosphoryl)oxymethyl]tetrahydrofuran-2-yl]pyridine-5-carboxamide
3-(aminocarbonyl)-1-(5-O-phosphonato-β-D-ribofuranosyl)pyridinium
3-(aminocarbonyl)-1-(5-O-phosphono-?-D-ribofuranosyl)-pyridinium, inner salt
3-(aminocarbonyl)-1-(5-O-phosphono-β-D-ribofuranosyl)pyridinium, inner salt
3-(aminocarbonyl)-1-[5-O-(hydroxyphosphinato)-β-D-ribofuranosyl]pyridinium
3570187 [Beilstein]
3-carbamoyl-1-[(2R,3R,4S,5R)-5-[(hydrogen phosphonatooxy)methyl]-3,4-dihydroxyoxolan-2-yl]-1λ5-pyridin-1-ylium
3-carbamoyl-1-[(2R,3R,4S,5R)-5-[(hydrogen phosphonatooxy)methyl]-3,4-dihydroxyoxolan-2-yl]-1λ5-pyridin-1-ylium
3-carbamoyl-1-β-D-ribofuranosylpyridinium hydroxide 5′-(dihydrogen phosphate) inner salt
B-NICOTINAMIDE MONONUCLEOTIDE
EINECS 214-136-5
MFCD00038748
Nicotinamide D-ribonucleotide
nicotinamide mononucleotide
Nicotinamide nucleotide
Nicotinamide ribonucleotide
Nicotinamide-1-ium-1-β-D-ribofuranoside 5′-phosphate
NMN
NMN zwitterion
UNII:2KG6QX4W0V
UNII-2KG6QX4W0V
β-Nicotinamide D-ribonucleotide
β-Nicotinamide mononucleotide
β-NICOTINAMIDE MONONUCLEOTIDE[4-3H(N)]
β-Nicotinamide ribonucleotide
β-Nicotinamide ribose monophosphate
β-NICOTINAMIDEMONONUCLEOTIDE
β-NMN
Molecular Structure
SMILES
c1cc(c[n+](c1)[[email protected]]2[[email protected]@H]([[email protected]@H]([[email protected]](O2)COP(=O)(O)[O-])O)O)C(=O)N
StdInChI
InChI=1S/C11H15N2O8P/c12-10(16)6-2-1-3-13(4-6)11-9(15)8(14)7(21-11)5-20-22(17,18)19/h1-4,7-9,11,14-15H,5H2,(H3-,12,16,17,18,19)/t7-,8-,9-,11-/m1/s1
StdInChIKey
DAYLJWODMCOQEW-TURQNECASA-N
Molecular Formula
C11H15N2O8P
Molecular Weight
334.22
EINECS
214-136-5
Beilstein Registry Number
3570187
MDL Number
MFCD00038748
Properties
Appearance
White to yellowish powder
Safety Data
Personal Protective Equipment
Eyeshields, Gloves, type N95 (US), type P1 (EN143) respirator filter
RIDADR
NONH for all modes of transport
WGK Germany
3
Specifications and Other Information of Our beta-NMN CAS 1094-61-7
Standard
Enterprise standard
Identification Methods
HPLC
Purity
95%min
PH
5-7
Heavy Metals
≤0.002%
ASH
≤0.6%
Loss on Drying
≤8%
Package
According to customer requirements to packaging
Storage
Keep in well-closed container under cold place (below 0°C) and away from direct sunlight, long term storage at -25℃ to -15℃.
Application
Nicotinamide mononucleotide plays an important role in human cell energy production, it is involved in intracellular NAD (nicotinamide adenine dinucleotide, cell energy conversion of the important coenzyme) synthesis, for anti-aging, blood sugar and other health care Products.
General View of Documents
Links
This product is developed by our RD company Ulcho Biochemical Ltd(http://www.ulcho.com/), and here is the corresponding linkhttp://www.ulcho.com/beta-nmn-cas-1094-61-7/
Quick Inquiry
Fill out our inquiry form and one of our experts will be in touch with you shortly (Please change screen to horizontal for complete browsing if you are checking Watson on your mobile phone).